SPOTLIGHTS
Robocop Unrated Director's Cut Blu-Ray
Posted by Michael Weyer on 01.28.2014

A newly remastered version of the 1987 sci-fi action hit shows just how amazing the groundbreaking work remains.

Robocop Unrated Director's Cut
20th Century Fox Home Video
103 Minutes




Hollywood has always been into reboots, remakes and sequels. But in the last few years, they appear to have gone overboard with it, remaking one movie after another from the 1980's, whether it's really wanted or not. The latest is the upcoming new vision of Robocop which has already been derided by fans as totally unneeded and unwanted. As if to prove that, a brand new remastered Blu-Ray of the original 1987 sci-fi classic has been released and reminded us all of how incredibly groundbreaking and fantastic the film was. Indeed, it more than stands the test of time today to be relevant and with its great extras (and cheap price), a new must-get for those who want to see how well sci-fi action can mix with a biting satire.

The Film

Set in an unnamed near-future, Detroit is on the verge of collapse to financial ruin and overrun by crime so the Mayor has turned to mega-corporation Omni Consumer Products (OCP) to basically let them run the police force and rebuild the run-down areas of the city into "Delta City," as its own state. This angers the cops of Detroit who threaten a strike so the Chairman (Dan O'Herlihy) demands a new option for law enforcement. Senior president Dick Jones (Ronny Cox) offers the ED-209 enforcement droid but its demonstration goes badly as it kills a board member. Eager exec Bob Morton (Miguel Ferrer) suggests a new type of cyborg officer, a human being but run by a machine. He gets his chance when officer Alex J. Murphy (Peter Weller) and his partner Anne Lewis (Nancy Allen) chase ruthless gang leader Clarence Boddicker (Kurtwood Smith) to a steel mill. Murphy is brutally murdered by Boddicker and his gang, his body claimed by OCP as property who rebuild him into the armored Robocop. The one-man army is soon cleaning up Detroit with Anne realizing it's her former partner. Morton is given praise but doesn't realize that Jones has been working with Clarence to build up power and ready to hit back. As their attacks grow bolder, Robocop soon begins to remember flashes of his former life and as things go bad, has to figure out whether he is man or machine.

Few movies are so incredibly ahead of their time as Robocop was. A ruined Detroit; corporations treated as individuals; privatized police forces; crooks having better resources and weapons than cops; the news broadcasts that put flash and sensationalism over actual news; and the arrogant "greed is good" mentality, all of it is more relevant today than it was in 1987. The movie is known for its violence and that is prevalent, especially in this unrated edition which has a bit more blood and gore in places. But the movie's power has always been its biting satire of the money-loving '80's and Regan aura and mixed with its action well. Paul Verhoeven keeps things lively and engaging, the pace great and yes, he may go overboard with the action stuff but also nails the emotional moments such as when Robocop wanders the empty house that belonged to Murphy, remembering flashes of that past life. He also handles the great reveal of Robocop, slow reveals at first from a distance before you see it full-on and thus builds on the effect he has on fellow officers. It fits the movie well, gritty and harsh with a dark humor in the shoot-outs to build on the fun story. Yes, it's a simple tale of a man left for dead out for revenge out of a classic western but the sci-fi influences enhance and fit it almost perfectly.




The actors are also key. In his signature role, Weller handles the challenge of this cyborg excellently, cold and emotionless at the start, the humor in his flat recitation of "thank you for your cooroporation" after manhandling a guy. But he shines later on, the man trapped in the machine, still flat at times but showing heart too that makes you care for him as a real character. The idea to make Allen a rough gal instead of a classic beauty works, she's a capable cop who handles her job well, wanting to help her former partner and willing to break the rules to do it and holds her own against the thugs. Smith is having a ball as Clarence, a psychotic killer who's got the strength to spit blood at cops before demanding his phone call, the idea of this wily guy against the cyborg well played out. Watching Ferrer and Cox, two masters of the sleazy conniver, going at it is a joy, Cox mostly cool but losing it well while Ferrer is the perfect yuppie type just out for himself, thinking he can easily handle Jones, unaware the man takes the idea of "business is war" to the extreme. You also get fun roles like Ray Wise as one of Clarence's gang members and more to flesh the tale out.

Still a classic after all this time, Robocop has a revenge tale for crime fans, a cyborg for sci-fi fans, gore for lovers of that sort of thing and a satire that actually reflects reality far better than its own creators expected it to. The production is great for its low budget, capturing a dark future with brutal fights and bringing together into a package that remains a groundbreaking work to continue to enjoy.

Rating: 8.5 out of 10.0


Video

MGM has previously released the film as a bare-bones feature with a picture that was criticized by man. Thus, the pull of this set is the brand new remastered 4K scan. Much of the film remains gritty, the newscast segments still in low resolution as they were shot on regular video and it's not as crisp and clear as some might hope. Yet we still get great detail to textures from the nuances of the Robocop suit to admiring William Sandell's great production design. The color palette is a bit warmer to bring out fleshtones and enhanced well for the differences between the OCP boardrooms and the harsh streets. In a way, it might be best as too much clarity would only distract bits like the stop-motion ED 209 and other effects and the gritty edge has always fit the story. Overall, the best looking presentation of Robocop yet and a vast improvement over previous releases.

Rating: 9.0 out of 10.0


Audio

Dolby Surround Sound 5.1 in lossless DTS-HD MA with subtitles in English, Spanish and French. The sound for the movie was always unique (the editors won a special Oscar for their mix of effects) and this soundtrack does a great job capturing that. From the whirring of the Robocop suit to the explosive weaponry to the soundtrack, the track handles it all and in great detail to allow you to further enjoy such a great action piece.

Rating: 9.0 out of 10.0






Bonus Features


The other big pull of this over previous Blu-Ray releases is that this contains actual bonus materials. Most are carried over from previous DVD releases but a notable new one makes it stand out more.

We start with an audio commentary by Verhoeven, writer Ed Neumeier and executive producer Jon Davison. It's a great and lively track as they mention how the film was supposed to start with a massacre of cops but that was dropped early on although hinted at later. The newscasts were a late addition and Neumeier feels it's already dated on bits like South Africa in civil war but many bits holding up well. Verhoeven touches on famous stuff like how he literally threw the script away the first time he read it and his wife convinced him to try it out. Also, on the scene of Murphy killed, they wanted it to be brutal as Verhoeven says "you can't have the resurrection without the crucifixion" and goes a lot into his idea of Robo as "an American Jesus." The challenges of the shoot are discussed from the stunts to shooting in hot Dallas summer to how it took Weller 11 hours to get into costume the first time. Tidbits include how they were sued for copyright infringement over the newscast bits and how Lewis was originally intended to be a beauty but they felt sexualizing her would have ruined the character. It's surprising how much of the shoot was on the fly such as how someone at Orion came up with the idea of linking Jones and Clarence together. It's a great track as they note how so much of the film still stands up today in so many ways (although comments on the Bush Administration do date it a bit), a great listen.

Brand new to this set is a 2012 Q&A (42:36) with Verhoeven, Weller, Allen, Davison, Neumaier, Michael Miner and special effects whiz Phil Tippett. Moderated by Robert Rosen at UCLA, it touches on familiar stuff but reflects on how much the movie nailed such as Miner's comment that even in 1986 they could see the "corporations are people" mentality sink in. It's a great talk answering audience questions such as Verhoeven saying he didn't want to do any sequels himself and Weller admitting the follow-up wasn't as good as it missed the bite of the first film. A great long piece that shows how the movie remains popular.

Flesh & Steel: The Making of Robocop (36:55) is from 2001, led by "Robocop expert" Paul Sammon and is an overview of the entire production. Verhoeven was inspired by classic robot films like The Day the Earth Stood Still while Neumaier and Miller were pushed by the greed-obsessed '80's culture. They acknowledge that The Terminator paved the way for the film with new interest in robot movies and talk about Verhoeven's approach being "a visceralist, not a visualist." Michael Ironside was considered for the lead but decided he would have been too big for the costume, Weller far more fitting. Also, Stephanie Zimbalist was cast as Lewis but had to drop out, Allen told to cut her hair for the role to make herself less a knockout. The movie wasn't shot in Detroit at all (the filmmakers deciding that city had no modern skyline) so instead in Dallas, a very hot and humid summer which led to short tempers all around. Everyone is frank on how it was terrible, Weller losing pounds a day to the heat and things tense between everyone. Big props are given to composer Basil Poledouris for his terrific score and they discuss the differences in the theatrical version and far more brutal unrated cut. It's a great look at the movie which the creators nicely cite as "fascism for liberals."

Shooting Robocop (7:59) and Making Robocop (8:01) are 1987 featurettes on the movie, short bits but interesting how they show things from on set at the time and how they promoted the movie in a time before the Internet.

The Boardroom: Storyboard with commentary by animator Phil Tippett showcases the sequence of ED-209's first appearance and killing off a board member.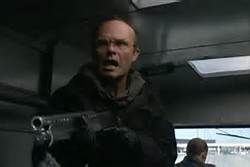 Villains of Old Detroit (16:59) is a newer feature where Ferrer, Smith, Ray Wise and Cox all talk about the movie and their experiences. They tried to have fun on set like stealing the golf carts of assistants for races and Wise saying he wanted to be Clarence. Clarence's look was because of Verhoeven's German background, based on Heinrich Himmler. Wise jokes that he still has the blown-up remains of his dummy "wrapped in plastic like Laura Palmer." They all laugh on stuff like how Verhoeven just referred to women in one scene as bitches constantly as if it was no big deal. All are happy about how the movie gave them recognition and cite it as a great part of their careers.

Special Effects: Then and Now (18:22) is a great focus on how FX work in this pre-CGI era was tough. Rocco Gioffre shows how common matte paintings were and his use of them for future Detroit office buildings and such while Craig Hayes and Phil Tippet discuss the stop-motion ED-209. It can be technical but still unique as they talk on how CGI is fun but they miss the old techniques bringing something special to the table.

Robocop: Creating a Legend (21:09) repeats a lot of stuff from previous features but still good overall with how they put the suit itself together and Weller going deep on how it felt wearing it. At first, he trained with a mime coach for slow and silky movements but once they realized how the suit moved, they changed it to the sharp moves of the film "no longer a snake but a beast." Verhoeven was strict on insisting everyone on set refer to Weller only as Robo or Murphy which most thought ridiculous. The design of the suit and weapons get play as Verhoeven wanted the gun to "Look like a sarcophagus as it's death." Still great in showing the detail the movie put in.

We have an Easter egg of Verhoeven noting his accidental cameo in the movie, the trailers (one of which ironically uses the score from The Terminator) and a few deleted scenes to top off a terrific bevy of extas.

Rating: 9.0 out of 10.0



The 411: Not only does Robocop still stand up today but its themes of corporate power and a flashy but empty future resonate even more today than in 1987. The newly redone picture offers the most crisp view of the film yet with great sound and the extras provide terrific insight to how the movie came to be. Whether you enjoy the action, the dark humor or the biting satire, the movie remains a groundbreaking sci-fi classic that no remake can possibly hope to match.

Final Score: 9.0

[ Amazing ]

legend
comments powered by