SPOTLIGHTS
Never Sleep Again: The Elm Street Legacy (Blu-Ray) Review
Posted by Michael Weyer on 01.31.2014

One of the most iconic horror movie series of all time gets its due in a lavish documentary that shows how Freddy Kruger turned into a legend.

Never Sleep Again: The Elm Street Legacy
RLJ Entertainment
238 Minutes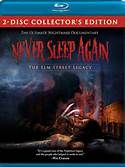 "Serious" horror fans may look down on the slasher genre, citing it as cheap scares and thrills. But there is no denying that it remains an incredibly popular facet of horror. In that genre, there are three undisputed kings: Michael Myers, Jason Vorhees and Freddy Kruger. Of those three, it's arguable that Freddy may be the most popular and certainly one of the most influential. A Nightmare on Elm Street touched upon our darkest fears, the idea of going to sleep and never waking up, the way out deepest dreams can be turned on us. Also, while Michael and Jason were silent machines of destruction, Freddy was more talkative, sadistic in how he played with his victims, dragging out the agony before the kill to make it sweeter. Yes, the movies may have gotten more laughable as they went on but the power of that series still remains strong. Make no mistake, in the late '80's, Freddy was a huge part of pop culture, hundreds of kids (including yours truly) finding it the perfect Halloween costume and enjoying his exploits.

One man who most certainly agrees is Daniel Farrands. In 2009, he directed a made-for-TV documentary on the Friday the 13th franchise entitled His Name was Jason. Last year, he expanded that into Crystal Lake Memories, a fantastic seven hour history of that entire franchise. Farands had already gotten set for that with his 2010 film Never Sleep Again: The Elm Street Legacy, acclaimed by horror fans as one of the finest histories of any series imaginable. Aided by editor Andrew Kasch, Farrands did a masterful job bringing to life all the stories behind the films and in a way that left fans old and new entertained beyond measure. Now, with the 30th anniversary of the first Nightmare movie's debut upon us, what better time for a Blu-Ray re-release to showcase just how brilliant this entire saga was. The result is not just one of the best "making-of" films ever but a love letter to a series that entertained millions.

The Film

Narrated by Heather Lagenkamp, who played heroine Nancy in the first and third movies and a fictionalized version of herself in the seventh, the documentary is everything a NOES fan could ask for. You don't make a documentary on the series if you can't get Robert Englund and Wes Craven and thankfully, both men are on hand to fully detail their experiences. But that is just the start: Jon Saxon, Clu Gulager, producer/New Line founder Robert Shaye, Alice Cooper, Mick Garris, Renny Harlin, co-producer Sara Risher, assistant production manager Rachel Talalay, and slews of actors, makeup artists, special effects guys and more. Yes, there are notable absences such as Johnny Depp (although he is represented by a clip from Inside the Actor's Studio) and Patricia Arquette. Yet, all told, we have 106 people directly involved with these movies talking about them and their impact. That is more than enough for four hours and yet the presentation is what makes it work. We don't just get talking heads but clips of the films and behind-the-scenes footage/photos alongside some fun stop-motion intros for each of the ten chapters. The result is nothing short of sheer genius.




To go into huge detail on each of the chapters would be a bit much but here's some of the fantastic highlights:

*How making Freddy's molestation of children more subtext helped the film's impact.
*David Warner originally cast as Freddy, even doing a makeup test of the look, which designer David Miller says was inspired by fiddling around with a plate of pizza as well as creating the infamous glove.
*The conflict between Craven and Shayes on the ending, with original alternate endings shown.
*John Saxon's hysterical hairpiece story.
*Jsu Garcia up front on how he was on drugs so much during the shooting of the first film but did his best to clean up afterward.
*Lagenkamp discussing the bathtub glove scene and how it was created.
*Craven not wanting a sequel and so stepping back.
*A fantastic exploration of the supposed gay themes of NOES 2 which was never intentional and how it built up with fans as the most hated of the entire series.
*"Any movie with Clu Gulager and an exploding bird has gotta be good."
*The talk of the "rules" of the film like taking Freddy out of the dream world hurt and how the studio refused to pay Englund, necessitating a terrible stand-in which had the upshot of making them realize that (unlike Jason), it was the actor, not the makeup, that made the character.
*Chuck Russell hardly the most popular person making The Dream Warriors and Craven not liking how the movie moved Freddy away from his more horrific roots.
*Dick Cavett himself coming up with the idea of Freddy killing Za Za Gabor.
*Patricia Arquette talked of being over her head making the third movie and not wanting back for the sequel.
*The surprising success of Dream Warriors including a segment of Freddy angered by Roger Ebert's talk of the movie deserving an X rating.
*Talk of hiring Harlin for the fourth film just so he'd stop coming to New Line as this rumpled figure every day.
*Englund not sure of returning (not helped by how a writer's strike made the early scripts a total mess) until he realized Harlin was making "the MTV Nightmare."
*Harlin defending his desire for Toy Newkirk to redub her lines as "not sounding black enough" with "I'm from Finland, what do I know?"
*Harlin surprised by the fourth film's massive success and how critics found meanings in it he had never intended.
*A fun talk of the merchandising as Freddy became a pop culture figure, many finding it more than ironic that a child molester/killer had costumes and products aimed at children.
*Discussion on the Freddy's Nightmares TV series, Englund enjoying playing the role for it, how it showed then-unknowns like Mariska Hargitay and Brad Pitt but frankly hasn't withstood the test of time.
*People up front on how ridiculous The Dream Child was with the "invisible kung fu" sequence cited as a low point for the series.
*Peter Jackson taking a chance on the script for Freddy's Dead while actress Lezlie Deane is totally bizarre in her interviews with some sort of made-up mime with her just staring out at the camera.
*Craven feeling A New Nightmare was too cerebral for audiences but did set the stage for the Scream movies.
*The long gestation of Freddy vs Jason, wanting to get the right story with open talk on the wild ideas like Jason on trial, Freddy trying to find some "dream demons," the Holy Grail and the admittedly cool idea of the two fighting in Hell only to be interrupted by Pinhead from the Hellraiser series.
*The great build-up for that movie, including Freddy and Jason doing a "weigh-in" press conference in Las Vegas and everyone stunned at how well it did at the box office.
*Zack Ward discussing how he's still known as Scut Farkus even doing this movie.
*How everyone believes a sequel to that should involve Bruce Campbell's Ash character.
*A look at how New Line ("The House That Freddy Built") slumped to financial problems in 2008 with Shaye still hurt pushed out of the company he started.

What makes this so impressive isn't just the sheer number of interviews put together but how they so wonderfully flow together. The editors did a great job making the stories mix in and click well not conflicting or too much together but telling a compelling and coherent story. Everyone is up front and open on things, amazingly so and rather than be annoyed to still be talking about these movies, they love them, the time and how it remains so wonderful for them. Englund isn't upset at all about being typecast, he loves the fact that he'll always be an icon with Freddy and can't let it go. Craven is also happy with how this is his legacy movie and the great stuff he leaves for fans. It's fun hearing from the folks at New Line and how, despite the fact they made the Lord of the Rings trilogy, they consider NOES their true achievement in Hollywood.

The direction is terrific mixing in old footage from the movies and behind-the-scenes photos to flesh it all out. Best of all is that the narration leaves behind editorializing. Sure, we get conflicting tales but for the most part, folks are happy to be in this and speaking of their experiences with frankness and whatever bad blood may have occurred is in the past. The sheer detail of this is terrific, you're hard-pressed to find a facet of the series that isn't discussed, debated and revealed along with wonderful personal touches to make this more than just a talking-heads piece, it really is the tale of how what could have been a forgettable slasher film instead turned into a phenomenon. From start to finish, it is stunning how lavish this documentary is, exactly what any fan of the series wants and, put alongside Crystal Lake Memories, a testament to how a making-of documentary should be.

Rating: 10.0 out of 10.0

Video

Most of the documentary was shot on hi-def video and thus the 1080p AVC-Encoded picture does a great job replicating it. A documentary doesn't need to be truly cutting-edge in graphics but this does a fine job mixing footage of the movies as bright as any of the interviews and highlighting the old photos from the set as well. The lighting is nice and moody, fitting the subject matter and the actors pop out nicely with their visuals (although one suspects one or two might wish they didn't given their ages today). Details are great with clothing and such and thus a great improvement over the DVD set.

Rating: 9.5 out of 10.0


Audio

A stereo soundtrack presented in lossless DTS-HD MA 2.0. Again, the film doesn't need a massive complicated track as this does a fine job balancing the various voices with no problem (subtitles help as well in interviews) and the clips of the film. Sean Schafer Hennessy's moody score is mixed nicely to provide the perfect audio track for a fine documentary.

Rating: 10.0 out of 10.0





Bonus Features

The epic additions begin on the first disc with an audio commentary by Andrew Kasch, Daniel Farrands, Thommy Hutson and Buz Danger Wallick. Some might find a commentary with a documentary a bit much but this is great and more than worth listening to if only to learn how they managed to snag so many people to take part. They did try for Depp and Arquette with no luck but even they can't believe they got Craven and Englund along with nearly everyone else (although they couldn't get as many of the Freddy vs Jason guys due to that film being shot in Canada). Originally, it was going to be just ninety minutes but when they realized the incredible amount of material on their hands, they had to expand it. These guys are true fans as shown by the fact that while they liked meeting the actors, it was the makeup and special effects guys who were "like rock stars" to them. They were struck by people not what they expected, Jennifer Rubin a great funny gal and Harlin nothing like his reputation by being down to earth and open. Much of the track is debating the merits of each movie and the genre with terrific insight such as how Hollywood often forgets that "it's never about star power with horror movies." The talk of the actual production of the documentary is good with how they figured they didn't need to identify a guy on set cursing as Englund's stunt double, figuring everyone would know that and were jarred when fans of the first release thought it really was Englund. They talk about the traveling they had to do, fitting in the interviews, tracking down folks who'd dropped off the radar like Mark Patton, the angles of fandom, medical, science, what the blue hell Lezlie Deane was doing, how their first editing story involves an exploding car, burning building and a helicopter, it's just amazing. Plus, the talk on the franchise itself and its power with their feelings on how 2010 was way too soon to try a reboot (which obviously wasn't released in time to make the rest of the documentary). Not a distraction at all but a perfect complement to how this letter of love to the series was put together and makes you marvel even more at their achievement.

You thought we had enough talk in the documentary? Think again. We have an hour and forty minutes of extended interviews which can be viewed together or separated by movie. Again, terrific bits here like Englund calling Craven "a darker David Lynch;" Lagenkamp bringing her own wardrobe from the movie; a reunion of Mark Patton and Kim Meyers with Patton saying he left Hollywood due to the homophobia of the industry; Lisa Wilcox resisting Harlin's demands to show her breasts; Harlin not quite getting the "do's and don'ts' of sex in Hollywood movies; creating two scenes so disgusting they knew the MPAA would cut them as distractions to the real gore of the film; and great insight to Freddy vs Jason with how New Line seemed reluctant and even did a study indicating the movie should be PG-13 which everyone thinks was stupid. Terrific addition to help flesh out the behind the scenes drama even more.

I Am Nancy (6:53) is a peek at Lagenkamp's own documentary chronicling her turns on the convention circuit and being a horror icon of her own.

For the Love of the Glove (18:16) goes in-depth to the creation of Freddy's iconic weapon as Lou Carlucci says "I created one of the all-time sexual icons of the film industry." There's also the search for an actual glove stolen from the set of the second film and how slews of costumers and fans create their own versions of the weapon with the interesting observation that "women want to pose with the claw more than men."

Fed Heads: The Ultimate Freddy Fans (12:50) discusses the allure of our villain with Craven summing up how fans like to "embrace the symbol of evil, not evil itself." Once more, we see self-proclaimed "Freddy nut" Mike Becker showing his expansive collection of memorabilia including showing David Miller a replica of a Freddy mask that the special effects man admits is good. Also, looks at the fan conventions and the actors enjoying how many people still remember them today from the movies, Englund more than happy to embrace it all.

Horror's Hallowed Ground: Return to Elm Street (23:10) is a series of online videos as Sean Clark visits all the locations of the shooting of the first film. It's fun as he shows the houses, the school and more, aided by Amanda Wyss and Lagenkamp herself with a fun bit of a couple actors from Part 2 demanding to know why they're not included. Lagenkamp gets the great line that film hit just as the whole idea of small neighborhoods as havens for safety was fading and that's why it clicked so well with audiences. There's a cool interview with the current owner of the Thompson house and a wild trip to the high school, a good showcase of how anchoring the story to real life helped it out.




Freddy vs Angry Video Game Nerd (5:30) is a short bit as James Rolfe takes on a truly terrible NES Nightmare video game.

Expanding the Elm Street Universe: Freddy in Comic Books and Novels (15:45) has various authors and comic book creators discussing their spin-offs of the franchise. The trickiest thing was always to get the tone right, not make Freddy likeable but still maintain what was popular. They had the problem of often having to sanitize Freddy with Christa Faust nailing that "you smooth him down, what does he become?" A wild bit is Andy Mangels talking of doing a 1990 comic book with a photo of him with Freddy and the publishers having a fit because it showed Mangels' nipple ring. A nice highlight is the Freddy vs Jason vs Ash comic series and how they could go wilder with it than any movie but always putting what fans would want first.

The Music of the Nightmare: Conversations with Composers and Songwriters (13:40) talks about the music of the series with the touch on how each composer was told to make their music different than the previous film, which some say is a shame as it lacks the defining theme of Halloween or Friday the 13th. Christopher Young laughs about going orchestral with whale sounds for Part 2 while Craig Safan cites Part 4 as a learning experience, doing his best alongside the rock soundtrack and hnting Tuesday Knight got her work on the movie thanks to her relationship with Renny Harlin while Dokken are fun talking of the video for Dream Warriors.

Elm Street's Poster Boy: The Art of Matthew Joseph Peak (7:31) is a great focus on the man who created the iconic look of the first five movie posters. He says he had no direction from anyone in the studio and just made his own design work and how he had to change Part 5's poster as not having the intensity of the originals. It's great hearing Peak explain his creative process with how he had no idea what the cast of Dream Warriors looked like when he made their poster. He was annoyed at being dropped for Part 6 but still happy with how his images pulled so many to the movies.

A Nightmare on Elm Street in 10 minutes is an extended bit of the closing credits of the documentary as the actors today recite their famous lines from the series, fun as hell as they clearly enjoying living in that time again. If nothing else, worth it to see Englund utter Freddy lines sans makeup and creepy voice.

Finally a teaser trailer for the documentary. It might have been nice to have a bit of an update to note the 2010 reboot but this is still a stunning amount of bonuses for fans of the series to bite into.

Rating: 9.5 out of 10.0

The 411: If you're a horror fan and you don't have this documentary already, get it now. One of the most amazing "making-of" films ever created, it's also a love letter to a series that remains popular with fans today. The documentary itself is incredible in its detail and the extras just enhance it to show how Freddy Kruger holds us in his grip 30 years later. The new Blu-Ray picture is better than ever to let you enjoy it more and a fitting tribute to a movie series that bucked all odds to achieve greatness. For any fan of Nightmare or of horror movies itself, this set is truly a dream come true.

Final Score: 10.0

[ Virtually Perfect ]

legend
comments powered by