SPOTLIGHTS
Last Vegas DVD Review
Posted by Tony Farinella on 02.04.2014

Five Oscar winners all get together for Last Vegas! Is this a trip worth taking?



Last Vegas is a film that has been described by many critics and fans as being The Hangover for the older generation. The storyline has been seen and done before with a group of friends who go to Vegas to celebrate the wedding of one of their friends. Vegas is always the hot stop for these bachelor party type films and then chaos ensues as the various characters find themselves in unique and humorous situations over the course of a few days. Las Vegas becomes a character in the film and the characters all play various stereotypes such as the over eager partygoer and the guy who just wants to go home.

However, you look for little moments or scenes that provide laugh out loud humor to make it stand above its Ďbeen there, done thatí storyline. Last Vegas, starring five Academy Award winners in Morgan Freeman, Kevin Kline, Michael Douglas, Robert De Niro, and Mary Steenburgen is a fairly harmless film that has its heart in the right place, but it just never aspires to do anything out of the ordinary. It is just meant to make you smile and feel good. While there is nothing wrong with those qualities in a film, the film is rather dull and boring. Itís an old fashioned crowd pleaser, but with such a talented cast, one expects something more than that.

Michael Douglas, most likely playing himself, stars as Billy, the hot shot smooth talker who is getting married to a woman that is a heck of a lot younger than him. He calls all of his old friends to get together for the wedding in Vegas, including Archie (Morgan Freeman), Paddy (Robert De Niro), and Sam (Kevin Kline). They have been friends for about six decades and are always there for each other, even if Paddy and Billy have a feud that puts a strain on their longstanding friendship. Along the way, they encounter the lovely Diana, played by Mary Steenburgen.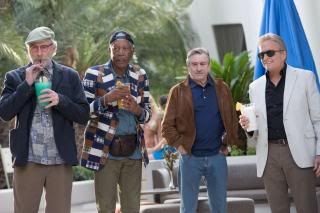 Archie is recovering from a stroke, so he is thankful and grateful for every moment he has in his life. Because of this, he takes full advantage of the trip and wants to live his life to the fullest and grab each day by the horns. Sam is still an old horn dog and has been given permission by his wife to have a little fun because what happens in Vegas stays in Vegas. Paddy wants to stay in his depressing apartment and just mourn for his wife who passed away about a year ago. Billy is looking to recapture his youth and I suppose having a young bride is the best way to do that.

Last Vegas is directed by Jon Turteltaub, and if you have seen any of his previous films such as National Treasure 1 and 2, The Kid, or Phenomenon, you know what to expect from his films. They are all rather pleasant yet forgettable pieces of filmmaking. Vegas looks nice and the locations are beautiful, but the screenplay from Dan Fogelman is rather tame and the film doesnít really have a whole lot to say. It is nice to see all of these talented actors work together and it is always watchable because of them, but one canít help but feel like this film could have been a lot better and a lot more memorable than just a pleasant rental that goes down easy.

DVD Info: Last Vegas is released on DVD from Sony Pictures, but of course, itís also available for purchase on Blu-Ray and DVD combo pack with a digital copy. The DVD of the film does come with a digital copy of the film as well. The film is rated PG13 and runs at 105 minutes.

Video Info: Released on 2.40:1 Anamorphic widescreen, Last Vegas looks pretty darn good for a DVD. Lately, Iíve been switching over to only Blu-Rayís so I pay close attention to the picture. It looked crystal clear, bright, and very vivid. I was quite impressed with the picture quality of this DVD. It holds up fairly well.

Audio Info: Released on 5.1 Dolby Digital, the sound is where I notice a big difference on DVDís and Blu-Rayís. The sound isnít terrible, but it really needs to be turned up quite loudly and some of the dialogue can be hard to hear at times. Itís not terrible here, but it just doesnít hold up to Blu-Ray.

Special Features:

Filmmaker Commentary with Director Jon Turtletaub and writer Don Fogelman: Iíve interviewed Jon before and heís a very fun personality, and he shares his enthusiasm and joy for filmmaking on this commentary track. Jon and Dan share some fun stories about the great actors in the film.

Itís Going to be Legendary (03:13): This special feature focuses on the four characters and their personalities.

Four Legends (2:57): Here, it talks about the four main Oscar winners in the film and how they have never worked together and what it was like for them to work on this film.

Flatbush Four (1:37): This special feature talks about how they wanted to establish the characters in the beginning of the movie as kids and how they are still together fifty-eight years later.

Previews
The 411: Last Vegas is a hard film to hate. I saw it with my dad in the cinema and we had a fun time with it, but it wasnít anything I was blown away by or felt the need to rush out and tell everyone to see. Itís harmless but it is also rather pointless. It works just fine as a rental or a onetime watch, but I donít imagine it will have great repeat value as nothing in the film is all that memorable or original. Iíd either rent this one or wait for it on Netflix. There is no real need to add it to your collection.

Final Score: 6.0

[ Average ]

legend
comments powered by