SPOTLIGHTS
Dallas Buyers Club Blu-Ray+DVD+Digital Review
Posted by Tony Farinella on 02.04.2014

One of the most talked about films of 2013 is now out on Blu-Ray and DVD! Is the film worthy of all of the Awards it has received so far?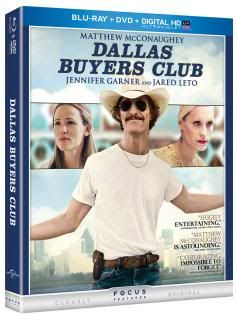 I really shouldnít be surprised by anything Matthew McConaughey does these days, especially after his terrific turns in such films as Bernie and Killer Joe, but the man has shocked me yet again with his turn in Dallas Buyers Club. We have all heard about his extreme weight loss to play Ron Woodroof in this film, which has rightfully earned him an Academy Award nomination, but itís even more than that. Inside and out, he is Ron Woodroof. Itís an amazing performance and an extremely dedicated one at that from McConaughey. Heís playing a complicated man and itís an incredibly tough performance that he nails with flying colors.

Ron Woodroof doesnít worry too much about the past or the future. He lives in the moment and likes to have fun. Itís safe to say that not too many people have as much fun as this electrician, bull rider, and ladiesí man. However, his act now and consequences be damned personality is starting to catch up with him when he passes out after being injured at work and finds himself in the hospital. He is told that he has only thirty days to live, which comes as quite a shock to him. In fact, the doctor is even shocked that heís still alive and has been able to do what heís been able to do while having AIDS.

Woodroof doesnít believe he is going to die anytime soon and leaves the hospital to find help on his own. He does as much research as humanely possible and will not stop until he finds answers and solutions. He is determined to do whatever it takes to live as long as possible and will stop at nothing to make that a reality. Due to his research and self-reliance, he finds himself in Mexico where he discovers an alternative to the drug AZT which is being introduced to patients in the states. However, AZT may end up doing more harm than good, which is why Woodroof wants nothing to do with it.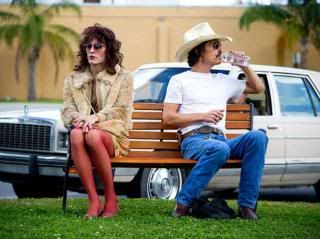 With the help of his friend Rayon, a transsexual who also has AIDS, played brilliantly by Jared Leto, they start the Dallas Buyers Club. This allows patients to pay a monthly membership and get the medication needed to combat AIDS and prolong their lives. This doesnít sit well with a doctor played by Jennifer Garner, but she finds herself impressed with their will to live and their willingness to research and ask questions. Woodroof will not go down without a fight and one cannot help but be inspired by his tenacity and his will to live. He is not just going to roll over and wait to die. He is going to fight and keep on fighting until he canít fight anymore.

Dallas Buyers Club is a film that stayed with me for days and days after watching it. I couldnít shake it and it really was an emotional experience and a film that I did not expect to move me as much as it did. No character in the film is perfect or without their flaws, but they are real. Matthew McConaughey plays Ron Woodroof as a man who is sometimes racist, homophobic and not always likable, but heís interesting and complicated as Iíve mentioned. Itís one of the most memorable performances Iíve seen in quite some time, and itís one of the best films of 2013. Itís not always an easy film to take, but it is such a rewarding and superb experience.

One cannot forget the work of Jared Leto as well. This is a physical role for him as well, just like it was for Matthew McConaughey. Their friendship is the heart and soul of this film and one truly begins to care about them while watching the film. They also have some funny interactions as well, which adds some humor to the proceedings. This is much needed as the film can be quite dark and tough to take at times. It lightens the mood. This is just a tremendous piece of filmmaking and itís a film that I believe will stay with audiences like it stayed with me for days after it is over.

Blu-Ray Info: Dallas Buyers Club is released on a two disc Blu-Ray, DVD, and Digital HD Ultraviolet combo pack from Universal Pictures. The film runs at one hour and fifty-seven minutes and is rated R.

Video Info: Released on 1080p high-definition widescreen 2.40:1, Dallas Buyers Club is set in the 80ís and the look and feel of the Blu-Ray truly captures that era. This is a great looking Blu-Ray that has a dark, moody, but sometimes light and hopeful appearance to it. Whatever the scene calls for, it nails it.

Audio Info: The English DTS-HD Master Audio 5.1 with subtitles in English and Spanish audio track is also right on the money. I was able to keep it on the same volume without having it turn it down if it got too loud or turn it up if I couldnít make out some of the dialogue. Itís a clear audio track.

Special Features:

Deleted Scenes (04:55): Some interesting deleted scenes here that are mostly filler. There is nothing all that noteworthy, so I can see why the director chose to keep them out of the final product.

A Look Inside Dallas Buyers Club (03:56): This is introduced by Matthew McConaughey himself, and it is clear that this is a project that meant a great deal to him. This is a behind-the-scenes look at the story and the making of the film.
The 411: The film itself is terrific and worth owning and adding to your collection as it is one of the most unforgettable screen performances of this year or any year for that matter. The Blu-Ray looks and sounds great in addition to the quality of the film. The special features are extremely lacking, however, with only a few deleted scenes and a quick behind-the-scenes special feature. The film itself is a 10, but because of the lackluster special features, Iím going to give the overall Blu-Ray a 9. I would have loved a commentary track or more information about the real Ron Woodroof. They could have also talked about the physical work that went into the performances by Leto and McConaughey.

Final Score: 9.0

[ Amazing ]

legend
comments powered by