SPOTLIGHTS
Gravity (Blu-Ray Combo Pack) Review
Posted by Tony Farinella on 02.25.2014

One of the most talked about films of 2013 is now out on Blu-Ray and DVD! Is this a mission a worth taking? Read on for the full review!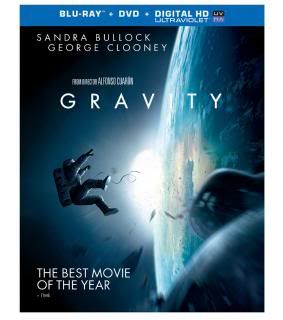 Gravity is a film that Iím sad to say that I missed viewing on the big screen. From everyone Iíve talked to who has seen the film and from the positive buzz surrounding it, it had to be seen on the big screen in 3D, especially IMAX 3D. The impact and the power was said to have been felt that much stronger in that format. Nevertheless, I have to say, it is still wildly impressive on Blu-Ray and a viewing experience that is once in a lifetime. When it was all said and done, my jaw was on the floor and I was amazed at what I had witnessed over the last ninety-one minutes.

The film stars Hollywood favorites George Clooney and Sandra Bullock, and while they both turn in terrific performances, especially Bullock, this is a visual film that packs an emotional punch. Bullock is Dr. Ryan Stone, grieving over the loss of her daughter and enjoying the peace and quiet she desperately needs to deal with everything she has endured. This is her first space shuttle mission and she is joined by Matt Kowalski (Clooney), who in a strange sense of irony is doing his last expedition. Before long, this mission starts to turn deadly as space debris are flying at them at a rapid pace and they need to think quickly or the consequences could turn deadly.

In order to survive this incredibly dangerous situation, they need to stick together and keep in constant communication to avoid death. Within the first half hour of the film, it was clear I was watching something special visually and, quite frankly, I was supremely scared and worried about Stone and Kowalski. The film really is an intense ride and even on Blu-Ray, it is very, very powerful. Bullock portrays her character just perfectly and you really feel for her. Clooney plays the wise and savvy one who knows what needs to be done, even if it isnít always pretty.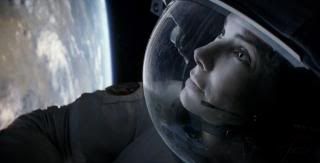 Words really cannot do justice to the visuals and the atmosphere that is created by director Alfonso Cuarón. It is quite an ambitious and tough task to take on, and the realism displayed on screen is awe inspiring. As an audience member, you feel like you are right there in space with them every step of the way. It is beautiful, horrifying, scary, but so immersive. The use of 3D in modern films has been criticized and rightfully so, but a film like this shows the endless possibilities when you have the right concept and the right technology in the hands of a skilled crew.

In the end, Gravity is without question one of the best films of 2013. Itís a film I plan on watching over and over again as so many visual details are on display and the performances are so strong and heart wrenching. More than anything, the filmís message is something that can resonate with just about anyone today and that is the will to live and the will to fight, even if situations where it looks like all is lost. The power and the strength of the human condition are on full display in the incredible film,Gravity . Chances are you havenít seen anything like this before at this level.

Blu-Ray Info: Gravity is released on a three disc combo pack from Warner Home Entertainment. One disc is the regular Blu-Ray, the other disc is the 3D Blu-Ray, and the final disc is the DVD itself. Of course, it also comes with a Digital HD Ultraviolet Digital copy.

Video Info: I do not have a 3D TV or 3D Blu-Ray player, so Iím unable to comment on those technical aspects of it. As far as the Blu-Ray is concerned, however, it is mesmerizing. The attention to detail in every aspect of the film is out of this world. I truly felt like I was with them on this journey every step of the way. The visuals were so vivid, clear, and concise. This movie looks amazing. I can only imagine how good it looks on Blu-Ray 3D. However, on 1080p high definition 16x9 2.4:1 video, I have no complaints at all about how it turned out. Itís simply a must own Blu-Ray.

Audio Info: Released on English 5.1 Dolby Digital with subtitles in English, French, and Spanish, the audio is crystal clear, especially all of the dialogue that goes back and forth between Bullock and Clooney. Every spoken word of dialogue is easy to hear and understand. When the action gets intense, they turn it up a notch, but itís not done in a way that bombards the viewer.

Special Features:

Gravity Mission Control (1:46:00): This is broken down into several individual sections, but it can be played all at once with the ďPlay AllĒ option. They talk about the screenplay and how vivid and descriptive the script was. Bullock and Clooney talk about how the director and the story is what attracted them to the project. Director Alfonso Cuarón wanted an emotional journey mixed with a rollercoaster ride. I would say that he definitely succeeded in that aspect of the film with flying colors. Itís wonderful when you can have a great visual looking film along with emotion that really speaks to the audience. It all started with the script. This is a great special feature that is very informative and filled with excellent interviews and pieces of information about the script and the making of the film. Complete silence, animation, and the pairing of Clooney and Bullock are also discussed.

Shot Breakdowns (36:48): This can also be played all at once or into individual parts. They talk about how they didnít use a real visor and it was added in later on to make it look realistic. If they used real visors, there would be an unwanted reflection. The visor was a big part of the film and showing the breath in terms of the storytelling. They added it all later on and itís truly amazing how realistic it all looks and the how it all came together. They wanted the breath to go along with the story in terms of intensity and how the characters were feeling at that particular time. Itís also separating the inner space from the outer space. They also discuss the sound at length.

Documentary: Collision Point: The Race to Clean Up Space (22:28): This documentary is narrated by actor Ed Harris and talks about the importance of keeping space clean and the efforts that are being made to do so.

Aningaaq-A Short Film by Jonas Cuarón (10:11): This can be played with introduction by Jonas and itís a very unique and interesting short film that looks amazing with all of the snow.
The 411: With nearly three hours of special features already added to the one of the best films of 2013, this is the kind of movie you need to buy the day it comes out. You will not regret it, especially if you have a HDTV and Blu-Ray 3D Player. It is mesmerizing, intense, heartfelt, supremely well made, and crafted. It has everything you could ever want in a film, visually and emotionally. Gravity is simply a must see and a movie that needs to be added to your Blu-Ray collection as soon as possible. It comes highly recommended from me.

Final Score: 10.0

[ Virtually Perfect ]

legend
comments powered by