SPOTLIGHTS
Game of Thrones: the Complete Third Season (Blu-Ray) Review
Posted by Michael Weyer on 02.27.2014

HBO's fantasy epic hits bold new heights in its latest year with one of the most shocking moments in television history.

Game of Thrones: The Complete Third Season
HBO
555 Minutes




Since its debut, Game of Thrones has boldly played by the simple rule that no one is safe. Many shows would balk at adapting the point in George R.R. Martin's novels where hero Ned Stark is killed before the end of the first season but they did it. They match the books' tone with gripping stories and superb acting to help the experience of fans everywhere. But even those who had read the books were rocked by just how powerful season 3 was as the series continued to take bold risks that paid off along with shocking moments that rocked their fans. Once again, to enjoy a season of the show on Blu-Ray is to see a true novel for television with tons of great additions to make the best season of the series yet.

The Series

Picking up after the massive Battle of Blackwater, things in Westros are still in flux. Joffrey Baratheon (Jack Gleeson) is King but clear to all that the sociopath child is a brat unable to accept the reality around him, despite the doting aid of mother Cersei (Lena Headey). Wounded in the battle, Tyrion (Peter Dinklage) is relegated to being the treasurer of the kingdom with loyal sell-sword Bronn (Jerome Flynn) and lover Shae (Sibel Kekilli). Cersei and Tyrion's father, Tywin (Charles Dance) is now Hand of the King and doing his best to maintain control over the council which includes eunuch Varys (Conleth Hill), duplicitious Littlefinger (Aiden Gillen) and wiser-than-he-seems Pycelle (Julian Glover). This includes shifting the marriage possibilities of the captive Sansa Stark (Sophie Turner) and Margaret Tyrell (Natalie Dormer), whose sardonic grandmother Lady Olenna (Diana Rigg) joins for a visit. Robb Stark (Richard Madden) continues to fight on with advice from mother Catelyn (Michelle Fairley) and Robb's love for Talisa (Oona Chalpin) makes it harder to keep control. Meanwhile, to try and make some peace, the Starks allow for Jaime Lannister (Nikolaj Coster-Waldau) to be sent back to his home, accompined by female knight Brienne (Gwendoline Christie) but they end up captured themselves. Theon Greyjoy is forced to endure horrific tortures by a mysterious party while Arya (Maisie Williams) ends up in the company of the brutal "Hound" Sandor Clegan (Rory McCann).




Across the Wall, Jon Snow (Kit Harrington) infiltrates the band of Wildlings led by Mance Rayder (Ciaran Hinds) but his job is complicated by his love for feisty Ygritte (Rose Leslie). Jon's former ally Sam (John Bradley) tries to escape the brutal walkers and aids the pregnant Gilly (Hannah Murray). Stannis (Stephen Dillane) tries to recover from his defeats with aid from wicked priestess Melisandre (Carice van Houten) whose plans involve Gendy (Joe Dempsie), bastard son the late King Robert. Back in Winterfell, the crippled Bran (Isaac Hempstead-Wright), believed to be dead, is on the run with wilding Osha (Natalie Tena) and hulking Hodor (Kristian Nairn). They meet siblings Jojen (Thomas Brodie-Sangster) and Meera (Ellie Kendrick) who share insight to Bran's new found psychic abilities. And across the sea, Daenerys Targaryen (Emilia Clarke) uses her maturing dragons to gain more power, aided by loving follower Jorah Mormont (Ian Glen) and Barristan Selmy (Ian McElhinney), a former knight seeking amends for failing her family before.

The series has always managed to succeed in merging the complicated novels into a concise story for television watchers. A fun early bit as Cersei noting the scarred Tyrion with rumors of him losing his nose, which was what happened to him in the books. The show's power has always been showing how the classic ideas of honor and glory don't really pertain in this world, only the strong and cunning survive. The political games are always fun to watch and fascinating watching how Gleeson is completely oblivious to the fact he's not respected in the least by anyone while Dance is fantastic as the cold Tywin who openly puts this child in his place with "any man who keeps declaring himself a king is no real king." After being seen mostly as a spoiled brat in the first two years, Turner wrests sympathy for Sansa, a girl trapped in this horrible nightmare and fighting to try and survive on her own while Dormer gives layers to this woman working her own games even while others conspire against her. A wonderful moment is her gleeful over how a marriage unites her and Cersei only for Heady to hiss "call us sisters again and I'll slit your throat in your sleep." On that, we see more of how Cersei is trying to keep control but rocked, especially when her father demands she marry another man and we see her twisted love for her brother in full. Rigg is a delight in her scenes, biting and snapping at everyone, like the Dowager Countess crossed with Hannibal Lecter. Dinklage is his usual amazing self, Tyrion beaten down but still trying to keep his cool with dark humor. A powerful scene is where Varys reveals the history of himself and a dark wizard and even the usually sardonic Tyrion is rocked by how evil this quiet man can be. But we still have the fun dark humor such as when Tyrion gives a thank-you gift to servant Pod (Daniel Portman) by arranging a tryst with a trio of prostitutes only for the young man to end up impressing them so much that they don't charge him, wowing Tyrion and Bronn.




The Jaime/Brienne arc shines thanks to the terrific chemistry between Coster-Waldu and Christie, the two bouncing off each other with fun banter as enemies but forced to see each other new light in captivity. The usually arrogant Jaime is brutally maimed which humbles him and a great scene has him detailing how he saved countless lives by killing a mad king but people condemn him for it. Christie matches him well as this proud knight who doesn't care how she's perceived and their growing bond is great to watch, climaxing in a wild fight against a bear. Another odd coupling is Arya and Sandor, Williams showing amazing experience beyond her years as this rough girl forced to grow up fast while McCann is great as this rough fighter showing her how "honor" is a joke in this world they inhabit. After being on the sidelines for much of season 2, Clarke really gets meaty material here as she gathers an army, leading to one of the most kick-ass scenes television offered all year and well matched by Glen as the man who loves her from afar. It's pretty brutal watching the torture of Theon drag on although it ends in a good set-up for next season while Bran's journey offers more mysteries than answers and it's wonderful seeing the self-professed coward Sam finding his true inner courage. Harrington and Leslie are a great coupling (with a literally steamy love scene) and you feel for Jon trying to fulfill his duties despite his feelings for this woman. Meanwhile, Robb is still unsure of his standing as a king but doing his best to keep order with Fairley steely as ever as his mother and it hurts watching them make the right choices under the mistaken belief others keep to the same ideas of honor and duty as they do. Also interesting is the Stannis arc as Dillane, having chanced everything only to get beaten back hard, contemplates how best to use his future.

The show gels and flows along wonderfully, balancing all of these plots in great fashion so you never feel lost. Just as you feel one storyline may be neglected, it suddenly gets meaty material to blossom more such as how Melisandre works her bizarre plots. We get the usual cursing and nudity but the show shines much better than that, showing a dark and dank fantasy world much more real than any we've seen before. More importantly, the writers are smart not to play it fair or what the audience expects. Victories and bright moments are fleeting, alliances shifting and the good guys don't always win. That suspense builds and builds until it finally erupts in the penultimate episode with what was probably the most talked-about scene of any television show in 2013: The Red Wedding (hey, HBO's own commercials for this set say it). Even if you know it's coming, it's still a stunning moment that tears at your heart and the idea of having the finale explore the after-effects was brilliant. The production is still top-notch using its budget well from the CGI dragons to lavish sets but the writing and acting are still the reason the series shines so well as this is a fully-formed world, you can feel centuries of past history in it that echoes in the actions of the present, a clear parallel to today. From start to its shocking finish, the third season of Thrones is the best yet and shines once more as one of the best adaptations of a novel ever, not to mention one of the best drama on TV today.

Rating: 9.5 out of 10.0





Video

As always, HBO does a fantastic job with the Blu-Ray release. 1080p/AVC-encoded picture is crystal clear, nailing all the amazing details that make the series shine so well. Outdoor scenes are bright while indoor ones are appropriately moody and the snow-covered forests are enhanced by the great lighting to match the moods of the storylines. Details of faces and costumes are great with shadows not too overwhelming. In all, the best way yet to enjoy a well-produced series.

Rating: 10.0 out of 10.0

Audio

Just as terrific, the DTS-HD Master Audio 5.1 Surround track is glorious, dialogue quite clear (aided by subtitles in English, Spanish, French, Portuguese, Danish, Finnish, Norwegian, Polish and Swedish) and capturing the fantastic backgrounds of clashing sword, snowy mountains, rain, horses, flapping dragon wings and fire and much more with no need to adjust volume and everything clear as day. It's a fully immersive experience that pulls you totally into the series and you have to love how it embraces you.

Rating: 10.0 out of 10.0


Bonus Features

Once more, a huge selection from HBO, starting off with 12 audio commentaries, many doubling down on episodes (oddly, the season premiere doesn't have one). The list:

*"Dark Wings, Dark Words" with writer Vanessa Taylor, director Daniel Minahan, and actors Jack Gleeson and Natalie Dormer;
*"Walk of Punishment" with executive producers/writers/directors David Benioff and D.B. Weiss; secondary track with production designer Gemma Jackson and costume designer Michele Clapton;
*"And Now His Watch Is Ended" with director Alex Graves and actors Lena Headey and Diana Rigg;
*"Kissed by Fire" with writer Bryan Cogman and actors Nikolaj Coster-Waldau and Gwendoline Christie;
*"The Climb" with director Alik Sakharov and actors Kit Harington and Rose Leslie; secondary track with actors Sophie Turner, Maisie Williams and Isaac Hempstead Wright;
*"The Bear and the Maiden Fair" with co- executive producer/author George R.R. Martin and director Michelle MacLaren
*"Second Sons" with MacLaren and actors John Bradley and Hannah Murray
* "The Rains of Castamere" with director David Nutter and actors Richard Madden and Michelle Fairley; secondary track with weapons master Tommy Dunne, stunt coordinator Paul Herbert, assistant stunt coordinator David Forman and swordmaster C.C. Smiff
*"Mhysa" with actors Emilia Clarke, Iain Glen and Iwan Rheon.

The commentaries are all great to listen to, the children's one fun from their "sing-along" to the show's opening credits ("we are mature adults who have grown up") to Williams once more needling Turner on "you live it up in gowns in a palace and I wear the same outfit in mud all year." They have to keep changing the opening sequence's map for new places and note the trouble of shooting on location so much ("typical Irish day, sunny for ten minutes, cloudy and rainy the rest.") It's great hearing from the costume folks, how they have to alter things from the book as stuff on the written page doesn't pop as well on screen. Heady is good in her commentary ("I'm standing next to Diana Rigg, I'm very happy") while Cogman talks of wanting a cameo on the show and it's pointed out he can just write himself in. They talk on the shocking moments ("It wouldn't be an episode of Game of Thrones if we didn't kill a couple of children.") and Christie and Coster-Waldu laughing about having to do a major story scene while sharing a tub in the nude. Martin's commentary is quite insightful as he notes the book version of Shae is much different than the show version but he likes is and how he thought Tena was wrong for Osha at first but has come around. The Theon plotline is talked of as he basically vanishes for a couple of books but they couldn't do that for the show and thus his hard storyline. Naturally, the "Rains of Castmere" is a big discussion with Fairley admitting it's the first time she's actually watched the whole episode and emotional seeing it unfold. Overall, a fantastic listen to see insight to how the series comes about.

In-Episode Guide (Discs 1-5, HD) Standard for the GoT sets, these in-picture boxes can allow you quick access to information on characters and locations which can showcase alongside the picture. While those are good, much better are the fantastic "Histories & Lore," animated sequences that give full details of famous battles or people of the lands. They're all done well with good stuff like Littlefinger and Varys debating King Robert's rebellion and its aftermath and more of Joffrey's madness as he talks of his palace. The "Histories & Lore" sections can also be accessed via a separate menu to help fully flesh out this wonderfully crafted world.

A Gathering Storm is a promo piece from HBO that recaps season 2 with clips and insight from actors and producers to bring newbies up to speed.

New Characters (9:41) shows us the incoming freshman class of the show with everyone awed working with Diana Rigg and D.B. Weiss getting the fun line "we're still casting more than we're killing."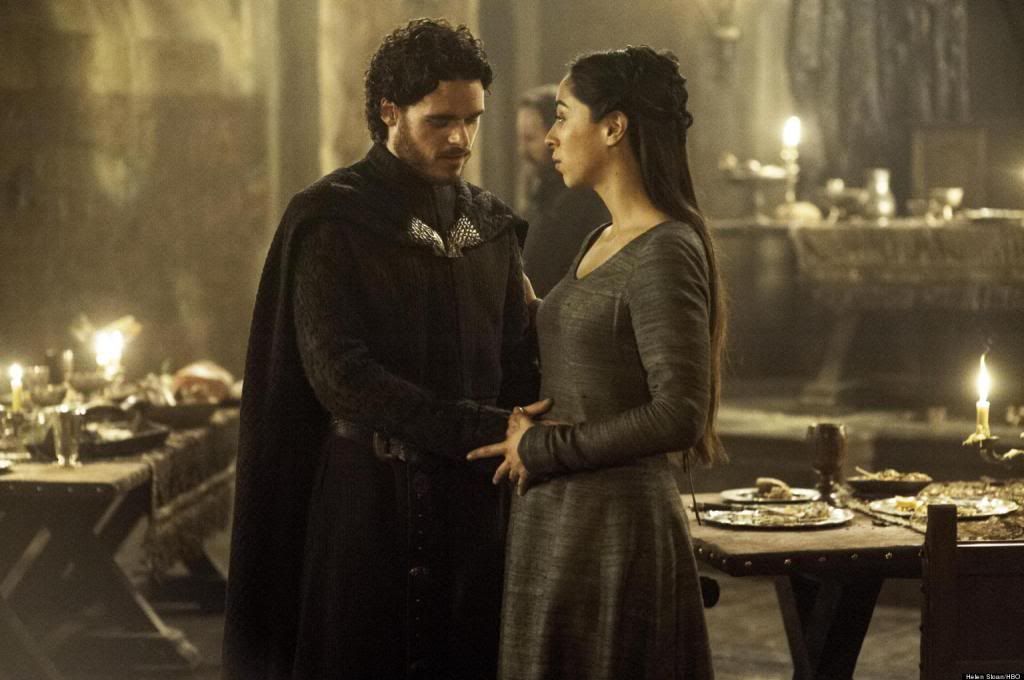 The Rains of Castamere Unveiled is a fantastic piece that plays like a Maximum Movie Mode-esque bit that expands on the most famous episode of the season (and perhaps the series). D.B. Weiss openly stated the tragedy of such stories is that "the best of us don't make it to the end." Special pop-up screens let you access videos where George R.R. Martin himself describes the backgrounds and thinking of key sequences and people. Director David Nutter talks about how "real rain doesn't register on camera" so it has to come down hard. They cite differences of the books (such as how Robb's wife is someone else) and Martin laughing on how "they took the darkest thing I've ever written and made it darker." The final scene has multiple ways to view with a special commentary by Martin and the producers. Overall, a terrific look at one of the most stunning hours of television you'll ever witness.

Inside the Wildlings (6:21) is another promo piece by HBO looking into the Wildlings, their ways and lives with insight to the creation of weapons and shooting in the cold weather.

The Politics of Marriage (9:02) looks at the ways marriage is used in the world of Westros in various ways, less about true love and more about gaining power and such with Martin detailing how much was inspired by ancient medieval practices.

There are about fifteen minutes worth of deleted or extended scenes, all cut for time and some good ones. The best is easily one I wish had been kept in where Tywin meets with Pycelle, openly asking "am I the only one who can see through this performance?" and Pycelle drops the old and addled act to admit even he's surprised how many people buy it and why he does it, great work by both actors.

Rating: 10.0 out of 10.0




The 411: Season three of Game of Thrones is far more than just the Red Wedding but that certainly casts a huge shadow over the proceedings. But the show continues its amazing ability to weave a huge cast and multiple plots well, adding up to a fantastic series unlike any other on the landscape today. The extras are just as wonderful letting you see how this effort came about. From start to its shocking finish, this is a novel for television worth diving into as the Game gets better and better with each turn.

Final Score: 10.0

[ Virtually Perfect ]

legend
comments powered by