SPOTLIGHTS
The Wolf of Wall Street (Blu-Ray+DVD+Digital HD) Review
Posted by Chad Webb on 03.25.2014

"I'm never eating at Benihana again. I don't care whose birthday it is."…

Leonardo DiCaprio: Jordan Belfort
Jonah Hill: Donnie Azoff
Margot Robbie: Naomi Lapaglia
Matthew McConaughey: Mark Hanna
Kyle Chandler: Agent Patrick Denham
Rob Reiner: Max Belfort
Jon Bernthal: Brad
Jon Favreau: Manny Riskin
Jean Dujardin: Jean Jacques Saurel
Joanna Lumley: Aunt Emma
Cristin Milioti: Teresa Petrillo
Christine Ebersole: Leah Belfort
Shea Wigham: Sheriff Ted Beecham
Katarina Cas: Chantalle
P.J. Byrne: Nicky Koskoff
Ethan Suplee: Toby Welch
Directed By: Martin Scorsese
Written By: Terence Winter
Theatrical Release Date: December 25, 2013
Blu-Ray Release Date: March 25, 2014
Running Time: 180 minutes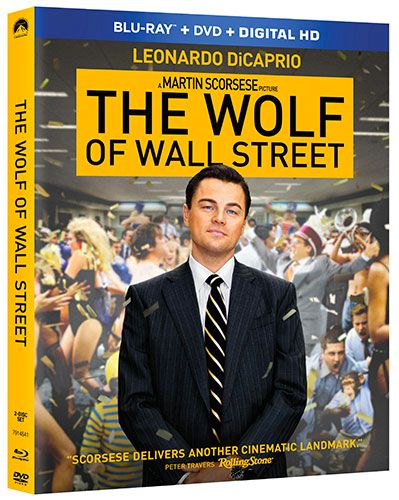 Rated R for sequences of strong sexual content, graphic nudity, drug use and language throughout, and for some violence



The Film



The Wolf of Wall Street, Martin Scorsese's 23rd feature and his 5th collaboration with Leonardo DiCaprio, is JUST. DAMN. BRILLIANT.

It is one of the best films of 2013. Every cast and crew member is firing on all cylinders. I was tempted to say this is DiCaprio's Goodfellas in terms of his tenure under Scorsese's wing because the movie as a whole has more in common with that flick, but from a performance standpoint, this should really be labeled his Raging Bull. He's that good. So is Jonah Hill. So is everyone. The acting is one aspect I think we can all agree on.

The Wolf of Wall Street covers the rise and fall of Jordan Belfort (Leonardo DiCaprio), the type of guy whose activities led to the economic catastrophe of 2008. Beflort is a stock broker who entered the industry in the late 80's and unfortunately earned his license on Black Monday, the day of the biggest crash at that point since the 20's. He loses his job, but rises from the ashes by concentrating on selling "penny stocks." Because he is highly intelligent and knows how to talk to people, he takes this wave to incredible wealth, which includes mansions, sports cars, and Quaaludes. He founds the company Stratton Oakmont and hires people like Donnie Azoff (Jonah Hill) and Nicky Koskoff (P.J. Byrne) to help him run it. Eventually he also kicks his first wife to the curb for a hotter one, Naomi Lapaglia (Margot Robbie). Due to relentless, innumerable counts of fraud, the SEC and the FBI (Kyle Chandler) begin to investigate Jordan, which threatens to halt the surge of his Caligula-esque actions.

The Wolf of Wall Street, written by Terence Winter from Jordan Belfort's own memoir, is saturated with unforgettable lines and scenes too numerous to praise. This is as close to comedy the director has gotten since 1985's underrated After Hours and he succeeds with flying colors. Scorsese also goes out of his way to steer away from the same territory as Wall Street and Boiler Room, which was a wise choice. It might be obvious to compare him to Gordon Gekko, but they are different people. On a random note, the real Belfort was inspired by Gekko, just wasn't as smart.

I do have to touch on some of the complaints I heard. Much to my amazement, a common one was that the film is too long. It's not. Seriously, I could just say "different strokes for different folks," but if you're going to a Scorsese release and whining that it's too long, what rock have you been living under? Almost all of the titles on his resume, with the exception of a few, are 2 hours or over. My point is, take it or leave, but he has always been the same in this regard. His movies are long, but worth it. Another complaint I came across was that certain people felt that it's too over the top. To this I say we should remember we're dealing with an unreliable narrator. This is not meant to be an accurate biopic. This is based on Belfort's memoir, and from what I've read they follow it closely. We know the narration is not trustworthy when Belfort is unsure what color his car is at the beginning. The victims of these misdeeds are not seen because, again, this is Belfort's POV, which means the victims are of no consequence during the riding of this wave.

And the argument that received the most traction, and generated the most controversy for the picture, was that detractors see The Wolf of Wall Street as glorifying Belfort and company. I even stumbled upon an "Honest Posters" link for the Best Picture nominees. You can see that below for proof that a large number of viewers looked at this film the wrong way. Perhaps those people should have stopped texting during the film and paid closer attention to the message they were aiming for. This is a black comedy, a satire. Were you expecting Scorsese to relentlessly drive home disapproval of Belfort into audiences? That would be boring. Also, if you envy Belfort's lifestyle, go back and see this again and take note of all the horrible things happening to him. Greed can be seductive, but his life was anything but a picnic.

I have also read comments that this lacks key elements of Scorsese's best efforts, but I say it takes his strengths and ropes them into a different kind of animal. And although I hate the overuse of this word, The Wolf of Wall Street is fu**ing epic. See it.

*Here is some trivia for you. The IMDB page is full of interest tidbits, but you might not have known that the actual Jordan Belfort acted as Executive Producer on several B-grade movies in 1996 and 1997. The titles include some of Hulk Hogan's vehicles, such as Santa With Muscles! Why the hell wasn't that depicted in the movie Marty?



The Video



One thing you can count on with a Martin Scorsese film, they will look and sound superb on your home entertainment center. The Wolf of Wall Street is a colorful picture, which is saying something considering this is about wall street. The sets, the costumes, the cars, the art design all include appropriate colors and are beautiful to admire. The colors do not bleed and the blacks are sufficiently deep. And with Thelma Schoonmaker editing and Rodrigo Pietro as cinematographer, the film bursts with life and energy. The 1080p High-Definition transfer is quite good with an eye-catching, clear, and detailed picture. The widescreen standard DVD that is included, is also excellent.



The Audio



The sound department is top-notch as well. This movie has more action than you might realize and all the noises come through the speakers wonderfully. Whether it is the outstanding soundtrack with the likes of Howlin' Wolf and Billy Joel or the sound mixing and editing of the parties, adrenaline-fueled speeches, and thrilling montages, this audio is crisp, refined, and will certainly give your surround system a workout. The music does not overwhelm the dialogue. Every character was lucid and understandable. The English 5.1 DTS-HD Master Audio track is marvelous, as was the English 5.1 Dolby Digital for the standard disc. Both discs also come with 5.1 Dolby Digital tracks in Spanish and French, not to mention subtitles in English, French, and Spanish.



The Packaging



The Wolf of Wall Street is distributed in a standard slim-line blue Blu-Ray keep case with an embossed slipsleeve cardboard cover on top of that. The inside of the front and back covers house the discs. You also get a sheet with the code for the Ultraviolet download, which features an advertisement for Jordan Belfort's book on the back.



The Extras



The Wolf Pack (17:01) – Thankfully we don't have any previews to sit through, but sadly we only have one special feature here. I was hoping this would be a stacked making-of documentary nearing an hour, but it is a typical length for one of these extras. This has interviews with the cast and crew, including DiCaprio, Hill, Scorsese, and more. If you've watched one of these on any DVD or Blu-Ray in the past, you know what they talk about. They cover how the project came about, the production itself, praising each other, etc. and so forth. Nothing shocking.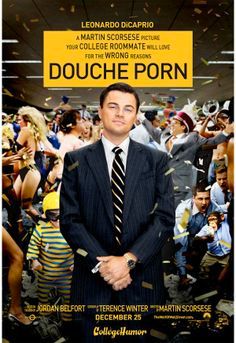 The Film: 10.0/10.0
The Video: 9.0/10.0
The Audio: 9.0/10.0
The Packaging: 7.5/10.0
The Extras: 4.0/10.0
The 411: I have heard The Wolf of Wall Street described as this generation's Scarface. I'm not sure if some people mean that as a compliment or a criticism, but I view it as praise since both films are compulsively watchable for similar reasons in terms of pacing, direction, action, and extravagance. Of course, the fact that the word fu** is used 569 times, once every 3.16 minutes, helps get viewers revved up about the movie too. This is an expertly constructed motion picture any way you slice it. The acting from star Leonardo DiCaprio, along with Jonah Hill and a phenomenal supporting cast, is nothing short of stellar. Scorsese, at the age of 71, has no signs of losing a step. This will go on to be one of his most talked about efforts for years and years. It was #2 on my Top 10 list. I loved every second of it and will happily pop it in the player over and over again. This Blu-Ray, DVD, Digital HD combo pack sports exquisite technical specifications, but the bonus features are lacking. Only one "making-of" featurette is given to us. No deleted scenes, no commentary, nothing else. That is a bit disappointing, but the film stands on its own so awesomely that I recommend buying it regardless.

Final Score: 8.5

[ Very Good ]

legend
comments powered by