SPOTLIGHTS
Grudge Match (Blu-Ray Combo Pack) Review
Posted by Tony Farinella on 04.08.2014

Rocky takes on Raging Bull in Grudge Match, now out on Blu-Ray and DVD! Is the film a knockout?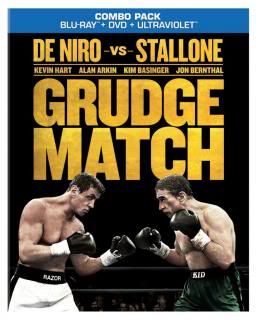 Iím sure when many film fans heard that a boxing movie was being made and it was starring Sylvester Stallone and Robert De Niro, both well past their prime in terms of strenuous physical activity, lots of laughs were had. On paper, it looked like it would be like another version of The Expendables where the old dudes are just trying to be young again and there are many wise cracks about their age and how they are too old for this shit. While there is a little bit of that in this film, there is also more than meets the eye and we end up with a film that really isnít about the boxing. It is about the relationships and the characters.

Sylvester Stallone stars as Henry ĎRazorí Sharp, a boxer who now spends his days looking for sales at the grocery store and working a regular 9-5 lunch pail job with his glory days of boxing long behind him. He only lost one fight in his whole career and that was to the cocky and brash Billy 'The Kid' McGuigan, played by Robert De Niro. Billy ĎThe Kidí also has only one loss to his record and that is to Henry Sharp. The third grudge match never occurred after Sharp retired from boxing due to complicated reasons that are explained in the film. This has always left the two men wondering, most specifically Billy 'The Kid' who would have won the tiebreaker.

When a video game is being created using both of the old fighters, it leads young, hot shot promoter Dante Slate, Jr., played by fast talking Kevin Hart to step in and try to convince them to give it one more shot. Of course, the whole world thinks they are far too old and the whole thing is a joke. An old friend of theirs played by Kim Basinger also wonders if it is the right thing to do and if this fight will cause permanent damage to both men.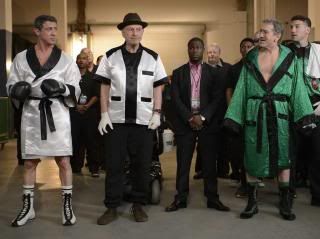 Razor needs the fight more than Kid as he is taking care of his old trainer played by Alan Arkin, whose hospital bills are growing by the day. Kid, on the other hand, owns a successful restaurant and car dealership, so he is more than OK when it comes to money. His issue, on the other hand, is pride, and he is bound and determined to prove that he is the better fighter. In his mind, the only reason he lost that fight is because he didnít train properly and was too busy being involved in booze and women. He believes that he can win fair and square if he gets in shape and does what is necessary to win.

Grudge Match runs at just under two hours but it is a brisk running time as the jokes come fast and furious and the material is light and fun. Kevin Hart steals every scene he is in and is clearly having a great time working alongside these two legends. Stallone is stoic but funny and has tremendous comedic timing. De Niro hams it up but in a good way as the over the top Kid who loves to run his mouth and have a good time. He is far from a saint, but he keeps him likable and fun throughout the entire film. Itís clear that everyone knew what kind of film they were making and their limitations and just went with it.

There is nothing in this film that is going to reinvent the wheel or catch anyone by surprise. The thrill is seeing all of these great actors working together and interacting with each other. Even if the material isnít the best and the script isnít the sharpest, it is just a film that allows the audience to have a good time and provides some good humor. In the end, Grudge Match is better than it has any right to be, thanks to the acting and thanks to the relationships that are at the center of the movie. I enjoyed it more than I thought I would.

Blu-Ray Info: Grudge Match is released on a two disc combo pack which includes the Blu-Ray, DVD, and Digital HD with Ultraviolet from Warner Home Entertainment. The film runs at 113 minutes.

Video Info: Released on 1080p high definition with a MPEG-4 AVC codec on 16x9 1.85:1., Grudge Matchlooks terrific on Blu-Ray. The boxing scenes look and sound sharp and they really bring you in the ring with them. Considering the age of both men, the camera doesnít shy away from bringing the action right into your living room. The colors are vivid during certain scenes and darker when the mood and tone calls for it. This is a good looking Blu-Ray.

Audio Info: The audio track which is DTS-HD English 5.1 is also right on cue and allows for all of the dialogue to be heard without any moments where you have to turn to your friend next to you and ask what was said. It sounds great, and the in the ring action also packs a punch as well. Subtitles are included in English, French, and Spanish.

Special Features:

The Bull & The Stallion (14:18): Here, we learn about the legendary pairing between De Niro and Stallone, as this was their first time working together since 1997ís Cop Land. The director Peter Segal talks about how they both really went for it and werenít afraid. They committed to the role and went all out. It also talks about how they used no stunt doubles for the fight scenes and how they trained both together and separately.

In The Ring with Kevin Hart (05:00): This special feature talks about how they wanted add some humor to the mix and a fresh, young, hip perspective from one character to be the opposite of the older characters in the film.

Ringside with Tyson and Holyfield (03:17): They talk about some of the training methods used in the film and how it compared to their own training.

Blow for Blow with Larry Holmes (03:34): This doesnít have a whole lot to do with the film, but it is great to hear from one of the best boxers of all time.

Alternate Opening (06:46): This is a different opening than the one used in the film. It basically just gives more background on the two main characters as told to us by the Kevin Hart character.

Kevin Hart Unedited (03:57): When you have a funnyman like Kevin Hart in your film, you want to let him do his thing. This shows some of those moments where heís just having fun and letting loose.

Alternate Endings with an introduction by Director Peter Segal (03:22): This is two other endings to go along with the ending that is used in the actual film. I donít want to give it away as it is better to wait until you have seen the film.

Deleted Scenes (06:44): Six deleted scenes are included here and considering the film is almost two hours, Iím completely OK with these scenes being deleted from the film. There isnít anything all that noteworthy here and most of them are pretty quick and to the point.
The 411: Iím happy to report that I enjoyed Grudge Match a lot more than I thought I would and had quite a good time with it. It made me laugh more than I expected and it had more sentimental moments than I would expect out of a film like this. It is hard to make a bad film when you have a cast of actors like the ones that are included in this film. Overall, this is a film worth seeing and a film that I think might surprise you. It works perfectly fine as a one and done rental. I donít see the need to rush out and buy it and add it to your collection unless you are a huge fan of both of these actors. I give it a pretty solid recommendation and I was pleasantly surprised.

Final Score: 7.0

[ Good ]

legend
comments powered by