SPOTLIGHTS
The Hobbit: The Desolation of Smaug (Blu-Ray Combo Pack) Review
Posted by Tony Farinella on 04.08.2014

The second film in the Hobbit trilogy is out on Blu-Ray and DVD! Is it a worthy addition? Read on for the full review from 411mania.com's Tony Farinella!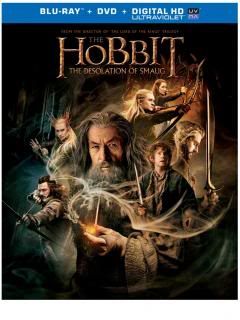 A question is asked on one of the special features about the difficulties of filming a middle film in a trilogy. A fan asks Peter Jackson how he handled the challenge and how daunting that challenge truly is and was. With this second film, The Hobbit: The Desolation of Smaug, we see all of those difficulties displayed on screen. The story feels disjointed and the ending leaves us feeling disappointed. The running time of 161 minutes doesnít do it any favors, either. In the end, we have an overlong, over plotted, and unsatisfying second film in the trilogy. It is certainly not for a lack of effort, however, as the production and direction is top notch.

The story begins with Bilbo Baggins and Thorin Oakenshield , along with some Dwarves, on a quest to reclaim the Lonely Mountain from the Dragon Smaug along with the Arkenstone. At the urging of Gandalf (Sir Ian McKellen), it is realized that a burglar will be needed in order to get this back. As always, this sort of thing is easier said than done and requires careful planning and preparation in order to pull it off successfully and without a hitch. As if things werenít difficult enough, they have to contend with a bear that is hot on their heels. No one said this was going to be easy.

I donít want to give too much away, as it is better to see it unfold before your very eyes but the Dwarves end up being captured and they have to come up with a rather creative way to escape. Spiders are also thrown in the mix and that is never a good thing, thatís for sure. Once the Smaug is woken up, though, that is when things start to get really, really hairy for everyone involved. The Dragon Smaug is quite a creature and it does not disappoint, that is for sure.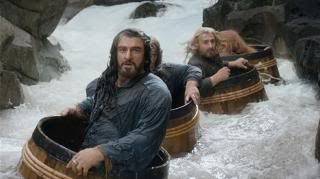 For fans of The Hobbit, of course this is a must-see, as it sets up the finale. The action and fight sequences are incredibly well done and put together. They really jump out at the screen and are in your face in the best possible way. The Dragon Smaug itself is also an awesome monster to look at and really captures your attention when itís on screen. From its voice to its look, it is really done well. All of the sights and sounds and scenery are here and they also out of this world It is clear a great deal of time, effort, and manpower was put into making this film. That is impossible to ignore.

However, the story just doesnít have that extra push that one would expect and it sort of just meanders on screen for great periods of time. All of the special effects I mentioned are tremendous and top of the line, but they donít mean nearly as much when the story is this long and this uninteresting. The film is a set up, no question, to the finale, and it serves its purpose, but one would hope that as a standalone film, it would have more of a positive impact and leave a better impression going into the third film.

The film is also lacking a sense of fun and a sense of enjoyment. Everything is played deadly serious and there isnít a lot of fun to be had here. With a film like this, you want to have a good time, and while it is not a bad time or a bad movie, it lacks the excitement and joy that is needed for a film like this to finally succeed and be worthwhile. After about one hundred minutes of it, one feels as though they have had their share and they are ready for something more instead of just dragging it out even longer.


Blu-Ray Info: The Hobbit: The Desolation of Smaug is released on a three disc Blu-Ray/DVD/Ultraviolet Digital HD combo pack from Warner Home Entertainment. One disc is the DVD, one disc is the Blu-Ray, and the last disc has all of the special features. The film runs at 161 minutes and is rated PG-13 for extended sequences of intense fantasy action violence and frightening images.

Video Info: Released on 1080p high definition 16x9 (2.4:1), The Hobbit: The Desolation of Smaug looks fantastically beautiful on Blu-Ray. You can also purchase the film on 3D Blu-Ray if you so choose as well. For the regular Blu-Ray, it stands out and is a really interesting looking film. Director Peter Jackson makes so many great color choices, making each scene stand out in its own unique way. The movie looks just about perfect.

Audio Info: On DTS-HD Master Audio: English 7.1, the film is very easy to hear and the action comes loud and proud in your living room, at times a little too loud for my liking. That is to be expected on a film like this, however, and it can be adjusted with a little volume control. You certainly wonít have any issues hearing anything, however.

Special Features:

I See Fire Music Video

Hobbit Related Trailers

New Zealand: Home of Middle Earth Part 2 (07:11): On this special feature, they talk about shooting on location and how rewarding that was. All of the actors loved New Zealand and being outdoors and commented on how much it added to the film. They also talk about how many beautiful places there are to shoot out there. We hear from the supervising location manager and the director of photography as well.

Peter Jackson Invites You to the Set (40:36): The introduction tells: ďThe following draws from across sections of days during the making of the Hobbit Trilogy to let you experience what the cast and crew did on a daily basis.Ē They would start many of their days at 4:15AM and the crews worked around the clock and had a lot of fun. There is some great behind the scenes footage included here.

Live Event: In The Cutting Room Monday, March 25th 2013 (37:52): Peter Jackson takes you inside the cutting room and answers questions from Twitter on the bottom of the screen during this special feature. This is pretty neat, to say the least. Jackson creates a relaxed, loose, but professional feel to the proceedings. When editing, they used a 103 inch TV screen so they could get a better idea of what it would look like on the big screen.

Production Videos (11-14) (36:41 using the play all feature): From the score to pickups, many aspects of this intense and hardcore production are featured here.
The 411: In the end, if you love The Hobbit series and have stayed with it for these two films, you are probably more than ready for the third film. I just feel that as a standalone film, it leaves a lot to be desired and doesnít leave the kind of impact one is hoping for out of something like this. It truly suffers from the middle film blues. There are moments where my breath was taken away, but it takes too long to get there and the journey is a bumpy one. All in all, the film is a mixed bag filled with highs and lows. The highs are pretty remarkable, such as the Dragon Smaug and the well-put together fight sequences, but the story, the pacing, and the length really hold it back. This is strictly for Hobbit fans only. If you havenít seen the original, good luck making sense out of this film. You will be completely lost.

Final Score: 6.0

[ Average ]

legend
comments powered by