SPOTLIGHTS
All Cheerleaders Die (VOD) Review
Posted by Tony Farinella on 05.05.2014

The horror film All Cheerleaders Die is now available on VOD. But how does it stack up? 411's Tony Farinella checks in with his full review!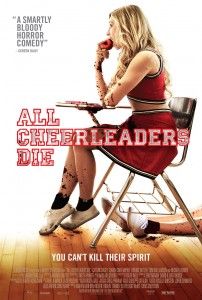 When the title of the film is All Cheerleaders Die, one expects some level of campiness and fun with the proceedings. It isnít something that you are going to take all that seriously. However All Cheerleaders Die isnít campy enough to be funny and it isnít gory enough in an over the top fun sort of way to be a true blue horror film. It is somewhere in the middle and just sort of falls flat on its face. It is clear there is potential with the story and the directors are talented and have done good work in the past, but the film never pops out at the audience and it doesnít leave a lasting impression in a positive manner.

All Cheerleaders Die is co-directed by Lucky McKee and Chris Sivertson, and Iím sad to report that they donít add a lot of substance or style into the mix. Itís a mostly dark looking film that is severely lacking an ďitĒ factor. They donít add any unique touches to the proceedings. The film is about Maddy (Caitlin Stasey) who joins the cheer leading squad in order to get into their inner clique and thus destroy them. However, after a car accident ends up killing most of the cheerleaders, they end up with supernatural powers thanks to a Wiccan student (Sianoa Smit-McPhee's) that brings them back to life.

This time, they are coming after the football players who are responsible for their deaths. As one can imagine, this is when the film turns into your fairly standard and run of the mill horror film where characters get picked off one after another. The film plays things rather safe and doesnít take any chances or really run wild with its premise. It feels restrained and the acting leaves a lot to be desired. There isnít anything about the film that is all that original or outside the norm.



The first half hour in particular is where the film really drags and suffers as it takes a while to get going and it isnít a whole lot of fun to spend time with these characters. We have seen these characters in other horror films before and we have seen them portrayed better by more established actors. As a matter of fact, it is hard to tell the characters apart as they are all sort of the same and the acting doesnít pop either. The film is also lacking in tone as it doesnít seem to know what it wants to be or how it wants to come across.

In the end, All Cheerleaders Die is not as much fun as I thought it would be or as much fun as it has the potential to be. It is the definition of mediocre from the acting to the production values to the direction. It is truly a shame when an independent film doesnít try to do anything that we havenít seen before and plays it so safe and by the book. It is one of those films that is immediately forgotten about it once it is all said and done. This is a disappointing effort from two directors who are capable of much more than they show us here.

Writer's Info: I was given a screener copy of this film, so I had no access to any special features or bonus content.
The 411: All Cheerleaders Die can be viewed on VOD starting this upcoming Thursday, May 8th with a theatrical release date of June 13th, 2014, if you are interested in checking out the film. However, I would strongly advise against it, as it is 89 minutes of dull, uninspired, and boring filmmaking and acting. On all levels, the film is a failure, but the wheels really come apart in the third act when I just wanted the whole thing to end and be over with so I could move on with my day. This film is a real missed opportunity and a complete and total mess.

Final Score: 4.0

[ Poor ]

legend
comments powered by