SPOTLIGHTS
Veronica Mars (Blu-Ray) Review
Posted by Tony Farinella on 05.06.2014

Veronica Mars is back, but is she better than ever? Read the full review from 411mania.com's Tony Farinella for the details!



Thanks to Kickstarter and its loyal backers, Veronica Mars has returned and some might say she is even better than ever. Veronica Mars the movie made history when it was put on Kickstarter and made more money than they could have ever possibly imagined. For years, fans of the show have longed for her to return in some capacity. The good news, however, is whether you have watched the show many times and own all of the seasons or whether you are a first time viewer of Veronica Mars, you will be able to understand and follow the story with relative ease. This movie is truly for everyone, but the fans in particular will get a real kick out of it.

Just like they said in Godfather 3, the more she tries to leave, the more they keep pulling her back in, and as hard as Veronica Mars tries, she just canít escape her past. Even though she is living in New York with boyfriend Piz (Chris Lowell) and trying to live a life on the straight and narrow, the strange town of Neptune, California keeps calling her name. Her attempts to work for a law firm are put on hold when she discovers that her ex-boyfriend Logan (Jason Dohring) is being accused of murder. He calls her for help, and she just has the itch for one final case.

Before long, she starts to get deeply involved in the case, which involves a murder of his famous pop star girlfriend named Bonnie DeVille, who was Carrie Bishop back in their high school days. She is happy to see her father Keith Mars, who is also quite pleased to see her, but wants something more for her than a life of mystery, murder, and blood. However, she keeps getting drawn to it and something about the case just doesnít add up. She knows Logan and has dated him. Is he truly capable of murder? As she says in the film, she wouldnít have traveled this far if she thought he actually did it.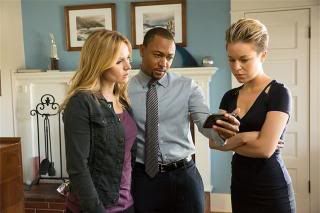 Creator/director/writer/producer Rob Thomas really has given the fans a film that they can be proud of and a film that answers many questions that the Marshmallows have had since 2007 when the show was unceremoniously taken off the air. You can tell they went all in with the film and its six million dollar budget. There are plenty of great cameos, which I wonít spoil for you, if you havenít seen the film, as they are better to be discovered as you watch it. It doesnít just feel like a Veronica Mars episode that was stretched to feature film length. It is a standalone film that truly works and is a ton of fun.

As mentioned above, another smart thing about this version of Veronica Mars is that it is easy to follow for newcomers. The film opens up with a brief introduction that helps new viewers understand what she is all about and what this private investigator stands for as a person. Iíve seen the show before, but even I needed a little refresher as it has been quite a while since Iíve watched it. The person I watched it with had never seen it before, and they were captivated by the story and enjoyed its blend of humor and mystery.

Most of all and more importantly, this is a good film. Whether it is a Veronica Mars movie or just a regular movie, it is a good film that is filled with tons of mystery and humor as I mentioned and a plot that is paced just perfectly. Lots of old favorites return as well, and it is sure good to see them once again, that is for sure. For Kristen Bell, she knows this character inside and out and plays her just about perfectly with the right mix of charm and sarcasm. I hope this leads to more Veronica Mars, whether it is in movie format or TV format or any format for that matter. She is a tremendous character that has staying power.

Blu-Ray Info: Veronica Mars is released on a single disc Blu-Ray, which includes a code for a Digital HD Ultraviolet copy of the film as well, from Warner Brothers Home Entertainment. The film runs at 108 minutes and is rated PG-13 for sexuality including references, drug content, violence and some strong language.

Video Info: Looking sleek and mysterious on 1080p high definition 16x9 2.4:1, Veronica Mars is a hit on Blu-Ray. The film looks great and really pops on screen. It has always been a great looking series, but on Blu-Ray, it is really enhanced and really adds a powerful punch to the viewing audience.

Audio Info: On DTS-HD Master Audio: English 5.1 and with subtitles in English, French, and Spanish, all of her great one liners are heard perfectly. Thankfully, with this audio track, we are able to hear all them without having to turn the volume all the way up.

Special Features:

By The Fans-The Making of the Veronica Mars Movie (55:43): This special feature is a real treat as it walks you from its Kickstarter days to the set and features tons of tremendous interviews with both the cast/crew and the fans as well. You can definitely feel the love and passion for this project by watching this nearly one hour special feature that shows you how this film finally came together.

Behind the Scenes: More on Set Fun

Welcome to Keith Mars Investigation (02:54): Actor Enrico Colantoni walks you through his office and all of the different parts of it.

Veronica Mars Backers (04:46): Many of the backers earned a chance to be on set and this special feature focuses on their time on set and what that was like for them to meet many of their favorites.

Game Show with Chris Lowell and Kristen Bell (04:30): This shows the two actors having a little fun at each otherís expense by playing a game show. Lowell in particular pokes fun at Bell in humorous ways.

On Set with Max Greenfield (03:10): Even though he is now known as Schmidt on New Girl, he always remembered his roots and still gets mentioned from his time on the show. Here, we see him on set, joking around with Kristen Bell, who asks him if he is the new girl.

Itís Not All About You Monkey (02:59): This special feature focuses on the dancing monkey in the film and how it thought it was a little more important than it actually was.

Young Veronica (0:58): This is about the girl who Veronica stares at in the movie and who reminds her of a young Veronica, being a loner.

Deleted Scenes (04:20): I would call these more extended scenes than deleted scenes as they are played off of scenes from the film featuring Veronica and her dad and her posing as a Clint Eastwood location scout.

Gag Reel (04:35)
The 411: The movie is really good, the Blu-Ray transfer is really good, and the special features are terrific. I have one minor compliant about this release, however. I would have loved for a commentary track between Kristen Bell and Rob Thomas. It would have been great to hear them talk about filming certain scenes and putting them together and what it was like for Bell to get back into character. That is a minor compliant, however, as it is great to see Veronica again and the film does not disappoint. I canít imagine too many fans being too upset with what they did with this film. They made the film with them in mind and it is a film that is a boatload of fun and filled with plenty of mystery. This one comes highly recommended.

Final Score: 8.0

[ Very Good ]

legend
comments powered by