SPOTLIGHTS
Her (Blu-Ray Combo Pack) Review
Posted by Tony Farinella on 05.13.2014

Joaquin Phoenix stars in the critically acclaimed film, Her, from filmmaker Spike Jonze. Is it worthy of all the hype that it has received? 411's Tony Farinella checks in with his full review!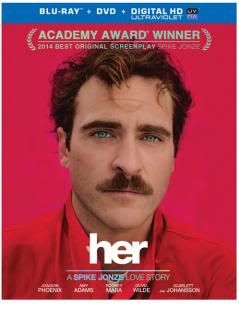 When an ambitious film like Her comes along, it truly is a thing of beauty. It is even more rewarding when the Academy nominates it for Best Original Screenplay and it also wins the Oscar as well. Her is a tale set in the future, although it certainly feels like something that could happen in todayís modern world, especially considering how obsessed we are with technology and all that it does. It is not all that farfetched to imagine that someone could fall in love with an operating system and feel a connection with it. Spike Jonze is the perfect director and Joaquin Phoenix is the perfect actor for this type of project.

Joaquin Phoenix stars as Theodore Twombly, a melancholy writer who is going through a divorce with his wife played by Rooney Mara, yet is refusing to sign the papers. Instead, he is simply distracting himself at his job where he writes personalized letters for people who are unable to find the words themselves. He is mostly going through the motions without any real happiness or joy until he buys an operating system that breathes new life into his otherwise dull and lackluster existence. She is voiced perfectly by Scarlett Johansson and is named Samantha.

Before long, they start to develop a real relationship and he even starts to call her his girlfriend. While he is unable to connect and express himself with those in the real world, he seems just fine opening up to her and even has phone sex with Samantha as well. It is an intimate relationship that feels real and genuine. There is a real authenticity to it and it is a testament to the voice work of Johansson and the acting of Phoenix. Itís a tough task to pull off, but they do so much with so little. Itís a wonderful love story to see unfold.

However, just like with real life and real love, things are complicated. How do you explain to your friends and family that you are dating an operating system? How does it make sense? When they try to introduce a surrogate into the mix, things get really messy. The film raises some interesting and thoughtful questions about love, but it offers no easy answers, which I appreciated as an audience member. From its colorful dream like scenery to its haunting soundtrack, Her is a work of art and a great piece of filmmaking. You can tell the people involved really set out to do something special and they did exactly that, without question.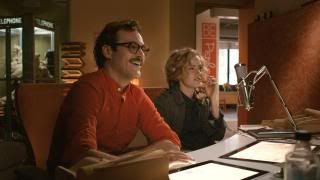 Joaquin Phoenix has always been a quirky and off kilter actor and that personality type fits in perfectly here with his performance as Theodore. You really believe him, inside and out, as this character, and his relationship with Samantha feels like it could actually happen. Johansson, as I mentioned, is given a really tough task as she has to project so many various emotions through her voice and through her tone, and she absolutely nails it. Itís not an easy performance, that is for sure, but she gets all the little nuances of it right.

I have to be honest and admit that I had my fears and my worries about Her. I thought it would be a hipster flick and too cool and too self aware for its own good. I should have known better with someone like Spike Jonze directing. Instead, we get a thoughtful, patient, gorgeously shot movie that really stayed with me long after it was over. There are so many things going on here throughout the course of this movie. It is sweet without being too precious and wise without trying too hard. The film definitely has a lot to say about modern love and technology, but it also allows you to decide how you feel about those things as well.

Blu-Ray Info: Her is released on a two disc Blu-Ray, DVD combo pack along with a Digital HD Ultraviolet copy from Warner Home Entertainment. The film runs at 126 minutes and is rated R for language, sexual content and brief graphic nudity.

Video Info: Released on 1080p high definition 1.85:1, Her is the kind of film that Blu-Ray players were made for, without a shadow of a doubt. It glows, shines, and really comes alive on the television screen. It is a mesmerizing viewing experience.

Audio Info: With a DTS-HD MA: English 5.1 audio track which includes subtitles in English, French, and Spanish, Her is a very talky film and all of the dialogue is easy to understand and hear clearly on this Blu-Ray. It is just right.

Special Features:

Her: Love in the Modern Age (15:10): Here, we are treated to interesting and detailed conversations about love in our current time from various artists, filmmakers, and influential people. It is an insightful special feature.

How Do You Share Your Life with Somebody? (03:56): This is mostly clips from the film tied together which answer this question.

A Short Film by Lance Bangs the Untitled Rick Howard Project: Creating Her (24:19): This special feature includes behind the scene footage of the film and the making of the film. It shows many of the creative people working on making the film possible and what was happening on set.
The 411: Her, which also includes standout performances from Amy Adams, Rooney Mara, and Olivia Wilde, is a great film. From its style to its substance, it succeeds on all levels. The soundtrack is also gorgeous and is really haunting in the best possible way. The stars of course are Phoenix and Johansson who develop a real rapport which each other even though they are only speaking through a device. It carries the film and makes it watchable all throughout. Not once during the two hours and some change running time was I bored. I was into the film from start to finish and felt like I was transported into a gorgeous looking, beautiful sounding world. Her is a great film. The Blu-Ray is a little light on the special features, however, and I would have liked a commentary track from Jonze on making the film.

Final Score: 8.5

[ Very Good ]

legend
comments powered by