SPOTLIGHTS
Orange is the New Black Season One (Blu-Ray) Review
Posted by Michael Weyer on 05.16.2014

Netflix's acclaimed drama rises above the "women in prison" cliché to a fantastic and thoughtful character piece that becomes one of the best series on television today.

Orange is the New Black Season One Blu-Ray
Lionsgate
730 Minutes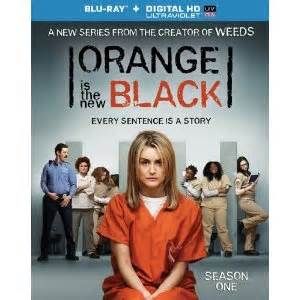 The transformation of Netflix from merely a streaming service of old TV shows to a full-fledged television power has been a major shake-up for the industry. Their decision to indulge in the "binge-watching" by releasing entire seasons in one go has gotten attention but they've backed it up with actually good and smart programming that takes more chances than regular networks and even some cable ones too. While House of Cards had big-name Hollywood talent and Arrested Development had a built-in fanbase, Orange is the New Black emerged as the surprise smash. Despite low buzz and lesser-known stars, the show became a hit with critics, ending up on many "best of the year" lists for 2013 and won a Peabody award as well. Now on DVD and Blu-Ray, the first season is ready to entertain those who missed it on Netflix for one of the best acted and written shows of the last year that truly makes a dark comedy shine.

The Series

Based upon the memoir by Piper Kerman, Piper Chapman (Taylor Schilling) seems to be doing well with a great fiancée in Larry (Jason Biggs) and a business with friend Polly (Maria Dizzia). However, her past comes haunting her big-time as ten years earlier, she smuggled drug money into Europe with her then girlfriend Alex Vause (Laura Prepon). They were both arrested and while Piper kept quiet, Alex ended up naming her as the accomplice. Thus, after putting it off long enough, Piper is about to serve fifteen months inside Litchfield Penitentiary, a medium-security prison in New York. It doesn't take long for her to get on the wrong side of people like Red (Kate Mulgrew), the Russian chef who runs with an iron fist; her cellmate, Miss Claudette (Michelle Hurst), who ran an illegal immigration/child labor service; Nicky (Natasha Lyonne), a former socialite turned drug dealer/addict; Sophia (Laverne Cox), a transgender more comfortable as a woman; Aledia (Elizabeth Rodriguez) and her daughter Daya (Dascha Polanco) who ends up getting knocked up by a prison guard; Tiffany "Pennsatucky," (Taryn Manning) an uber-religious psycho who shot an abortion clinic worker; Lorna (Yael Stone), a WASP who still hopes to marry her Boston boyfriend; Janae (Vicky Jeudy), a track runner; Tricia (Madeline Brewer), an addict; Taystee (Danielle Brooks), an inmate who gets paroled but literally has no idea how to live on the outside so gets arrested so she can go back to where she belongs; and Suzanne Warren (Uzo Aduba), called "Crazy Eyes" for her wide look, who takes Piper on as her "wife." Overseeing it are George Mendez aka "Pornstache" (Pablo Schreiber), a corrupt guard who abuses his authority; Joe Caputo (Nick Sandow), the counselor who could use some good therapy himself; and Natalie "Fig" Figueroa (Alysia Reiner), the ice-cold administrator. Just when Piper thinks it can't get worse, the last scene of the pilot reveals that Alex just happens to be at the same prison too.

At first, the show seems to play into clichés of "women in prison," complete with an opening flashback of love scenes in a shower between Piper and Alex. It kicks up with a lot of cursing and there's some violence too, the women in jail not really friends and tensions high between the various ethnic groups. But the show smartly uses that as the cover to truly explore these characters, fleshing them out wonderfully beyond what we initially see. Throughout the seasons, we get flashbacks showing their histories and the events that led them to jail, putting a lie the claims that "who you were before doesn't matter." In truth it's all that matters as their choices are what defines them: Sophia's struggles as a married firefighter whose wife wrestles with her husband's needs; the wild events that led Red to clashing with the Russian mob; Claudette's experiences as an immigrant worker pushing her to protect others to the extreme (and diligent on keepings things clean); how Tiffany's acceptance of religion was more for her defense than her real beliefs; and more, all of them making you see these characters in a new light. The prison setting is used well with fun bits like when the inmates do a "scared straight" program, playing up their personas only to find it hard to scare a kid in a wheelchair. The show is great showing how prison isn't so much being held by walls but by your own past. It also shows, through Piper, how you have to learn to change to survive outside your comfort zone, you have to adapt, get a spine and skills in order to get through this and the series is capable of showing how easy the veneer of society can crumble in this brutal world.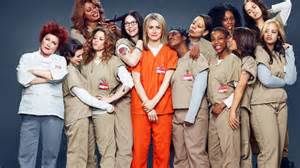 The acting sells that with a fantastic cast. Schilling is terrific in the lead as it's clear Piper has no idea what she's getting into, even joking about how she can turn this whole experience into a great blog. That changes as she gets inside, put through strip searches, insults from fellow inmates and offhand comments that make her a mortal enemy of Red. She's forced to toughen up and try and live it on but still clings to hopes of a better life, that lifeline all that propels her. Yet, she can be overwhelmed and erupt such as on a troubled teen in a great scene, Schilling dominating in the later episodes as Piper finally starts to realize she needs to fight for herself to get out of this okay. Prepon has a fun tone as Alex, not seeming to understand the anger Piper still holds to her but the flashes of her past give new insight to how she turned out this way and Alex shows the pain that drives her on. Aduba is amazing as Suzanne, seemingly nuts and freaking everyone out but carrying an innocence to her as well. That's brought to light during a talk where she asks, with honest curiosity, "why do they call me Crazy Eyes?" and Piper stares with wonder realizing Suzanne really doesn't know how she comes off, a great character touch. Mulgrew throws herself into Red, a woman who never really fit in before but now is highly respected and will brook no opponents to this reign, imagined or otherwise. Claudette can seem cold but also a protective stance toward Piper explained by her own past. Cox makes Sophia one of the most realistic and well-rounded transgender figures television has seen, not really blatant about it but simply trying to live as normal a life as she can. Stone gives Lorna a nice air of a woman clinging to high society and the fact she's bluntly racist but in a nice way is a fun touch. Manning is terrific as this complete nutjob who gets crazier as the season goes along and finally erupts in a wild showdown. Biggs brings some gravitas to his role as a guy handling this bizarre situation, trying to be supportive but also showing the anger he has at Piper keeping this from him all this time and making choices of his own that could break things badly. The rest of the cons are just as great, each mixing their various backstories, no one is really a "filler" character and the clashes of mother and daughter Aledia and Daya mix with Nicky's attempts to get herself back on track in plots that are well written. It's easy to dislike the guards and administrators (especially the smarmy Pornstache) but they have their moments as even the cold-hearted and seemingly corrupt Natalie finds herself able to defend these women against mistreatment. There are so many stories to get through that a recap doesn't do it justice, the series really needs to be experienced to take it all in.

The production values are good, making this prison feel a real place, ugly corners and all. As she did with the early seasons of Weeds, creator Jenji Kohan gives the show a biting edge, not too over-the-top but still a dark humor that propels it along. Taking it all in one go works well, it unfolds at a brisk pace yet subdued enough to let you invest in these characters and their problems. That is what really makes Orange such a fantastic show, it puts the characters first, allowing them to rise above what you think they will be, how these sinners are no saint but still not as lost as they seem to be. The show's various subplots gel together well and while the finale doesn't settle everything, it whets your appetite for more fun to come. From start to finish, this is really one of the best dramas of the last few years and a showcase to how developing fresh and fascinating characters isn't a lost art for television, leading to a show that keeps you arrested constantly.

Rating: 9.0 out of 10.0


Video

1080p AVC codec with 1.78:1 ratio, the series doesn't require top-notch production but this picture is amazing for it. The detail is crisp from backgrounds to whisps of hair and the various tattoos on the convicts, superb contrast of skin tones and colors (a must for the multi-ethnic cast) and no sign of enhancement. Some scenes may come off a bit brighter than others but that's more the style of shooting for the series to give it its unique air and it comes off even better than it did in its original Netflix presentation. A terrific presentation that comes through bright and clear to help the show stand out.

Rating: 10.0 out of 10.0


Audio

5.1 DTS-HD Master Audio, the series doesn't really have that much music used so not much worry there. It does capture the ambiance of the closed areas of the prison like lunchrooms and such, the dialogue coming in quite crisp and clear. Subtitles in English help and there's no real reason to adjust the volume. It's a great presentation though to help the series out, not as vivid as the picture but still great to listen to and brighter than the original airings.

Rating: 9.5 out of 10.0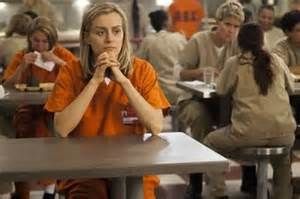 Bonus Features

It looks like Netflix is starting to get the hang of how people like extras on their Blu-Ray/DVD sets. We have two audio commentaries by producers Jenji Kohan, Tara Herrmann and Mark Burley: "I Wasn't Ready," the pilot, and "Can't Fix Crazy," the finale. They're good listens, noting the opening as "our Grey's Anatomy montage" and how a love scene between Piper and Alex was actually the last scene of the series shot. They discuss casting, how Prepon read for Piper but "Laura Prepon is not someone you worry about in prison." Much of the talk is "this person is so great" but also working with the original book and trying to get a real prison experience, not just the happy Hollywood version of it. They mention the reports of Prepon not around as much in season 2 and how they hate that themselves but hoping to work with her as much as they can. The finale was actually seven minutes longer, Netflix wanting to air that but Lionsgate refusing (sadly, we don't get that extended version). They are fun tracks on everything from character touches to getting black women's hair right and give good insight to how the show came about.

We get a set of featurettes, be warned that SPOILERS for the series are contained in them.

New Kid on the Cell Block (6:55) has the real Piper Kerman talking about her experiences and how she was nervous letting her story be made, worried it would be ruined. But she had faith in Kohan who wanted to let the whole thing be true to life and not just the gimmick of women in jail. Schilling talks of meeting Kerman to talk on her experiences and amazed at such things like how lights are never really turned off in prison and the lack of privacy, making her respect Kerman more for going through this and wanted to do justice to that on screen.

It's Tribal (7:36) talks to the majority of the cast who note the various ethnic groups in the prison and how it's a model of society in some ways. They do insist that while on screen, each group gravitates to its own, off-set they're pretty close and use that camaraderie for their performances.

Mother Hen: Red Runs the Coop (6:35) focuses on Kate Mulgrew, the veteran actress enjoying taking on a much different role as Red and enjoying the flashbacks to how her character got here. It includes a look at creating Red's signature hairdo and accent and her journey through the season and what to expect in the second year.

Prison Rules (7:42) examines how true to life the show was with bringing the world of a prison to life, the various ways people live and work there and the cast all a bit thrown at how they had to invest themselves into that atmosphere. It also talks on the prison guards and administrators on their own character arcs and their feelings on the show itself.

Finally, a brief gag reel, a shame no deleted scenes but still some nice looks at how this fun show came about.

Rating: 8.0 out of 10.0





The 411: From a start that appears to be a wicked satire, Orange is the New Black transforms into a well-written and wonderfully acted drama that delves deeply into its characters rather than turn them into clichés. The production is great, the writing sharp to bring backstories to life but even when it gets into wild turns, the show remains grounded by how these women feel so real and you have to admire how each one shines. The extras offer good insight and the presentation is stellar but it's the show's content that pulls you in, its heart that lives in its amazing characters and why it deserves its acclaim as a stellar series that can have any viewer's attention arrested well.

Final Score: 9.0

[ Amazing ]

legend
comments powered by