SPOTLIGHTS
Sleepaway Camp (Blu-Ray Combo Pack) Review
Posted by Tony Farinella on 05.27.2014

Sleepaway Camp is out on Blu-Ray, but is this a trip worth taking? 411's Tony Farinella checks in with his full review of the film and the special features!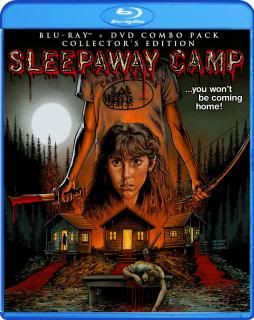 Iím always on the lookout for older horror movies from the 80s that I havenít seen before. I spend many a night surfing through Netflix trying to find the ďso bad, theyíre goodĒ horror flicks. When it is midnight and you canít sleep, you just look for a silly little horror movie to pass the time. You arenít looking for anything life altering or changing. I came across the Sleepaway Camp movies, both two and three, but I couldnít see them until I watched the original. It was just my luck that they recently released Sleepaway Camp on Blu-Ray with a new 2K scan of the original camera negative, Boy does it look solid on Blu-Ray.

The film starts with a horrific boating accident that kills a family and leaves only Angela Baker (Felissa Rose) behind. She is sent to live with her Aunt Martha (Desiree Gould) and Cousin Ricky (Jonathon Tierston). Aunt Martha is truly one of a kind, and peculiar doesnít even begin to describe her. She is on her own planet. Ricky, on the other hand, feels protective of young Angela especially after all she has been through. It has left Angela very shy, reserved, and quiet. She barely utters a word and mostly keeps to herself.

One summer, Martha sends them to Camp Arawak to get some fresh air and have a memorable time enjoying all that the outdoors has to offer. However, strange things start to happen upon their arrival. People turn up dead in odd mishaps and no one seems to know exactly what is going on at this camp. The owner of the camp, of course, wants to keep it all quiet. He is interested in keeping the business running and profitable. However, they canít keep ignoring what is happening as the bodies are piling up one after another.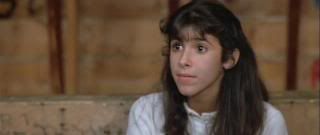 Sleepaway Camp is not going to win any points for being original or one of a kind. It was made in the 80s when they were obsessed with the ďdead teenagerĒ genre as the great Roger Ebert used to call it, where teenagers are killed off one after another. However, there is some mystery and intrigue to go along with the story, as well as some great supporting actors, including Judy played by Karen Fields. The film runs at under 90 minutes, 84 to be exact, and it knows what it wants to be and doesnít try to be anything other than a campy 80s horror flick.

However, Iím happy to say that it holds up incredibly well, minus some of the outfits and hair choices. It is still fun and some of the kills are incredibly well done with tremendous makeup effects. This was my first time watching it and the ending caught me completely off guard in the best possible way. Even if you have seen the film, the ending is still a WTF type moment, to say the least. Felissa Rose is also terrific in this movie and nails the shy character perfectly. You really wonder what is going on inside her head. All in all, Sleepaway Camp is a blast and its sequels are equally entertaining and over the top.

Blu-Ray Info: Sleepaway Camp is released on a two disc Blu-Ray and DVD Combo Pack Collectorís Edition from Shout Factory. It runs at eighty-forty minutes and is unrated.

Video Info: Released on 1080p High Defintion Widescreen (1.78:1), Sleepaway Camp looks awesome on Blu-Ray. This was my first time watching it, so I canít compare it to other releases or transfers, but this one is out of this world for a film from the 80s. It is colorful, bright, and so vivid. The film truly comes to life on Blu-Ray.

Audio Info: The DTS-HD Master Audio Mono track is also right on cue as everything is easy to hear. Itís truly amazing what they have done with this film and its new 2K scan of the original camera negative. I couldnít believe how good it looked and sounded.

Special Features:

The Legacy of Sleepaway Camp (45:43): This is filled with great interviews, clips, and behind the scenes footage from the film. You get to see what everyone looks like now and what they are up to and how they feel about the film after all these years. I had a lot of fun with this special feature and found it very informative.

New Commentary with Stars Felissa Rose and Jonathan Tiereston: I always enjoy hearing the actorís perspective on the film and they offer some great insights into making the film at such a young age and what was going through their minds at the time.

Original Commentary with Director/Writer Robert Hiltzik, Felissa Rose, and Webmaster Jeff Hayes: Jeff runs a website devoted to the movies, so it is good to get the fanís perspective on the film and why so many people fell in love with it and enjoy it so much. Of course, hearing from the writer/director and main star is also a plus. Everyone is having a ton of fun on this commentary track.

Judy-A Short Film by Jeff Hayes, starring Karen Fields (15:53): I mentioned the webmaster and he made his own short film starring Karen Fields from the movie. Itís actually pretty interesting and well done for a short film. The budget was obviously low, but I liked how they worked with what they had and made the most of it.

A Demonstration of the 2K Film Scan Process (09:00): Here, they show you how they made the film look as good as it does. This is a fun behind the scenes look at the process they go through to preserve the film and bring it to life in a whole new way.

Rare Images from Makeup Effects Artist Ed French (01:27): Some images from the effects artist are included here.

Camp Arawak Scrapbook (09:20): Various photos from the set are included here.

Princess-A Music Video by Jonathon Tierston (05:33): Not only can he play Cousin Ricky, he can also sing and have a music video!

Trailer and TV Spots (02:13)
The 411: I canít mention it enough: WOW! This film looks GREAT on Blu-Ray. Iím in awe at how good they made a film from 1983 look. It is always refreshing to see that the Blu-Ray production team is working hard to get all of the technical aspects right. From the opening scene and looking at the water and the wonderful blues, I was blown away. There are also plenty of special features, including two commentary tracks and a big behind the scenes feature with great interviews from the cast and crew. As for the film itself, it is cheesy good fun and it made me laugh and freaked me out with its gore at the same time. If you are a fan of the original film or are a horror enthusiast, you have to add this one to your Blu-Ray collection.

Final Score: 7.5

[ Good ]

legend
comments powered by