SPOTLIGHTS
Non-Stop (Blu-Ray Combo Pack) Review
Posted by Tony Farinella on 06.10.2014

Liam Neeson returns to kick some ass, this time on a plane, in the film, Non-Stop! Is this a trip worth taking? Read the full review from 411's Tony Farinella!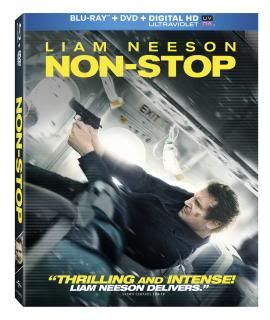 The 61-year-old resident badass Liam Neeson has become one of the most sought after action stars in Hollywood movies today. It seems like ever since Taken, the world has been taken (bad pun, I know) with the actor and enjoys seeing him kick ass left and right in each and every movie that heís in these days. That is no exception with his latest film Non-Stop, and this is a film that lives up to its name. From the opening frame until the end credits, it is a nonstop thrill ride that held my attention and interest throughout. Itís a great popcorn movie to say the least.

Neeson stars as U.S. Air Marshall Bill Marks, a man with a troubled past and some personal demons that he just canít escape. However, he has a job to do and he takes that job quite seriously. He also makes time to put young girls at ease when they are scared of flying. However, this isnít just any normal flight for Bill Marks. This one is quickly turning dangerous when he receives a text message that says a passenger on the plane will be killed every twenty minutes unless there is $150 million dollars transferred into an off-shore account.

Is it a hoax? Is it real? Who is this person? Are they even on the plane? These are all the questions he has to ponder and think about and time is running out for Mr. Marks. If he doesnít do something and do something fast, everyone on board the plane might be in jeopardy. However, the panicked passengers start to wonder if maybe Marks himself is behind this and if he can be trusted. The film also co-stars Scoot McNairy (Argo), Corey Stoll (House of Cards), Julianne Moore, and Academy Award winner Lupita Nyong'o, although she barely speaks more than four words in the entire film.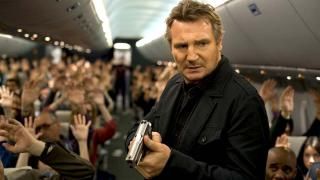 Going into a film like Non-Stop, one is expecting it to mostly just keep your interest, be suspenseful, and to watch Liam Neeson be a bad-ass. All of those things occur and then some. It does not disappoint in that department and I have to admit that I had quite a bit of fun with this movie and accepted it for what it was and knew what it wanted to be from start to finish. If you are looking for realism or logic, you have, quite frankly, come to the wrong movie. Director Jaume Collett-Serra adds a great visual touch and every moment of the film is pulse pounding.

For the moment, we are all enjoying Neeson doing Neeson things. However long that may last is up for debate and there might reach a point where he becomes oversaturated. As of this moment, however, Iím still having fun with his whole Charles Bronson like persona and Iím enjoying his movies for what they are and simply leaving my brain at the door. However, I do hope to see him do something else with his next project and branch out a little bit. I donít want to see him go to the well one too many times.

Blu-Ray Info: Non-Stop is released on a two disc Blu-Ray, DVD, and Digital HD Ultraviolet Digital Copy from Universal Pictures. It is rated PG13 for intense sequences of action and violence, some language, sensuality, and drug references. The film runs at one hour and forty-seven minutes.

Video Info: Released on 1080p high-definition widescreen 2.40:1, Non-Stop looks great on Blu-Ray. It is visually stunning and it is crystal clear from start to finish. The airplane looks great and all of the action comes right into your living room. This is the type of film that Blu-Rayís were made for, no doubt.

Audio Info: The English DTS-HD Master Audio 5.1 track provides theater quality sound for the home viewing experience.

Special Features:

Non-Stop Action (05:14): We hear from Liam Neeson, producer Joel Silver, stunt co-coordinator Mark Vanselow and the director on the realistic approach they were taking with this film. They spoke to TSA officials and wanted to get all of the details right. They also talk about filming action in tight spaces.

Suspense at 40,000 Feet: This time we also hear from co-star Julianne Moore, who discusses how the mystery and the whodunit aspects of the script appealed to her. They wanted to make it seem like it could be anyone at anytime.
The 411: As for the film itself, Non-Stop never bored me and it had me interested in its premise throughout. Neeson turns into another solid performance, although one probably figures he can do this role in his sleep. However, he still does bring some powerful emotion to the performance. Director Jaume Collett-Serra films everything in tight spaces and it is a modern look at air travel and how cell phones can even connect us when we are 40,000 feet in the air. The film is incredibly light on special features, however, but if you can get it for the right price, itís worth adding to your collection. It is also worth viewing as a rental. You really canít go wrong with this film. Itís a hard film not to like.

Final Score: 7.5

[ Good ]

legend
comments powered by