SPOTLIGHTS
The Spike Lee Joint Collection (Blu-Ray) Volume One
Posted by Tony Farinella on 06.10.2014

411's Tony Farinella reviews 25th Hour and He Got Game in the Spike Lee Joint Collection Volume 1!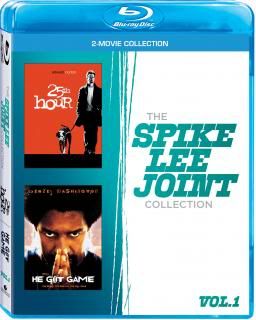 25th Hour Review

Spike Lee has always been considered one of the most controversial and in-your-face filmmakers of the past 25+ years. He has never been shy about his viewpoints and opinions on many topics, especially race. His hit film Do the Right Thing received universal acclaim and still holds up incredibly well to this day. He has never been afraid to take chances or do things outside the box. In many ways, it is his best quality as a filmmaker but also his worst as sometimes his ego can get in the way of the bigger picture at hand. Much like Judd Apatow of the comedy world, he doesnít believe that less is more.

That is certainly the case with his 2002 drama the 25th Hour starring Edward Norton as a drug dealer who is doing his best to enjoy his final 24 hours before he has to go to prison. He has a group of people that love him, care for him, and will deeply miss him, especially his girlfriend Naturelle played by Rosario Dawson. His best friends, besides his dog Doyle, are played by Barry Pepper and the late great Phillip Seymour Hoffman. His prison term will be 7 years, so he has a lot to do within the next 24 hours.

That includes trying to reconnect with his father, played brilliantly by Brian Cox, and figure out exactly who ratted him out and why. Many people thought it was his girlfriend Naturelle, but his father along with Monty (Edward Norton) have a hard time believing that. Something is definitely fishy, however, and heíd like to get to the bottom of it before he leaves. He knows that once heís in prison, there is no telling what could happen to him and what his chances for survival are going to be at the end of the day.



There is a good film waiting to be found in 25th Hour but it gets lost in the final running time, which is about 30-40 minutes too long. If Spike Lee had trimmed the fat and simply focused on the performances, which are universally terrific, especially Norton, he would have had a special film on his hands. As it stands, the film is simply slightly above average and doesnít obtain greatness, although it was certainly there for the taking. Spike Lee just canít get out of his way and is his own worst enemy in this case.

While 25th Hour is not a bad film by any stretch of the imagination, one feels as though it could have accomplished a lot more if it was more polished. There isnít really any tension or drama as we all know heís going to jail and the film does feel a little meandering at times. It was the first movie filmed in New York after 9/11 and Iím sure Lee is trying to say something here, but to be frank, I was lost on what exactly the message was or what he was trying to convey to the audience. Norton makes it watchable, but the film would have benefited from a heavy edit and a more concise plot and storyline.

He Got Game Review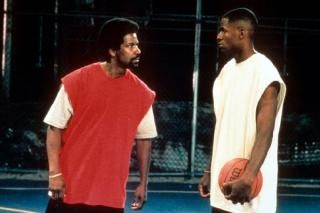 It was initially rumored that Kobe Bryant was going to star in Spike Leeís He Got Game, but after a rough rookie year, he decided to focus on basketball over the summer instead of filming the movie. Instead we get Ray Allen, who is still playing in the NBA today, and he does a fine job opposite Denzel Washington. It is one of the better performances we have seen by an athlete on screen and it does feel authentic and organic to the proceedings. However, it is not without its moments where one is noticing it is Ray Allen acting and fixated on that fact. That is to be expected, but those moments are thankfully few and far between.

Denzel Washington stars as Jake Shuttlesworth, a convict who gets a temporary release from prison in order to try to persuade his son to play basketball for the Governorís alma mater. It is a little farfetched, but if you are willing to go with it, one can enjoy the movie. Much like 25th Hour, which I reviewed above, there is a good movie in He Got Game and there are moments were it really shines and stands out. Letís face it-anything with Denzel Washington is worth watching. Heís that good. However, again, there is about 30-40 minutes of fat here that really holds the film back.

There is a subplot involving a prostitute played by Milla Jovovich that just doesnít work and really takes the audience away from the film. It almost feels as though it is coming from a different movie. It is unnecessary and takes up too much. There is also one too many supporting characters, each one less interesting than the next. Some of the acting by the supporting players is also pretty poor and leaves a lot to be desired, especially the actress played by Jesus Shuttlesworthís (Ray Allen) sister.

There is no doubt that Spike Lee knows his basketball. He is a lifelong fan and has been an avid New York Knicks fan. He loves the game and that love of basketball is clearly displayed on screen. However, he gets it wrong by having a score from Aaron Copland that is beyond overdramatic and over the top. Again, it feels like it is coming from a different movie. The film also bends some rules in terms of reality as some things that occur (including Jesus having his own apartment) just donít add up. Anyone who knows anything about how high school and college sports work will be able to point them out and notice them.

I was most interested and most fascinated by the last hour of the film and that is when I felt it was the strongest. The first hour is rather tedious and run of the mill and again, it feels like Spike Leeís ego is holding him back. The film does have some truths about basketball and the pressure one faces coming out of high school and the need to provide for your family. I give it a positive review based on the work of Denzel, the surprising acting of Ray Allen, and the last hour of the film when it really has something to say and really goes somewhere. As mentioned above, however, the film does have its flaws and some of them are pretty noticeable.

Blu-Ray Info: The Spike Lee Joint Collection Volume One is released on a two disc Blu-Ray set from Buena Vista Home Entertainment. Each movie is on its separate disc and they do not combine two movies onto one disc, which is refreshing.

Audio Info: English 5.1 DTS-HDMA is the audio for both He Got Game and 25th Hour. Both audio tracks are easy to hear and easy to understand. I was able to stick with one volume number on my remote and I found the audio to be consistent throughout both movies without any issues. There are subtitles in English, French, and Spanish on both films as well.

Video Info: 25th Hour and He Got Game are both released on 1080p high definition and they both look great and there are no grainy images to report. They both look sleek, top of the line, and like careful attention was paid to the visuals. 25th Hour has an aspect ratio of 2.40:1 while He Got Game has an aspect ratio of 1.85:1.

Special Features:

25th Hour Special Features:

New Audio commentary with Director Spike Lee and Actor Edward Norton: This is a terrific commentary track and is an exclusive for this release. Iím always happy when you have both the star of the film and the director talking about it. They work hand in hand so much that it only makes sense to get their perspective on making the film and what they went through.

Audio Commentary with Director Spike Lee: This is an older commentary track with Lee, but it is still worth listening to if you are a fan of the film. However, if you have to pick one, Iíd go with the new one that I mentioned above as it is more modern and also has Edward Norton.

Audio Commentary with Writer David Benioff: In case you were interested in the perspective of the writer that is included here as well.

The Evolution of an American Filmmaker Featurette (22:23): This talks briefly about 25th Hour, but mostly focuses on Spike Leeís career as a whole and the films he has contributed to society. We hear from Martin Scorsese, Denzel Washington, Halle Berry, Ed Norton, and Phillip Seymour Hoffman to name a few. All of them speak glowingly about Lee and their experience working with him.

Six Deleted Scenes: Six deleted scenes are included here, mostly filler and some involving Mary (Anna Paquin). Considering my issues with the length of the film, these donít do much for me.

Ground Zero-A Tribute

He Got Game Special Features:

New Audio Commentary Track with Director Spike Lee and Actor Ray Allen: This is a fun commentary track and itís great to hear about the challenges Ray Allen faced as an actor and also about Spikeís love of basketball.

The 411: I thought that 25th Hour was just OK and He Got Game was good not great. So where does this leave us in terms of purchasing this set? Neither of these films are out on Blu-Ray by themselves, so it is nice to get them on Blu-Ray in a set with new audio commentaries. If you like one of the films and the price is right, I would recommend purchasing it. I have a soft spot for He Got Game, even though there are many flaws to report. 25th Hour was merely slightly above average and OK for me. I didnít get into it as much as everyone else. Overall, if you are a Spike Lee fan, this two disc set is well worth your investment. For everyone else, it depends on how much Spike Lee you can tolerate and if these are two of his films that you enjoy.

Final Score: 6.5

[ Average ]

legend
comments powered by