SPOTLIGHTS
The Spike Lee Joint Collection (Blu-Ray) Volume Two
Posted by Tony Farinella on 06.10.2014

411's Tony Farinella reviews Summer of Sam and Miracle at St. Anna in the Spike Lee Joint Collection, volume two!



Summer of Sam Review

Now that Iím on my third and fourth Spike Lee movies in this Spike Lee Joint collection, we have learned that his movies are still too long. Even though I enjoyed Summer of Sam and was surprised by its visuals, its editing, and its acting, it still feels like 30-40 minutes could have been cut from the final product. Iím beginning to think that that is just going to be his trademark. However, it is more bearable this time and it doesnít feel as lengthy as 25th Hour or especially Miracle at St. Anna, which Iíll be reviewing next. There is a lot going on here and most of it is rather interesting.

It is the summer of 1977 and it is hot, I mean Do the Right Thing hot. Whenever it is hot in a Spike Lee movie, you know bad things are going to happen as things heat up, pun intended. A group of friends in a small Italian Neighborhood are starting to become on edge when they hear that a killer is on the loose. That killer of course is the son of Sam, and the bodies are piling up, day by day. This causes everyone to act a little strange, although Adrian Brodyís Richie and his spiked hair are already a little strange.

It especially puts a strain on the relationship between Mira Sorvino and John Leguizamo. Dionna (Sorvino) has serious trust issues with Vinny (John Leguizamo) and for good reason. The rest of the gang starts to become convinced that maybe one of their own is the ďSon of SamĒ and everyone is feeling a little tense, on edge, and uneasy. It doesnít stop the Yankees from winning their 21st World Series, however. Lee, perhaps more than any other filmmaker, knows his way around New York.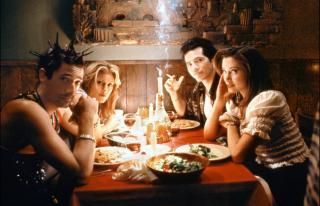 Many critics have said that this is a Spike Lee version of a Martin Scorsese film and it sure feels that way. Thatís not to say that the film isnít original, because it is, but it looks, feels, and sounds like a down and dirty Marty movie. From the numerous F-bombs to the drugs and the killings, Spike Lee holds nothing back. I felt like an observer for most of the movie and Iím thankful to report that everything I observed kept my interest and had me guessing, even though the outcome is a foregone conclusion.

Out of the four Spike Lee movies that I watched recently (He Got Game, 25th Hour, Summer of Sam, and Miracle at St. Anna), I have to admit that this one was my favorite. There is just something special about it, even if it is a little too long. You see a filmmaker that is taking chances, trying new things, and visually, it is gorgeously shot and fun to watch. The language is also unique and very New York. This is a different side of New York that Spike Lee is showing to us, and itís a side that isnít always pretty, but itís never boring, thatís for sure.

Miracle at St. Anna Review

Miracle at St. Anna might just be my least favorite Spike Lee movie. Itís no surprise that it is the most straightforward of all of his movies I would say in terms of narrative and story. It is based on the World War 2 novel by James McBride and tells the story of four members of the U.S. Armyís all-black 92nd Infantry Division, called the Buffalo Soldiers. The film has its heart in the right place and it means well, but there are numerous flaws to report on this one. I felt as though Spike Lee was trying to jam the entire novel into a movie that runs at 160 minutes.

The film stars Derek Luke, Laz Alonso, Michael Ealy and Omar Benson Miller. They all turn in powerful work and the film does have moments that are individually powerful and hit you right in the heart, but as a whole, the movie is just too long. I know Iíve said that about all four Spike Lee movies that Iíve reviewed and it might be becoming a little redundant at this point, but itís true. Lee doesnít pace his moves properly and feels as though every second of the movie must be included. There is a reason that deleted scenes are out there.

Itís hard to dislike a movie where a solider risks his life to save a traumatized young boy, but Spike Lee makes it possible. Another issue I had with the film was the lack of character development. If we are going to be spending a great deal of time with these soldiers, we would at least like to get to know them a little more and have the writer do something to separate them from one another. Iím talking about unique traits and unique personalities. They are soldiers without personalities or individual characteristics.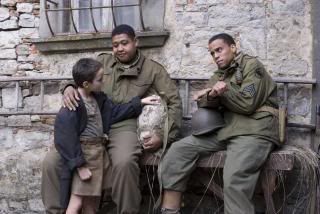 One cannot question Spike Leeís devotion to this story and his passion for the project. That is evident in every single frame and every single shot. Heís really putting himself out there and giving it his all. However, just because someone has noble intentions and means well, it doesnít mean there is going to be a good story. The film did incredibly poor at the US box office and it is no surprise. The film is just a good old fashioned mess from start to finish and I found myself clock watching for a good portion of the movie and couldnít wait for it to end, as it runs at almost three hours.

In the end, Miracle at St. Anna is just a giant misfire from Spike Lee. I can see why he wanted to make the movie and from watching the special features, he feels like this story needed to be told, but it just doesnít pack the powerful emotional punch that one would expect from a movie like this. As mentioned above, there are moments where we can see things that are working and actors that are hitting the right notes, but as a whole, the cons far outweigh the pros with Miracle at St. Anna. I just couldnít wait for the whole ordeal to be over with and be finished.

Blu-Ray Info: The Spike Lee Joint Collection Volume 2 features Summer of Sam and Miracle at St. Anna on two separate discs in a two movie collection. Both films are rated R. Summer of Sam has a running time of 142 minutes and Miracle at St. Anna runs at 160 minutes.

Audio Info: Both films come with English 5.1 DTS-HDMA audio and subtitles in English, French and Spanish. Both films are easy to understand, even the older Summer of Sam. I was able to keep my volume on one level, which I always appreciate, as it can be annoying having to turn a film down during certain scenes and then turn it back up during others.

Video Info: Both films are released on 1080p high definition, but Summer of Sam has an aspect ratio of 1.85:1 whereas Miracle at St. Anna has an aspect ratio of 2.35:1. We know Miracle at St. Anna is going to look good because it is a fairly new movie, but what about Summer of Sam? Iím glad to report that Summer of Sam looks terrific on Blu-Ray and really stands out in a positive way. It is gritty in the best possible way, but also crystal clear with no visible grains.

Special Features:

New Audio commentary with Director Spike Lee and Actor John Leguizamo: This is a very entertaining commentary track between two very entertaining personalities. I enjoyed the film so much that I watched it three times because so much was happening, and I enjoyed watching it even more with the commentary track.

New Audio commentary track with Director Spike Lee and Screenwriter James McBride: I hate that Iíve sounded overly negative, especially after listening to this commentary track. Again, both the writer and director cared and they tried. There are some interesting stories shared here and we get both the perspective of the writer and the director.

Deeds Not Words (17:07): This is a roundtable discussion with the writer of the film, veterans, and Spike Lee. Some interesting stories are shared here.

The Buffalo Soldier Experience (21:55): This time we hear from historians, the writer and Spike Lee, just to name a few, as we hear about what it was like to be a Buffalo Soldier

Deleted Scenes: Nine deleted scenes are included, and again, considering the length of the film, I was more than OK with all of these being deleted. One can only take so much in one film.
The 411: Summer of Sam is an ambitious and entertaining movie whereas Miracle at St. Anna is an overlong snooze fest. So what do you do? I say you buy it because of Summer of Sam. Itís that good. However, make sure that the price is right and you arenít overpaying because Miracle at St. Anna is not a good film. I couldnít stop thinking about Summer of Sam, however, so Iím going to focus mostly on that film. Next to Do the Right Thing, it is my second favorite Spike Lee film and the commentary track makes it worth owning as well. I just wish they would have picked a better second film to go along with it instead of Miracle at St. Anna.

Final Score: 7.0

[ Good ]

legend
comments powered by