SPOTLIGHTS
True Blood: the Complete Sixth Season (Blu-Ray) Review
Posted by Michael Weyer on 06.13.2014

In its penultimate season, HBO's vampire drama is sadly a lot of bark and not as much bite.

True Blood the Complete Sixth Season
HBO Home Entertainment
600 Minutes




With very few exceptions (The Shield being one that comes to mind right off), it's exceptionally hard for any long-running TV show not to have slumps. Some are able to recover from them, some aren't. For a series that's always been a bit on the wild side, perhaps it's not surprising that True Blood hit a big creative slump for season five. The usually sharp vampire drama became a confusing mess with various plots and turns that didn't make much sense for viewers. The sixth season was a way for the show to rebound but reactions have been varied as I've seen reviewers give high grades to the exact episodes other places cite as among the worst of the show. While the ingredients are there for a good year, they mix poorly so the good is sadly overshadowed by how it's not as good as could be. With the announcement that the upcoming seventh season will be the show's last, it's interesting to look upon this year as an attempt to clear the slate a bit to remind fans how good the show can be.

The Series

As usual, we pick up literally where we left off last season: Sookie (Anna Paquin) and Eric (Alexander Skarsgard) barely escape the Authority's detention area along with Jessica (Deborah Ann Woll), Pam (Kristen Bauer van Straten), Jason (Ryan Kwanaten), Nora (Rachel Griffiths) and Tara (Rutina Wesley). Following them is Bill (Stephen Moyer), now rebirthed from the blood of Lilith, which allows him to be invulnerable to stakes and other attacks, a god-like figure trying to understand his new path. Troubled by visions of their dead parents, Jason tries to leave this madness but soon runs into Niall Brigant (Rutger Hauer), who turns out to be literally their fairy grandfather. Sookie is soon drawn to a stranger named Ben (Rob Kazinsky) who has a deep secret connection to the family. Meanwhile, Andy Bellefleur (Chris Bauer) is dealing with suddenly raising four girls birthed by a fairy who grow into teenagers within days, aided by Terry (Todd Lowe) and Arlene (Carrie Preston). Having lost his love, Sam (Sam Trammell) now raises her daughter, Emma (Chloe Noelle), which gets werewolf pack master Alcide (Joe Manganiello) involved. A bigger problem comes when the chaos of the last season causes Louisiana's Governor Truman Burrell (Arliss Howard) to begin a savage crack-down on vampires. Aiding him is none other than Sarah Newlin (Anna Camp), the wild ex-wife of anti-vamp reverend turned vampire Steve Newlin (Michael McMillian) as their actions begin to spark a war between humans and the supernatural.

On paper, that's good stuff to work with but the show fails to do it properly. One would think having ten episodes rather than the usual twelve might help get rid of filler plots and such but the show still seems to tread water without much purpose for most of the year. The ingredients are there with stuff like how the humans get ready with things like contact lenses to block vampire glamour and trying to crack the science of vampires for their own gain. This plays into a subplot where Bill gets Hido Takahashi (Keone Young), the creator of True Blood, to work on a special new version (with a great bit of Jessica going all out to seduce the man). Meanwhile, Eric decides to hit at Burrell by abducting his daughter, Willa (Amelia Rose Blaire), at first to kill her but soon connecting with the woman. Blaire is good in the role, going from scared woman to attracted to Eric, which brings up jealousy in Pam. However, the season just seems so off-balance, good stuff mixed with a lot of bad, plotlines feel rushed while others drag out. It comes together a bit better in the last few episodes as Camp Vamp begins their plans to wipe out vampires but the character bits that usually help the series along feel disconnected so you can't get into it as well.




The cast does their best but are saddled with too much poor material. Paquin does give Sookie a more world-weary air, tired of this constant shifting in emotions between Eric and Bill and how she's made a pawn in their game of one-upmanship. She gets good stuff like the terrific scene at her parents' graves, noting how she's lived with some shame over how they treated her powers but is tired of letting that dictate her life anymore. It's a good moment but undermined by how Sookie is once more put in danger at the end of the year and over her head and while it's nice to see Paquin back in prominence after her real-life pregnancy put her on the sidelines last season, it's a shame she doesn't get better material for her. Moyer handles Bill's strange transformation well but also is saddled with shifting plots that hurt things and the whole messiah thing doesn't connect as it should. The Pam/Tara romance is also cut too short despite promise as Pam's feelings to Eric become almost pathetic to watch. Skarsgard does do better with the connection with Willa and some nice bits in the final episodes but not as great as could be given how he usually helps elevate any plot. For a character meant to be a key part of the series mythos, Kazinsky doesn't connect as he should, sinister at times but also a bit laughable at others, the chemistry between him and Paquin not as good as it should be to sell the plotline. Howard has a nice take on Burrell, a guy who's tired of these creatures, playing some political games to cover up his planned genocide of them and taking things with a good humor but driven extreme by the loss of Willa. Much better is Camp, who steals every scene as the hysterical Sarah, a total zealot nutcase who just gets crazier as the season goes on and thus far more hysterical. The rest of the cast do their best with Kwanaten continuing the fun bit of Jason as the good-meaning idiot trying to do the right thing. Woll also is a highlight as Jessica from her fantastic seduction of that doctor to a dark turn involving Andy's daughters that sends her to darker places but Hauer is a disappointment in what should have been a good turn.

That stands for so much of the season, Alcide's battles with being pack leader a forgettable subplot and Sam's sudden turn to helping a reporter, Nicole (Jurnee Smollett-Bell) feeling rushed, as are plots of Lafayette (Nelsan Ellis) and the long-standing mystery of sinister master vampire Warlow. It's a shame as there are good bits like how the scientists do their experiments on vampires and Pam actually doing therapy and a shocking character death leads to a terrific episode with heart to remind you how well the show can work (highlighted by Preston's fantastic performance in the plotline). But as so often happens, after a big build, the major plot of the season is dealt with far too quickly and almost laughable fashion to boot. The majority of the finale is set-up for the final season and while some of it has promise (like an intriguing new love interest for Jason), it feels disconnected from the main narrative. So many missteps about like a flashback to how Eric and Nora met that comes in far too late to feel as important as it should and despite good bits (the laugh-out-loud fight between Sarah and another woman that shows you how snapping a neck isn't as easy as it looks on TV), the season is lackluster. Plus, the whole "vamps equal minorities" subtext is pushed way too much in our faces to be effective, especially with the camp sequences. It's a shame that with so much promise, the bite of Blood is lacking so badly and a sign that perhaps the end is long overdue. So much promise but not enough delivery, making this possibly the worst season yet of a once fun show.

Rating: 7.0 out of 10.0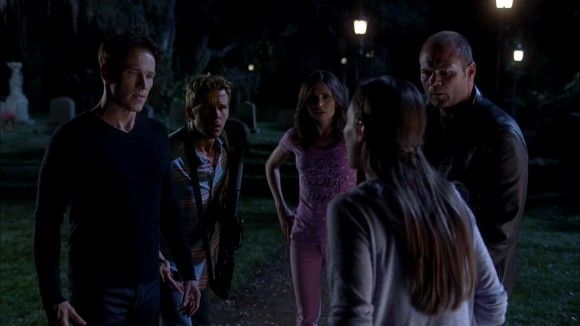 Video

As always, HBO delivers a fantastic video presentation. The 1080p/AVC-encoded video is fantastic, crisp and clear, getting details of outfits and backgrounds, vibrant in night scenes as fitting the vampire series. The various FX scenes come off well, including the grisly vampire deaths and various magic stuff and the nice tints match the material well. Whatever else about the season, it looks absolutely terrific as per HBO's high standards.

Rating: 10.0 out of 10.0


Audio

Again, a great presentation by HBO, DTS-HD Master Audio 5.1 surround track with subtitles in English, French, Spanish, Portuguese, Danish, Finnish, Dutch, Norwegian and Swedish. It captures the great FX stuff of monster roars and bits, clashes of magic and the great musical score. No real need to adjust the volume, the mood pulls you in from the swamps to cities to let you immerse yourself into the series fully.

Rating: 10.0 out of 10.0


Bonus Features

Usually, HBO loads on the extras for a Blood Blu-Ray but this season is sadly lacking. The big loss is the "Enhanced Viewing" mode and you feel it as it was great seeing subtitles explaining new characters or in-character videos talking of the action. One can hope this means they're working hard on the final year but still feels less compared to previous season sets.

We do get audio commentaries for five of the ten episodes:

*"At Last" with Amelia Rose Blaire and writer Alexander Woo
*"Don't You Feel Me" with writer Daniel Kenneth and director Howard Deutch
*"In the Evening" with Stephen Moyer and writer Kate Barnow
*"Life Matters" with Carrie Preston and writer/executive producer Brian Buckner
*"Radioactive" with Buckner and writer Kate Barnow

As you can expect, some nice talk here with good bits like Blaire sharing how it felt as a long-time fan of the show to become part of it and her scenes with Skarsgard. The insight of the writers is interesting as they touch on scripts being like "sheet music" and acknowledge how they felt the need to rush things along, far too many plots to give proper time to. Some tidbits include how the decision to age up Andy's magical kids was because of the logistics having four infants on set all the time. Preston's commentary is fun on a key episode but humor noting the bad wig she had to wear to replicate her season 1 look. Moyer is dry but insight on directing episodes and new bits on Bill. A shame to not have Paquin on board as her commentaries are funny and obvious spoilers abound for episodes but still a good list of tracks for insight to the show.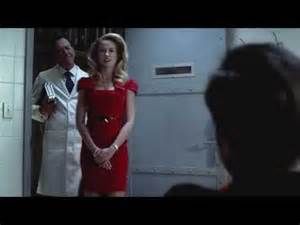 Inside the Episode are brief 2-3 minutes on each episode that aired on HBO. Each has stars, writers and directors giving notes on what these episodes mean to the overall series and insight like Moyers directing the season premiere and such. Short but not bad explaining stuff.

Vamp Camp Files is the big addition to the Blu-Ray, a series of videos and files from Burrell's containment and research facility. Camp is in character as Sarah giving great videos on how this is a noble crusade and we see other videos of doctors detailing vampire powers and how to fight them; the psychologist sharing tapes from vampire interviews; the history of vampires and a rundown of the plans to handle them; and more. Some videos are short but it's still intriguing seeing the human viewpoint of things and how they really think what they're doing is right, giving more depth to the key plotline of the season amid fun material.

True Blood Lines is the ever-complicated character tree providing information on all the show's participants and their connections.


8.0 out of 10.0





The 411: For all its promise, the sixth season of True Blood is a real letdown, plotlines of Bill as a vampire god pushed aside fast and the long-awaited revelation of Warlow a disappointment. The plot of Vamp Camp is good and a major death to highlight the year but despite its great cast, the show fails to deliver the usual sharp commentary and hijinks that made it fun. The extras also seem lacking to highlight how disappointing this season was as we head into the final year with the fangs rather dulled.

Final Score: 7.5

[ Good ]

legend
comments powered by