SPOTLIGHTS
The LEGO Movie: Everything is Awesome (Blu-Ray) Edition Review
Posted by Tony Farinella on 06.17.2014

The LEGO movie hits Blu-Ray and DVD with its special edition Everything is Awesome set! Is everything really awesome? Read on to find out!



Itís only June and I havenít seen a ton of movies so far in 2014, so this might be a little farfetched to say, but Iím going with it: The LEGO Movie has been the best movie of 2014 so far. However, the film is just so gosh darn entertaining from start to finish. Itís also an example of pitch perfect voice work. Every actor that was picked to voice a particular character was 110% the right choice, without a shadow of a doubt.

That starts with the voice work of the very funny Emmet Brickowoski, voiced brilliantly by Chris Pratt. Pratt has long been a favorite of mine as Andy Dwyer on one of the funniest shows on television, Parks and Recreation. His voice work lends itself brilliantly to this seemingly average Lego who follows the instructions each and every day of his life. He fits in so perfectly that he barely stands out among his peers. Heís happy, naïve, and flying under the radar and he is perfectly OK with that. That is until one day he runs into a Lego whom he has a crush on named Lucy, voiced by Elizabeth Banks.

He soon discovers, thanks to Lucy and Vitruvius (Morgan Freeman) that he is more than your average, ordinary Lego. In fact, it is up to him to save the world before the very evil and over the top Lord Business (Will Ferrell) glues the Lego universe together forever. Emmett is considered ďThe Special,Ē but to many around him, including Batman (Will Arnett) he is anything but special. He is ordinary, run of the mill, average, and vanilla. Even Lucy and Vitruvius have their doubts about him, but they must stick behind him and support him if they want the Lego universe to succeed and last for a long, long time.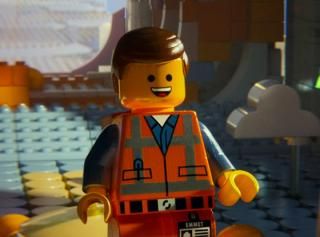 The title song for this great film is ďEverything is AwesomeĒ and this is the review of the Everything is Awesome three disc Blu-Ray set. Iím happy to report that everything is indeed awesome with this film. From the eye popping visuals to the heartfelt story to the voice work to the movie itself, everything is truly awesome. They always say you make a great childrenís movie when adults can be entertained just as much as the children. That is most certainly the case with The LEGO Movie. Between the jokes and gags, everyone is going to have a good time with this movie.

When going to the movies, one thing we look to do sometimes is just have fun and leave the viewing experience with a big fat smile on our face. The LEGO Movie has a boatload of fun attached to it and it provided many laugh out loud moments for me, especially with its cameos which include Shaq, Green Lantern, and Superman, along with many others. The film is fast paced, plotted perfectly, and really hits all of the right notes. Itís a rare type of movie. When I saw the trailer, I knew it was going to be special. I just didnít know it was going to be this special and this much fun and this enjoyable. This film comes highly recommended.

Blu-Ray Info: The LEGO Movie Everything is Awesome Edition is released on a three disc set from Warner Home Entertainment. The set comes with a 3D Emmet photo and a Vitruvius and Emmet minifigure. It also comes with a digital copy of the film which can be added via digital HD Ultraviolet. It also has the 3D version of the film, which I was unable to view, the 2D version of the film, and the DVD as well. It truly has everything that one could ask for in a Blu-Ray set and then some.

Video Info: Released on 1080p high definition 16x9 2.4:1, The LEGO Movie looks great on Blu-Ray and the visuals are out of this world. It is colorful, vibrant, and full of life. It is one of the best looking Blu-Rayís Iíve seen this year, without question.

Audio Info: The DTS-HD Master Audio: English 5.1 audio track with subtitles in English, French, and Spanish is also up to par as well. It is easy to hear all of the film with relative ease and the soundtrack really pops.

Special Features:

Batmanís-A True Artist (01:12): This is the hilarious song that Batman sings in the film about being an orphan and the darkness that comes with it.

Michelangelo and Lincoln: History Cops (01:21): This is a quick funny trailer.

Everything is Awesome Sing-A-Long (03:19): If you enjoyed this song as much as I did, you will enjoy rocking out to it on the special features.

Commentary with Directors Chris Miller and Phil Lord and Actors Alison Bree, Chris Pratt, Will Arnett, Charlie Day, and Elizabeth Banks: I think you will be hard pressed to find a more entertaining commentary track or one filled with more stars this year.

Enter the Ninjago (02:13): This is a quick special feature that focuses on the series.

Behind the Scenes: See It, Build It: This comes with two introductions, one by modeling artist Adam Ryan and one with senior designer Michael Fuller. It focuses on building the double-decker couch and Emmetís car. It shows you how they all came together.

Behind the Scenes: Stories from the Story Team (04:02): This focuses on the story and how it came to life in the finished product of the movie.

Fan Made Films: Top Secret Submissions (03:51): This gives some love to a series of mini movies made by Legoís re-brick community. Some of these were included in the finished product of the movie. You can tell there are some really talented minds out there.

Outtakes (02:33)

Additional Promotional Content (03:51): This is a series of promos and videos promoting the release of the film.

Deleted Scenes (03:20): Three minutes of deleted scenes are included here, but they arenít in finished format. They are only in storyboard format.

Dream Job: Meet the Lego Builders (13:28): This introduces us to the Lego Master Builders, who truly do have a dream job and probably one of the best jobs in the entire world.

Alleyway Test (0:55): This is a quick look at one of the shots in the movie.
The 411: To come to the conclusion that this is the Everything is Awesome Edition might seem like hyperbole, but between the toys that are included in the set, the 3D film, 2D Blu-Ray, DVD, 3D photo, and all of the special features, not to mention the movie itself, it lives up to its name and then some. I loved this movie and could not stop smiling throughout the movie and after it was over. It is the best film Iíve seen so far in 2014 and Iím pretty sure it will be on my top ten list when the year is all said and done. This is a film for everybody and I have a hard time imaging anyone not liking it. This film and this Blu-Ray set come highly recommended. It is a great summer gift.

Final Score: 9.5

[ Amazing ]

legend
comments powered by