SPOTLIGHTS
300: Rise of an Empire (Blu-Ray Combo Pack) Review
Posted by Tony Farinella on 06.24.2014

411's Tony Farinella checks in with his review of the newest 300 movie on Blu-Ray!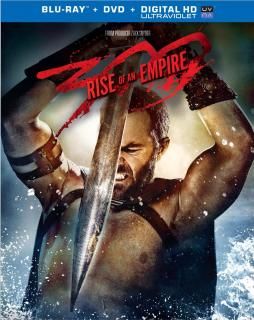 The original 300 was a hugely successful and highly quotable film, so it was only natural that another entry in the series would be released in some format. That film is 300: Rise of an Empire, and they donít want it to be called a sequel. They want it to be a called an equal. While I wouldnít necessarily call it an equal to the original, as for one, Gerard Butlerís funny and screen chewing performance is missing. On its own, however, it isnít all that bad as far as sequels go and they could have done a whole lot worse. While this might not sound like a glowing review, it isnít necessarily a huge criticism of the film, either.

This time Zack Snyder is a producer and what is being called the new chapter in the epic saga 300, now the battlefield is the sea. Greek general Themistocles, (trying saying that name three times fast) played by Sullivan Stapleton, has to battle against the imposing and invading Persian forces, ruled by the god-king Xerxes, looking to avenge the death of his father and Artemisia (Eva Green), who also has a bone to pick with them thanks to a troubled past. It is up to Themistocles to unite Greece and take on the Persians, which is easier said than done.

Of course, people are going into this film looking for interesting visuals and great battle sequences. Thankfully, the story was easy for someone like me to follow, who doesnít necessarily get into these types of films. The blood and the guts are hot and heavy and the battle sequences, while not on par with the original, are unique and intense in their own right. They are filmed with great visual flair and style and they really go for the jugular to say the least. They donít hold back on the blood and guts that is for sure.



The problem with the film lies in the performance of Sullivan Stapleton. While he certainly looks the part and gives it his all, I couldnít help but feel as though his performance and screen presence was severely lacking. I know I shouldnít compare him to Gerard Butler, as he is his own man and trying to do his own thing, but he falls short and doesnít really carry the film with that same ferocity. Eva Green, on the other hand, turns in an excellent performance and it is clear that she is up for the part. She just needs a better partner to go against.

In the end, 300: Rise of an Empire is going to make fans of the original happy, although they shouldnít expect it to be as good as the original. As a standalone film, it knows its limitations, has a short running time for a film of this nature, and seems to know what it wants to be and gets in and gets out. It can be a bloody good time during certain scenes, but it also lags and lacks star power on screen. It just doesnít feel like an epic movie, like the original or have the kind of impact that one would expect. The battle sequences do not disappoint, but the film as a whole is rather is run of the mill and ordinary.

Blu-Ray Info: 300: Rise of an Empire is released on a two disc Blu-Ray combo pack which includes the DVD, Blu-Ray, and an Ultraviolet HD Digital copy of the film. The film runs at 103 minutes and is rated R for strong sustained sequences of stylized bloody violence throughout, a sex scene, nudity, and some language.

Video Info: Released on gorgeous on 1080p high definition 16x9 2.4:1, 300: Rise of an Empire looks tremendous on Blu-Ray and is one of the better looking Blu-Ray films of the year. The fight scenes are truly something to behold and watch, especially when the blood is flying at the screen and the body parts are right in your lap.

Audio Info: The DTS-HD Master 7.1 English audio track with subtitles in English, French, and Spanish is a good track that doesnít pound you over the head and leave you with a headache. There is a lot of violence in the film, as one would expect, and lots of screaming, fighting, and yelling. However, the sound never becomes overbearing or tedious. Itís just right.

Special Features:

Behind the Scenes: The 300 Effect (broken down in pieces reviewed below)

3 Days in Hell (07:08): It talks about the interwoven story and revisiting characters from the previous film. They werenít sure whether to call it a sequel, prequel, or an equal. They decided it was an equal. This special feature talks about their approach to this film and what drew them to it.

Brutal Artistry (09:08): They talked about the look of the original film and wanting to build upon that look and up the ante. They knew with 3D, they needed to change the landscape and take it up a notch. They wanted to open it up and take it a new level. I would say they did that as the visuals were stunning.

A New Breed of Hero (04:49): Showing clips from the original 300 and the new film, the equal, they talked about how they wanted this character to have a new set of rules and be a different character. They didnít want him to be a replica of the Gerard Butler character.

Taking the Battle to Sea (08:52): Because technology has changed, they are able to create the sense of water and really run with it and use green screen. They wanted it to look elevated. They wanted the battles to be unique and different from reality as it is not supposed to be realistic. They spent a great deal of time trying to get everything right.

Featurette: Real Leaders and Legends (22:52): On this special feature, Snyder talks about making mythology out of reality with the first film. They would take a real event into a myth and then the message of the story would be spread through storytelling and to inspire others. They believe the ancient Greeks would have approved of it.

Featurette: Women Warriors (12:22): On this special feature, we hear from the women who were excited to battle and not just be on standby and let the guys have all the fun. They wanted the women to stand out and be able to hold their own.

Featurette: Savage Warships (10:35): This focuses on how they created the ships in the movie and how they were designed and put together.

Behind the Scenes: Becoming a Warrior (04:39): This talks about the physical training and what they went through to become warriors both physically and mentally. It was a full time job indeed.
The 411: 300: Rise of an Empire is an entertaining watch, but I canít say that is a memorable one. It is lacking star power and lacking that something extra that makes it stand out like the original film. There isnít a Gerard Butler type performance that wows the audience or leaves us with memorable one-liners. Eva Green is terrific and you can tell sheís really enjoying the chance to play the bad girl, but there isnít anyone opposite her, male wise, that stands out and carries the film. If you are in this one strictly for the action scenes and the battle scenes, you wonít be disappointed, however. Those come fast and furious and are in your face and it can be a bloody good time if that is what you are into and looking for with this movie. The special features are interesting and the film does look great on Blu-Ray.

Final Score: 6.0

[ Average ]

legend
comments powered by