SPOTLIGHTS
Winter's Tale (Blu-Ray Combo Pack) Review
Posted by Tony Farinella on 06.24.2014

An all-star cast leads the way in Winter's Tale! But does the film hold up? Read the full review from 411mania.com's Tony Farinella!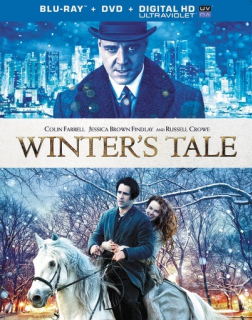 Itís always interesting when you see a movie with a big budget and big name actors and it just falls completely flat on its face and fails. You always sit back and wonder how and why did so many talented and smart people make such a bad decision? I donít think they signed on for Winterís Tale for the money or the big paycheck. Iím guessing the source material spoke to them and they saw something in it. What they saw exactly, Iím not quite sure and Iím still wondering that as I write this review. I donít think Iíll ever have a clear cut answer. Winterís Tale, however, is an epic failure on all levels.

Winterís Tale is written and directed by Oscar-winning screenwriter Akiva Goldsman (A Beautiful Mind) and it follows an orphan played by Colin Farrell, a thief and burglar named Peter Lake. Set near the end of the 20th century, he meets a dying woman named Beverly Penn (Jessica Brown Findlay), and falls in love with her, although she is currently dying from consumption. However, he is convinced that he can find ways to bring her back from the dead. Meanwhile, Russell Crowe is hot on his tail and looking for him after he left on a flying horse.

I have to say that I was quite looking forward to Winterís Tale when I heard about its premise and the actors involved in the project. I thought it could be an interesting and well acted drama and it would have a powerful impact on me as an audience member. I did not expect to be so bored and so uninterested in the proceedings. I was clock watching numerous times throughout the movie and found the whole ordeal to just be a mess. Judging from other reviews on Rotten Tomatoes and the box office numbers, Iím not alone in my thinking.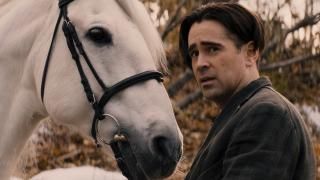 Winterís Tale is a boring movie that is tedious to sit through and quite cumbersome. We have top notch actors here and a director who has had success as a producer and writer before, yet nothing adds up with the finished product. I felt very detached from the material and at times, it is laughable. I know it is not meant to be taken as a comedy, as they deal with issues of death and evil, but the way the lines are delivered and the way it comes across is way too heavy handed. The minute I saw Colin Farrell flying on the horse, I burst out laughing. I was also very amused by Russell Croweís bad guy character. He wasnít menacing. He was just silly.

The problem with Winterís Tale is that it takes itself far too seriously and is far too self important. The performances reflect this, as solid actors are deadly dull and deadly serious. It takes the viewer away from the experience. Thereís no sense of wonder or sense of fun. You just watch the screen and try to make sense out of all of the nonsense that is coming out of their mouths. It doesnít enlighten the audience or teach us any important lessons, although I think it wants us to believe that it is.

Blu-Ray Info: Winterís Tale is released on a two disc Blu-Ray, DVD, and Digital HD Ultraviolet combo pack from Warner Home Entertainment. The film runs at 118 minutes and is rated PG13 for violence and some sensuality.

Video Info: Released on 1080p high definition 16x9 2.4:1, Winterís Tale looks stunning on Blu-Ray. The picture is vivid, concise, and crystal clear. Iím always happy with widescreen format on Blu-Ray and this picture quality does not disappoint. It looks great.

Audio Info: The DTS-HD Master Audio: English 5.1 audio track is also a solid track with easy to hear dialogue throughout the movie.

Additional Scenes (12:08): These are mostly extended scenes throughout the movie, so Iím not sure if I would call them deleted or additional, as they more scenes with a little extra to them.

Behind The Scenes: Winterís Tale: A Timeless Love (06:08): This chats with the many members of the cast and crew about what it was like bring this story from book to screen and how they handled that challenge.

Characters of Good and Evil (09:14): We hear from actors Colin Farrell, Russell Crowe, Jessica Brown Findlay, and Jennifer Connelly on their approach and preparation for their characters.
The 411: Winterís Tale is just a giant mess of a film from start to finish. I for one could not wait for the whole thing to be over. Itís overlong, stuffy, pretentious, and poorly acted by usually reliable actors. Iím not quite sure what anyone saw in the project or what attracted them to it. Perhaps the source material is better on paper in book format than on the screen. As a big screen film, itís just about unwatchable. Itís really a shame to see so many talented actors in such a huge misfire. This film should be avoided at all costs.

Final Score: 4.0

[ Poor ]

legend
comments powered by