SPOTLIGHTS
Wolf Creek 2 (Blu-Ray) Review
Posted by Tony Farinella on 06.26.2014

The sequel to Wolf Creek is out on Blu-Ray and DVD, but is it a worthy film? Check out the full review from 411mania.com's Tony Farinella!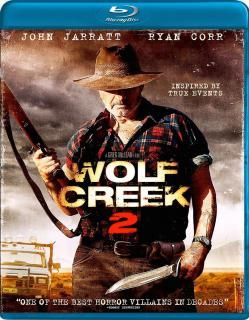 I must admit that the original Wolf Creek was one of my least favorite films of all time. I found it disgusting, disturbing, and an overall depressing experience. That is why it is much to my surprise, that I enjoyed Wolf Creek 2. I found it to be a much more straight forward experience as a movie and there was more of a focus on the villain John Jarratt, who does an incredible job portraying Mick Taylor. Itís a truly frightening performance in a truly frightening movie. I was pleased that the movie focused more on Mick and less on the boring and uninteresting victims.

Australia is a popular place for tourists, although after two Wolf Creek movies, perhaps their visitors will start to decrease. A young couple is looking for fun and a good time when they make the mistake of running into the infamous local, Mick Taylor. He doesnít take too kindly to outsiders and takes it up himself to clean up Australia and keep it free from visitors that he deems unworthy of the country. That includes Paul (Ryan Coor), who tries to play hero and might just be able to outsmart Mick, although that is quite easier said than done.

The first half hour of Wolf Creek 2 didnít do all that much for me and I found myself rather restless and bored by its tedious pacing. However, once we get away from the usual opening where we are introduced to characters we couldnít care less about and get to the meat and potatoes that is when the story starts to pick up and get rather interesting. There are some incredible chase sequences, including one involving kangaroos that was a lot of fun to watch. I have to admit that I enjoyed the filmís sick sense of humor and the way it presented itself.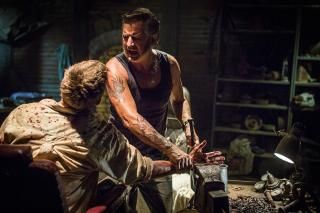 All props, however, must go to John Jarratt, as without him, there is no movie. He is an incredible villain who delivers his lines perfectly and really chews up the scenery. I was glad there was more screen time for him, especially near the final half hour of the film when itís just him and Paul talking to each other. We start to understand a little bit about what makes this man tick and it also gives us a chance to get to know Paul a little more. Paul is savvy and not your average, run of the mill victim that makes stupid mistakes for the sake of the plot.

In the end, as a horror fan, I had quite a bit of fun with Wolf Creek 2 and enjoyed it more than the original Wolf Creek. As its own film, it is a much more polished product and the experience didnít leave me feeling like I was cheated or messed with as an audience member. John Jarratt has been getting a lot of praise for this performance and rightfully so. Heís a tremendous horror villain and he truly takes his time and is one hundred and ten percent pure evil. Itís always a surprise when I hated an original film and actually like the sequel. Itís a gory good time.

Blu Ray Info: Wolf Creek 2 is released on a two disc set which also includes a DVD copy of the film from RLJ and Image Entertainment. It runs at 106 minutes and is not rated.

Video Info: Released on 1080p high definition widescreen 2.35:1, Wolf Creek 2 looks creepy and menacing on Blu-Ray. When they get to Mickís underground lair, the visuals really pick up. This is exactly how a horror movie should look on Blu-Ray. Itís dark, creepy, and visually stunning.

Audio Info: The DTS-MA 5.1 Audio track, which includes subtitles in English, is a good audio track that makes it easy to hear the film throughout without any difficulties. It keeps a consistent pace.

Creating a Monster: The Making of Wolf Creek 2 (52:07): This is a detailed special feature which talks about their approach to the sequel and what they were trying to accomplish with the movie. We hear from many important people on the production.

Butcherís Cut: Deleted Scenes (23:56): There wasnít anything too noteworthy here. Itís mostly added scenes that they cut from certain parts of the movie, including Paul meeting the family that takes him in when he escapes from Mick.
The 411: Iím as shocked as anyone that I enjoyed Wolf Creek 2 because it would take a whole lot of money for me to sit through the original Wolf Creek once again. It is a film that I detest and loathe. However, the second one is suspenseful, kind of fun, gory, and in-your-face. It says Ďinspired by true eventsí, although I wonder how much of that was used in the making of the film. Again, as Iíve said many times, see this movie for the performance of John Jarratt. Itís truly a magnificent horror performance and heís one of the best villains we have had on screen in a while. Iím surprised, but Iím giving a recommendation to Greg McLeanís Wolf Creek 2.

Final Score: 7.0

[ Good ]

legend
comments powered by