SPOTLIGHTS
Lake Placid (Blu-Ray) Review
Posted by Tony Farinella on 07.09.2014

One of the biggest cult films of the past fifteen years is now out on Blu-Ray! How does it hold up?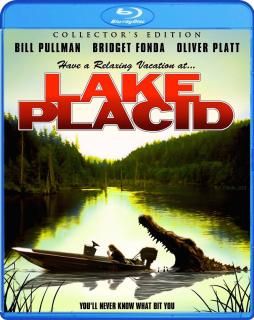 One must give credit where credit is due and big props go out to Scream/Shout Factory for looking into the vault and releasing these awesome horror films from years past. Whether it is from the 80ís or 90ís, it is great to relive these films in high definition on Blu-Ray. That was most certainly the case with their release of 1999ís Lake Placid on Blu-Ray. This is a film that Iíve been waiting to see for quite some time hit Blu-Ray, and its release does not disappoint with its transfer or its special features. The film is still as fun as ever, fifteen years later.

When a fish and game officer is bit in half, people start to pay attention and notice that maybe something is wrong and maybe there is something unusual in the water. In Maine, that brought out the unusual and eccentric team of Sheriff Hank Keough (Brendan Gleeson), Fish and Game officer Jack Wells (Bill Pullman), paleontologist Kelly Scott (Bridget Fonda), and crocodile expert Hector Cyr (Oliver Platt). This unique and one of a kind team must survive and try to get along if they want to find out what is going on in this lake.

They are receiving little to no help from the legendary Betty White, who lives on the lake. She would rather insult them and be a sarcastic smart ass than offer any help. Many film reviewers look to this film as the time and place that we first saw the new Betty White that is so popular with the general public today. She is a national treasure, no doubt, and she absolutely knocks this role out of the park. You can tell she is having a lot of fun playing this character and we are having fun watching her. The way she describes the death of her husband is just plain priceless and comedy gold.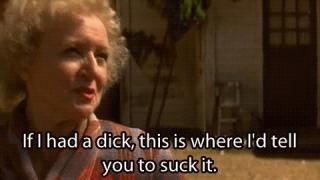 Lake Placid, directed by Steve Miner and written by David E. Kelley, is a film that knows what it wants to be, gets in, gets out, and doesnít overstay its welcome. It only runs at eighty-two minutes, which is just about the perfect length for a comedy horror film like this. The mixture of comedy and horror is also done to perfection. What I enjoyed about the comedy is that it came from the chemistry of the cast and their bickering. It wasnít over the top and they werenít trying too hard to get a laugh out of the audience. It feels natural. I hate when films are trying too hard and itís so obvious.

In the end, Lake Placid was truly a blast from start to finish. I had a lot of laugh out loud moments with the cast and their chemistry is undeniable. I loved how they played it straight and there wasnít any winking at the camera. That is why the film is as funny as it is. There isnít a ton of gore in this one, so the gore hounds might be disappointed, but for those us just looking to kick up their feet and enjoy a silly and over the top horror movie about an alligator you canít go wrong with Lake Placid. It is firing on all cylinders.

Blu-Ray Info: Lake Placid is released on a single disc Blu-Ray from Scream Factory Home Entertainment. It is called the collectorís edition Blu-Ray. The film runs at 82 minutes and is rated R.

Video Info: Released on 1080p high definition widescreen 2.35:1, this film looks out of this world on Blu-Ray. I was so impressed with the colors and the vivid look of the film. Itís crystal clear and there are no noticeable grains. Of course, itís not a very old film, but still, it looks amazing on Blu-Ray and is a vast improvement over the DVD.

Audio Info: The DTS-HD Master Audio 5.1 track is a little all over the place and at times, the film is very loud, too loud for my liking. I had to keep my hand on the remote a little too much and adjust the volume quite a bit. You can hear it very solidly, but it gets a little loud, but that is probably more of a soundtrack and score issue.

Special Features:

The Making of Lake Placid (31:20): This features interviews with director Steve Miner, Bill Pullman, the director of photography, the editor, production designer, efforts supervisor, and even the puppeteer! I would have loved to have heard from more of the actors on this special feature, especially Betty White, but I assume it was hard to get them all for this special feature. Nonetheless, you hear a lot about the making of the film and how it was all put together on this special feature.

Theatrical Trailer

TV Spots

Behind the Scenes Still Gallery

Vintage Featurette (05:38): This was put together around the time of the making of the film and does have interviews with Betty White, Brendon Gleason, Oliver Platt, Bridget Fonda, and Bill Pullman. Itís rather quick, but it is still nice to hear what was going through their heads when they were making the film.

Animatronic Croc Test Footage
The 411: If you are looking for a fun summer movie to add to your Blu-Ray collection and you love horror as much as I do, you canít go wrong with the release of Lake Placid on Blu-Ray. Between the unique special features, the video transfer, and the pure fun factor that the film brings to the table, it is definitely worth owning and adding to your collection. It was worth the wait to see it look this good on Blu-Ray. Comedy is comedy and the laughs are still here in full force. I had a really fun time watching this film again and I think you will too.

Final Score: 7.5

[ Good ]

legend
comments powered by