SPOTLIGHTS
Deadly Eyes (Blu-Ray Combo Pack) Review
Posted by Tony Farinella on 07.15.2014

The rats are out in full force in Deadly Eyes! Is this cult classic worth your time and your cheese?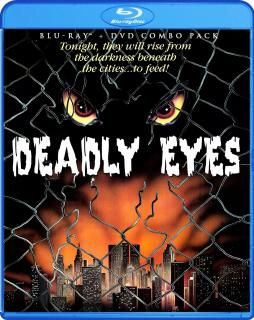 Scream Factory/Shout Factory does it again, as they release a cult classic on Blu-Ray that is hugely entertaining and incredibly engrossing. This time, it is Deadly Eyes, a film about super-sized rats that take over and start killing at will. As one can imagine, just by describing the idea of super-sized rats, Deadly Eyes is boatloads of fun. What I enjoy about these sorts of films is that they know what they want to be, they accomplish their goals, arenít super long, and they make for a fun evening in front of the TV. What more could you ask for, really?

When contaminated grain produces large black rats, things start to turn a little haywire in Toronto. Of course, there are two groups of people. There are those who believe in these rats and have seen them and have even been killed or bitten by them. There are also those who think they are out of their mind and that there is no such thing as large rats. A local health inspector, however, played by Sara Botsford believes it, especially after hearing about it from one of her workers, played by Scatman Crothers, who also happens to show up missing.

There is also a divorced basketball coach played by Sam Groom, who notices that one of his star basketball players has been bitten by something. While he doesnít necessarily believe that it is a rat, it does look rather suspicious and odd. Heís also being pursued by a student played by Lisa Langlois, so needless to say, he has his hands full. However, it is up to him and the health inspector to prevent these rats from taking over the city and killing everyone and everything in sight. They travel in packs and they are quite ferocious and hungry to say the least. If they donít do something, they will be everywhere.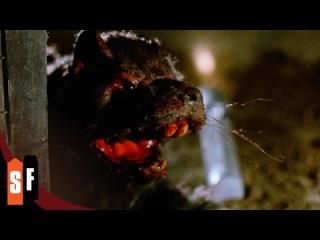 Deadly Eyes is based on the novel The Rats by James Herbert and is written by Charles Eglee (Dexter, The Walking Dead) and directed by Robert Clouse (Bruce Leeís Enter the Dragon). While I must admit that I enjoyed this film quite a bit, I felt as though the pacing is a little bit off. At times, it felt like it was dragging a little bit and the storyline with the teacher and the girl who loves him feels a little bit out of place and misguided in the grand scheme of things. I also wanted more rats! There are rats in this movie, donít get me wrong, but I wanted more of them!

In the end, however, at 87 minutes and with what the film is all about, you really canít be too hard on a film about deadly rats. Deadly Eyes kept my attention, kept me entertained, and was what one would expect from this sort of film. I laughed a lot and had a blast with it, when the rats were on screen that is. I was much less entertained when the humans were the focal point of the story. You canít win them all, however, and I still give this film a positive review and say it is worth your time if you are into obscure horror films about killer rats. I know I am.

Blu-Ray Info: Deadly Eyes is released on a two disc combo pack from Shout/Scream Factory and is rated R. The film, as mentioned before, runs at 87 minutes. The combo pack comes with both the Blu-Ray and the DVD.

Video Info: The film looks outstanding on 1080p high definition widescreen (1.78:1). The film is over thirty years old, but the transfer looks out of this world and the film is vivid, colorful, and looks really updated and modern.

Audio Info: The same can be said for the DTS-HD Master Audio Mono track. The film is easy to hear, especially the dialogue. I loved all of the rat noises and how they come through on the screen.

Special Features:

Deadly Eyes: Dogs in Rats Clothing (24:05): We hear from art director Ninkey Dalton and the writer Charles Eglee on this special feature, who share how this is the film where they met and ended up getting married on! See, killer rats can bring people together. They also talk about the process of dressing up little dogs in rat costumes and some of the challenges that caused for the filmmakers.

We round it out with a series of interviews with Actress Lisa Langlois (18:50), Actress Lesleh Donaldson (13:48), Actor Joseph Kelly (13:22), and Special Effects Artist Alan Apone (14:07). They all share their unique experiences from working on this film.
The 411: Deadly Eyes is a fun film, donít get me wrong, but I think they could have done a little bit more fun with it and made it even more enjoyable in the long run. However, beggars canít be choosers when it comes to films about killer rats. Did they have some inventive kills? Check. Did they entertain me? Check. Did I laugh out loud? Check. There isnít much more one could ask for, so because of this, I think it is worth adding to your collection if you into this type of horror. I know I am. I give Deadly Eyes a recommendation only for horror buffs.

Final Score: 7.0

[ Good ]

legend
comments powered by