SPOTLIGHTS
Orphan Black Season 2 (Blu-Ray) Review
Posted by Michael Weyer on 07.17.2014

BBC America's Orphan Black continues in developing its mythology while we see more of one of the best female performances in television history get even better! 411's Michael Weyer checks in with his review of the season two Blu-Ray!

Orphan Black Season Two
BBC America Entertainment
450 Minutes




Over the years, the Emmy Awards have always been consistent in one regard: Every year, they create massive outrage over the terrific shows and performances that are snubbed, often in favor of the same nominees of previous years. Most annoying has been the Emmys' refusal to acknowledge sci-fi/genre television as award-worthy as regular drama. The latest outrage to spark this has been that, for the second straight year, Tatiana Maslany was left off the Best Actress Drama nominees for her performance in the Canadian cult hit Orphan Black. Despite near unanimous critical praise for her work, Maslany was snubbed for her multiple roles of female clones in the series (to be fair, Emmys aren't alone as the SAGs also left her off) and thus upsetting those who feel her fantastic performance is deserving. That's clear as season 2 of the show has now come to Blu-Ray, delving more into the series' mythology but also giving Maslany more chances to show off her fantastic talent and why she makes the show work.

The Series

We pick up right where we left off last season as Sarah (Maslany) is racing to find her daughter Kira (Skyler Wexler) and gets into a nasty confrontation with gunmen. She soon finds Skyler was taken by her foster mother Siobhan (Maria Doyle Kennedy) who turns out to have known about the whole clone mess all along. Desperate for help, Sarah takes Kira and foster brother Felix (Jordan Gavaris) to meet Cal Morrison (Michiel Huisman), one of Sarah's former con victims who just happens to be Kira's biological father. Cosima is still trying to find a way to fix the degenerative disease that's killing her, aided by lover Delphine (Eveylne Brochu). This forces Cosima to work for Rachel, a cold-hearted clone and leader of the Dryad Institute, the people who started the whole clone project in the first place. Also working there is Aldrous Leekie (Matt Frewer), top scientist and the search of answers leads to Ethan Duncan (Andrew Gillies), a scientist who helped create the project. They also begin more conflicts with the Proletheans, religious fanatics who consider the clones abominations and top agent Mark (Ari Millen) making some crazy moves at a farm. Meanwhile, Alison is wrestling with allowing neighbor Aynsley to die last season and it gets worse when she realizes Aynsley wasn't her monitor but rather it was her own husband, Donnie (Kristian Brunn) and her reactions soon send her to rehab. Also, cops Art Bell (Kevin Hanchard) and Angie Deangelis (Inga Cadranel) are still trying to figure out the mystery of these identical women. And to top it all off, nutcase clone Helena recovers from her seeming death in the first season to become an unlikely ally to Sarah and the rest.

The series takes some risks by delving more into its inner workings and mythology here but it mostly turns out okay. The explanation for motivations puts much of season 1 in a new light (especially regarding Sarah's monitor/lover Paul) and some turns are truly shocking, such as the revelation of why Sarah is the only clone who can produce a child naturally. The Dryads may be harsh but compared to the absolute monsters of the Proletheans, they come off as good guys and the conflict between them builds up tension over the year. Also, with the introduction of a few more clones, we further explore the great themes of the first season, how much "nature vs nurture" really means in development. A recurring theme is one clone reflecting upon another, thinking of how their own lives could have been so much different and such. The twists are plentiful and press more into the storyline in great ways.




Of course, it's Maslany who dominates and once more, the actress is nothing short of marvelous in her various roles. It's not just the different ways of talking and looks, she truly imbues every clone with their own specific traits to make each one stand out. Sarah's streetwise attitude, Cosima's quirky humor, Alison constantly on the verge of snapping, Helena crazy and yet surprisingly heartfelt, Rachel's ice-cold demeanor, all make them separate characters and more than once you'll find yourself forgetting it's the same actress. The makeup and outfits help (I'm still figuring out how they make Rachel look thinner than the other clones) but it's Maslany who makes it all work. The true genius is when you have one clone impersonate another and rather than play a straight performance, Maslany shows enough traits of the original (accent, stance, tics) that make it clear who's who. It's truly stunning to watch, especially when we're introduced to a transgender clone, Tony, Maslany doing great as a man with the fantastic touch of how Felix is drawn to what's basically a "male Sarah." Better is how each character is so well done, Helena redeemed a bit from evil nut to more sympathetic fallen figure while Rachel isn't quite evil but you see why she's so cold-hearted. Watching Helena and Sarah slowly accept each other as "sisters," including a fun road trip, is a delight and great to show the series developing more. Rather than be a gimmick, the clones are fully-rounded characters, each one wonderfully brought to life by Maslany so you can enjoy everything from the drama of Cosima's health to the hysterical situations Alison gets into.

The rest of the cast get to back her up well, especially Brunn as we realize Donnie isn't some sinister agent but a decent guy in totally over his head. His discovery of the clones and how he got involved is a bit of a turn that makes you realize how sad he is. This leads to a confrontation with Leekie that's equal parts shocking and hilarious and a bizarre new dynamic with Alison that ironically gets their marriage back on track. Gavaris still gets fantastic laugh lines as he helps Sarah out and the scenes of him and Tony are terrific to show a new touch on the chemistry he and Maslany share. Kennedy gets a lot more time as Mrs. S gets to the forefront with her own tough attitude and smart moves to pull the investigation along. Huisman has a nice air as this man still burned by Sarah but the realization he has a daughter (Wexler showing a fun touch handling this madness) makes him want to get more involved and promises more for next year. Brouchu gives more heart to Delphine, terrified of losing Cosima to the lengths of bold moves, including recruiting lab tech Scott (Josh Vokey) to help on the project. While Art becomes a reluctant aide, Angie is obsessed with finding the truth of the twins, including sending Sarah's former drug-dealing boss Vic (Michael Mando) undercover in rehab with Alison, leading to some fun.

Maslany remains the reason to watch it all, however and carries the show well. The plots are great, including the twisted turns at the Prolethean farm and this dark ideas on how to use the clones as well as going into the science behind them. But we keep the series' black humor (especially the Alison/Donnie scenes and the crazy play Alison lands the lead in) that made the show so damn fun in the first place. The finale has several turns building to a huge game-changing twist for season 2 and the writing keeps things sharp. The FX are great to help convince you these are different women together (especially the great "Dance party" in the finale) but once more, the reason to watch this show is to see an actress carry off one of the most stunning performances in television history. Maybe the Emmys don't recognize it but viewers can and enjoy one hell of a fun time with a true clone party.

Rating: 9.0 out of 10.0





Video

1080p24 framerate with 1.78:1 ratio, the picture is terrific, avoiding the usual problems of some transfers. The series maintains its nice mood video that comes through with the filtering and details are lush on faces and outfits. Rather than rob the illusion, it helps maintain it, selling each clone as unique character and not just one actress alone. No problems with textures and such as it handles day and night scenes well with a noir touch to fit its series and pull you further into the terrific show.

Rating: 10.0 out of 10.0

Audio

24 bit six-channel DTS-HD Master Audio with English subtitles, the soundtrack is also terrific. It captures ambient sounds of backgrounds and outdoor scenes along with the great musical score and FX work. The subtitles help with scenes of accents and heavy exposition and immerse you more into the series for a fun ride.

Rating: 10.0 out of 10.0

Bonus Features

The set is a light case with the two discs inside. Sadly, no audio commentaries but some fun stuff nonetheless.

The Cloneversation (42:28) was a special made for BBC America just before the season 2 premiere. Hosted by Wil Wheaton, it has the major cast players and creators Graeme Mason & John Fawcett along with celebrity fans like Patton Oswalt and Orlando Jordan talking before an audience, including answering fan questions. Maslany, of course, is a big focus talking about her experiences and creating the various performances and it fun listening to Gavaris without his British accent. Much of the special has fans online talking about their love for the show and the build for its cult following but also heartfelt things like how the Cosima/Delphine relationship has inspired some gay people to come out with confidence. A pretty good talk overall and great seeing how down-to-earth Maslany is, making her multiple performances all the more impressive.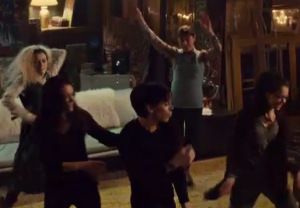 Clone Club Insiders (8:57) are brief bits created for commercial breaks of the premiere episode that recap each major character and how they were created.

Behind the Scenes (38:22) are a set of features that give good insight to the series. Mason & Fawcett talk of how they basically wrote themselves into a corner with the season 1 finale and had to plan season 2 out better. They discuss the cast with how they didn't really have much planned for Donnie but Brunn was so good in the role, they had to build it up. We see the table read for the first episode script and it's wild seeing Maslany shifting accents and mannerisms for each clone right there as the rest stare in awe. A special feature is on the Sarah/Rachel confrontation in the premiere as we see how it was all put together. This includes a great focus on Kathryn Alexandre, the body double used for such scenes, how she plays each role opposite Maslany and the complications of making it all work (such as how the reflective surfaces threaten to give away the illusion) and Maslany giving Alexandre great props for mimicking her so well and that makes the scenes work. Hair stylist Sandy Sokolowski and makeup chief Stephen Lynch discuss how they come up with each clone's looks and Maslany is up front on how they help her get into each character, especially the challenge of transgender clone Tony. The "clone dance party" was on the writing wall before the season, they had no idea how they'd work it in but had to do it. We see it put together with commentary by the producers and it's still amazing how seamless it comes off to make you believe you were watching four women together. All a great look at how the show is created and the fun people have with it.

We get six minutes of deleted scenes from the season finale, a plotline of Donnie trying to intimidate Rachel which, of course, does not work as well as he'd hoped.

Rating: 8.0 out of 10.0
The 411: In its second year, Orphan Black deepens its mythology and sharpens its writing with turns equal parts smart and shocking. The cast is good but it's Maslany who dominates beautifully and pulls you completely into the illusion these are different people together. The extras are a good look at how it comes together and the popularity but the focus remains on Maslany herself and if the Emmys can't recognize her genius, at least viewers can enjoy a role that makes this series such a fantastic ride to follow.

Final Score: 9.0

[ Amazing ]

legend
comments powered by