SPOTLIGHTS
Disneynature's Bears (Blu-Ray Combo Pack) Review
Posted by Tony Farinella on 08.12.2014

Disneynature returns with Bears, the latest installment in their fascinating series! How does the film compare to their other releases?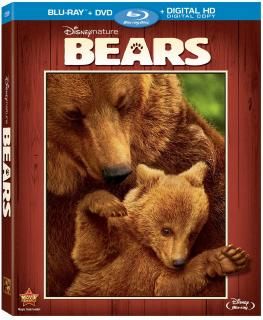 Disneynature is truly doing something special and one of a kind with their series. They are gathering footage and film that is truly unique and breathtaking. Between the footage they have on film, the narration done perfectly by John C. Riley, and the stunning visuals, Bears is a hit. Sadly, as aPackers fan, I was disappointed to see no Jay Cutler interceptions captured on film, but beggars canít be choosers. In all seriousness, no stone is left unturned in this project and it shows in the finished product. I had a great time with Disneynatureís Bears and really admire what they are doing.

The film follows Mama Bear Sky and her cute and adorable cubs, Scout and Amber. She is in charge of taking care of them and making sure she has enough fat stored to feed them. This puts a lot of pressure on the mama bear, as she has to store upwards of 90 pounds of fish. In fact, half of baby cubs donít survive the first year, which is a startling statistic. The outdoor scenery here is gorgeous and itís the reason why Blu-Ray was made in the first place. Even if you have no interest in the film, itís great just to visually get into the story.

The film is set in the Alaskan Peninsula, and the footage that was captured on screen is amazing. They really got up close and personal with the bears. There are thousands of brown bears in fact and they have to get across these frozen mountains to get food. Sometimes there is quite a bit of ground to cover and they have to drag the cubs along. Itís a steep climb thatís for sure especially with snow and ice barreling through. These are salmon starving bears, especially the huge Magnus, a 1,000 pound bear that is feared by many.



Sky must protect her cubs and keep Magnus away from them at all time. He believes it is his turf and he isnít about to share it with anyone. Story aside, the footage is amazing and out of this world. You have to see it on Blu-Ray. There is truly no other way to see it on video format. You also see the real love that the mother bear has. The story goes by rather quickly and is fast paced. Riley is the perfect voice and knows when to tell a joke and when to let the story tell itself. It educates while informs at the same time.

As mentioned previously, the Blu-Ray transfer of this film is nothing short of eye popping. It has everything that one could hope for out of a story like this. It is a home run and I think it is the best of the films Disneynature has made. I tip my hat to the filmmakers and the footage they were able to capture. Itís funny, itís cute, and itís very sweet without being overly sappy. Both children and adults will get a kick out of this story and find something to enjoy with it. Thatís the true measure of success with a film like this.

Blu-Ray Info: Disneynatureís Bears is released on a two disc Blu-Ray, DVD, and Digital HD combo pack from Walt Disney Studios Home Entertainment. It runs at one hour and seventeen minutes and is rated G for general audiences.

Video Info: Released on 1080p high definition widescreen (1.78:1), Bears is one of the best looking Blu-Rayís Iíve seen so far this year. From the icy mountains to the snow, everything is nothing short of stunning and mesmerizing. Even the grass is fun to look at with this release.

Audio Info: The English 5.1 DTS-HDMA audio track also allows for easy listening when it comes to the narration by John C. Riley. Everything is easy to hear and you hear all of the little bits and pieces of the outdoors.

Welcome to Alaska (06:07): This special feature shows what it was like filming in Alaska and some of the challenges they had to face.

The Future for Bears (06:37): This special feature shows what it was like for the filmmakers to live with the bears and focuses on the importance of ensuring their survival as well as our own.

A Guide to Living with Bears (07:05): We see how they were able to actually live with the bears and how they kept it safe thanks to their guides along the way.

How Did They Film That? (07:22): It shows how they got some of the amazing footage they captured on film.

Carry on Music Video by Olivia Holt

The 411: There are some great behind the scenes special features here that take you inside the making of the film and what an incredible journey it was for the filmmakers. Itís not every day that you get to spend this much time with bears and film them for this extended period of time. This is just one of those films that knows what it wants to be, accomplishes it, and hits it out of the park on every single level. Itís not too long and itís not too cutesy. Itís just right. The film also doesnít shy away from some of the dangers that these bears are facing and how hard it is living in these conditions and being a momma bear. This film comes highly recommended for both kids and adults.

Final Score: 8.0

[ Very Good ]

legend
comments powered by