SPOTLIGHTS
Varsity Blood DVD Review
Posted by Tony Farinella on 08.19.2014

411's Tony Farinella goes back to school with his review of Varsity Blood, now out on DVD!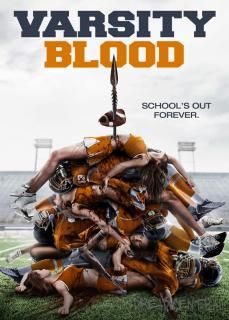 I love the horror genre when itís done right and loathe it when itís done poorly and lacking imagination. Varsity Blood is an instantly forgettable film that doesnít do anything to distinguish itself from other films in the dead teenager genre as the late, great Roger Ebert used to call it. It lacks suspense and the fun factor that one would hope for in a film like this. There also isnít enough nudity, gore, or blood and guts to make it a true blue horror film. There are some kills, but they are shot so dark that it makes it nearly impossible to see it.

Hogeye Highís Warriors and cheerleaders are preparing for the big rivalry game thatís coming up and boy are they excited. They are also looking forward to the after party and since the game is on Halloween, there figures to be plenty of booze and sex. That is if they can get past Mrs. Wallace, played by horror legend Debbie Rachon, who plays a controlling mother that wants her daughter Hannah Wallace (Lexi Giovagnoli) to be home at a certain time and follow her strict and over the top rules. I can see why she would feel that way when you see how creepy the team mascot looks.

The first half hour of the movie is rather dull and unexciting as it turns out to be a horror film that is all premise and idea and no execution. Itís disappointing, dull, and just stupid. We also get scenes that are incredibly quiet and then you have loud and overbearing music that just takes you out of the film. The characters are also rather unlikable and they arenít a whole lot of fun to spend time with throughout the course of the movie. The acting is also incredibly questionable.



Writer/director Jake Helgren also doesnít have a keen visual sense and most of the film is shot at night and in the dark. This makes it hard to fully see and understand what the hell is going on. Iím not sure if this was done to build suspense and terror, but itís mostly irritating as it is tough to see much of anything, especially the kills, which is what horror fans are watching a movie like this for in the first place most of the time. There are also way too many pointless back stories and flashbacks and characters spend way too much talking about what to do instead of actually doing it.

The killer is using a bow and arrow, Youíre Next style, and is dressed as the team mascot and is intent on picking them off one by one. The problem is for a good portion of the film, nothing happens, and there is also rather peculiar dialogue along the way. I also wish the characters were more fun to spend time with instead of being stereotypical jocks and cheerleaders with no unique personalities or personality traits. Varsity Blood is a misfire and a film that sounds a lot more fun on paper than it actually is in execution. This is a hard pass.

DVD Info: Varsity Blood is released on a single disc DVD from Image and RLJ Entertainment. The film runs at 87 minutes and is not rated.

DVD Info: Released on 1.78:1 widescreen, the film is shot way too dark and it makes it nearly impossible to see the last forty-five minutes of the film. Iím not sure if Blu-Ray would have enhanced this much, but it is very distracting and very disappointing.

Audio Info: The Dolby Digital 5.1 soundtrack is loud and proud. Sadly, my ear drums did not appreciate this. It gives away all of the suspense. It is closed captioned for the hearing impaired.

Special Features:

NONE
The 411: In the end, Varsity Blood is a mostly unimaginative film that is shot poorly and acted poorly. There is little suspense to speak of and the big twist just comes off as cheesy and underwhelming. This is connect-the-dots filmmaking at its worst. Itís just downright silly and stupid. I see no reason why it was made and there is no particular reason to see it. As a matter of fact, good luck even being able to see it with how dark it was shot. The DVD also has a loud soundtrack, poor picture quality, and absolutely zero special features. What a disappointment.

Final Score: 4.0

[ Poor ]

legend
comments powered by