SPOTLIGHTS
Once Upon a Time: the Complete Third Season (DVD) Review
Posted by Michael Weyer on 08.22.2014

The third year of the fairy-tale drama has a rough start but makes up for it in the second half for a wicked good time.

Once Upon a Time: The Complete Third Season
ABC Studios
946 Minutes




ABC shows have an interesting tendency in the last several years to break out as surprise hits in their first seasons only to slump a bit in their second. Desperate Housewives, Lost, Revenge and, particularly, Once Upon a Time have all suffered this trend. However, a summer break is a good way to get a fresh start, realize what wasn't working and try to fix it. With the third season of the fairy-tale drama, the show runners take a daring concept by basically telling two seasons in one. The first half may drag a lot but some good turns while the second is far more entertaining. Put together and it's another year of fun excitement in Storybrooke to keep you entertained.

The Series

We pick up where we left off in Season 2 as Emma (Jennifer Morrison), Regina (Lana Parrilla), Charming (Josh Dallas), Snow White (Ginnifer Goodwin), Rumplestilkskin (Robert Carlyle) and Hook (Colin O'Donoghue) take off to Neverland to rescue Henry (Jared S. Gilmore) who's been kidnapped by Greg and Tamara. However, the two realize too late that the entire "home office" against magic was all a scam as they're taken out by the Lost Boys. Henry meets a young boy (Robbie Kay) who turns out to be the twisted Peter Pan who tries to win Henry to his side as part of his plans to gain power. Complicating matters more is that Neal (Michael Raymond-James) finds himself in the Enchanted Forest, meeting Aurora (Sarah Bolger) and Mulan (Jamie Chung) and also the archer Robin Hood (Sean Maguire). His journey to meet the others works alongside the group finding out a shocking connection between Rumple and Pan and gain aid from Tinker Bell (Rose McIver) and mermaid Ariel (Joanna Garcia).

The first half of the season has a good concept but the telling of it lacks the same skill as past seasons. To their credit, the writers realize the whole Greg/Tamara thing wasn't working and so drop it fast in a way that makes sense. The plot drags a bit, Pan's motivations not quite clear and the shifts back and forth between Neverland and Storybrooke don't help. Also, there's flashback stories that sound promising like how Hook turned to a pirate life but they aren't as effecting as they should be. Some can be good like how Regina poses as Ursula to trick Ariel with the nice twist of the real Ursula appearing to warn Regina never to do it again and Garcia has a great charm to the role with a fun instant partnership with Belle (Emillie de Ravin) in Storybrooke that helps that plot along. But other bits are just filler like a flashback to Snow trying to use the head of Medusa against Regina and searching for a sword to conquer her fears. The bits of Rumple plagued by the image of Belle don't work either and the stuff of Neal captured and Pan trying to trick Henry just drag on more. Even when you discover the big connection between Pan and Rumple, it doesn't resonate as it should after the muddled start and the way the show pushes plots afterward makes it worse and things like the introduction of the Darling kids in Storybrooke feel stapled on, not organic as they should.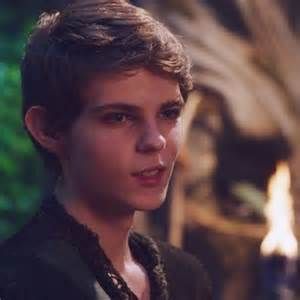 There are good bits, especially Kay, who is fantastic as Peter, an older man in a young body and the actor handles the role wonderfully. He's always scheming, clearly working his plans in advance and that pulls you in well to elevate his scenes a bit, caring with Henry while mocking the others, the actor seeming far more mature in this role. Parrilla is still the highlight, the flashbacks of Regina great from her more innocent days to the twisted Queen, pulling off amazing outfits and FX scenes equally well. A truly fantastic bit is when the women are tied in ropes meant to hold them by their regrets but Regina breaks free because she doesn't regret anything she's done. She also gets material mocking the others on their idiocy and calling out Gold on claiming he's ready to die for this. It's always a delight seeing Carlyle as the twisted Rumple in the past but he brings some good depth to the character facing said dark past today. Also, Charming and Hook end up having a nice bond over a mutual secret that comes into play later in the season that Dallas and O'Donoghue pull off quite nicely. Plus, while it can be a bit rushed, the final confrontation between Rumple and Pan does pay off on stuff already shown and the aftereffects do shake the show up. But for the early push, the season doesn't really start off right and leaves you wanting more, especially after a big twist mid-way through. It doesn't help that after a lot of time given to the relationship between Mulan (Jamie Chung) and Aurora (Sarah Bolger), it's basically ignored, mostly due to Chung's leaving for another series. Likewise, the always fun Meghan Ory is mostly absent due to another short-lived show, robbing us of the charms of Ruby/Red until the last episodes and the show feels more disjointed.

Thankfully, the second half of the season is much better. After a year in New York, Emma and Henry return to Storybrooke to find everyone has forgotten a year spent back in the Enchanted Forest. A big shift is that Snow is now pregnant (the obvious way to work in Goodwin's real-life pregnancy) and Regina is getting closer to Robin Hood. The audience soon sees that during that year, the characters discovered that the land was now controlled by Zelena aka the Wicked Witch of the West (Rebecca Mader) who has a stunning connection to Regina. This leads to some good stories as Zelena holds Rumple hostage and her twisted plans for Snow's baby. It works thanks to Mader's terrific performance, chewing the scenery with relish but also showing some softer sides to the character, her origins making you realize why she turned out this way and you can even feel for her a bit. A good tie-in is the return of Rose McGowan as the younger version of Regina's mother, Cora, her past explaining more of the events of the present. Indeed, that's a great bit as new flashbacks are shown like Rumple's origins, you see the connections to the present and explaining how they work so well in the greater story of the show. A subplot of this second half of a more innocent Henry in Storybrooke plays better to Gilmore's acting skills and Parrilla handles the growing affection between Regina and Robin as well as facing her dark past. Also, Hook and Emma go through some changes as we see more of the good man in Hook fighting his pirate nature. Morrison holds the show well, better in this second half as, after a shot at a normal life, Emma realizes her destiny can't be ignored and her strength pushes her onward while dealing with a brutal loss.




The show's FX still has the obvious green screens but some cool bits like the truly terrifying flying monkeys and Ariel's transformations. The writing can be sharp when needed and the actors always pull it along well. The twists on such tales as Rapunzel and others are able to flow into the main story well and flesh out flashbacks more. The finale is a fun story of Emma and Hook taking a Back to the Future style adventure into the past (Emma's alias is priceless) that leads to some big repercussions for the present. And whatever else, the final scene of the season is amazing to set up the upcoming year. So while it has faults at the start, this season of Once still does a good job mixing its fairy tale adventure with some modern sensibilities and another fine chapter in the overall story of the show.

Rating: 7.5 out of 10.0


Visual

Widescreen 1.78:1 ratio, the DVD is the usual crisp picture for the show. As usual, it does show off more of the obvious fake green screen backgrounds yet handles the great outdoor settings of forests and the town along with the big FX stuff. The shadows can work well with stuff like Zelena's origins and the smooth textures and detail for the great costumes are terrific, fitting for the show.

Rating: 8.5 out of 10.0


Audio

Dolby Digital 5.1 SurroundSound with subtitles in English, French, Chinese, Spanish, Thai and Portuguese. A great audio package to balance outdoor scenes like a wild ocean storm with twisters and the magical FX but also more quiet bits among the characters. No need for volume adjustment and the subtitles can help in heavier talking scenes for a great package.

Rating: 9.0 out of 10.0




Bonus Features

The show is in a nice plastic case showcasing cast photos. The Blu-Ray has a bonus of a "writer's room look" but the DVD extras are good too.

We have three audio commentaries: "Lost Girl" with writers Andrew Chambliss and Kalinda Vazquez; "Think Lovely Thoughts" with writers David H. Goodman and Robert Hull and Robert Carlyle; and "The Jolly Roger" with Goodman and Colin O'Donoghue. As always, the commentaries are good with the writers showing details of creating the stories and stuff like "Neverland is like therapy island." A big board in the writer's room details the flashbacks in order so they know where and how to fit a new one into the overall history and make it work. They laugh a lot on how they redress the usual woods sets with palm trees for Neverland and "no wonder they never find Henry, they're going back to the same damn spot!" It's obvious how rough it can be doing a big ensemble show ("You know what makes these scenes easier? More people!") and making sure each character gets equal time and attention. The "Roger" episode is a fun listen with how they weren't sure how to work it until they added in Ariel as pairing up the pirate and the Little Mermaid just made sense and the touch of how the episode's Blackbeard looks like the classic drawings of Captain Hook. O'Donoghue obviously loves the role, laughing at stuff like "only Hook would spy on people with a telescope from across the street" and enjoying showing depth to the character. While you can wish more episodes had commentaries (especially the finale), still a good listen.

Wicked Villains (12:04) focuses on the bad guys with the writers sharing their view that "evil is not born, it's made." We get montages of hearts yanked out of chests and Rumpelstiltskin's laughs, Carlyle admitting he enjoys the flippant Rumple more. Edward Kitss says good villains are "workaholics" and Adam Horowitz shares that they hate being called evil. We focus on the big ones of Regina, Gold, Hook, Zelena and others, the actors talking about such things as "the key is playing it nobly" and how it's important to show that each foe sees themselves as the good guy. A big thing is how each character could have chosen a different path but driven by rage (Regina), need to save his son (Rumple), loss (Hook) or jealousy (Zelena), Mader stating that Zelena honestly sees herself as the injured party in things and deserving of power. Goodwin gets a good line on how Snow, despite everything, still tries to see the good in Regina and it works for this year. They also relate how sometimes "you need a bad-ass," shown by Regina's actions in Neverland but also how you need some good to balance it out. Short but still a good look at the best parts of the show and how the actors get into it.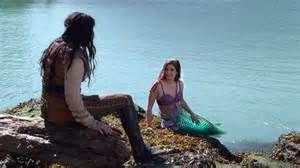 The Tale of Ariel (7:34) talks about creating and casting this major guest role. Designer Eduardo Castro points out the challenges of the iconic outfits from cartoons and such but how it doesn't work as well on TV so it took trial and error to get the right outfit and hairdo for her. Joanna Garcia was always a top choice and enjoyed getting on the show, doing video herself of her costume fits and such. A funny bit is how it wasn't until her casting that the producers discovered Garcia can't swim ("what do you mean? She's from Florida!") and made trickier by how she had to wear a special green lower half for the CGI tail in the water. Despite that, Garcia greatly enjoyed her time on the show and the cast got along with her well, ending with hopes of a return visit soon.

We have a blooper reel as well as a half-dozen deleted scenes, the biggest being a victim of a Rumple deal ending up as Rip Van Winkle. Also, the short bit from the 2013 Comic-Con showing Ariel.

Rating: 8.0 out of 10.0
The 411: The first half of the season is rough, some good bits like the evil Peter Pan but too much stalled storytelling and poor subplots to take off. But magically, it improves in the second half with a truly Wicked Witch of the West played wonderfully by Mader and the cast rises to new challenges. The effects remain strong but also some good character depth and detail to remind you why the show remains popular. The extras flesh out some good turns but the show itself still stands as a good addition to the overall story matching the material well.

Final Score: 8.0

[ Very Good ]

legend
comments powered by