SPOTLIGHTS
Draft Day (Blu-Ray Combo Pack) Review
Posted by Tony Farinella on 09.02.2014

The NFL draft is dramatized in the film, Draft Day, now out on Blu-Ray and DVD!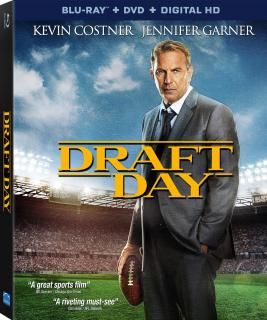 As just about every red-blooded American male, Iím a diehard NFL football fan who lives and dies with his team each and every week. For an NFL franchise, their team is built and developed over the course of a weekend known as the NFL draft, where players from college are drafted to NFL teams. Itís a three day event that is televised on both the NFL Network and ESPN with so called drafted experts saying who is going to be a superstar and who is going to be a dud. It seems only natural that such an over the top dramatic event would lend itself to the big screen and that is the case with the movie, Draft Day.

Kevin Costner stars as Sonny Weaver Jr., the general manager of the Cleveland Browns who is looking to rebuild his team after a losing season. His father was the coach of the team and he had the unfortunate task of having to fire his father. He has his reasons, however. He holds the number seven pick in the NFL draft and is feeling the pressure from the team owner played by Frank Langella to make a splashy move to get the team back on the winning track. Heís also facing the pressure with the fact that he has a child on the way at the hands of Jennifer Garner, who plays Ali, the teamís salary cap manager.

To make matters even more interesting, heís been getting trade offers where the Seattle Seahawks are offering him the number one pick in exchange for three number oneís over the next three years. He can use this pick to draft what the scouts are calling the Ďcanít miss quarterbackí in Bo Callahan, played by Josh Pence. He is managed by the ever aggressive Chris Crawford, played by Sean Combs. Thereís also pressure from the new coach played by Denis Leary. He waves around his championship ring at a momentís notice to get everyoneís attention.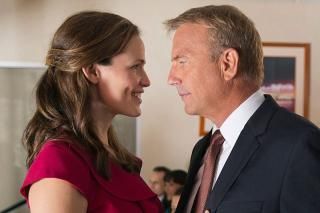 If you are an NFL football fan, you will be hard pressed not to enjoy Draft Day., even if some of what happens is a little farfetched and unrealistic. Kevin Costner does a terrific job as the general manager of the Browns and really turns in a fantastic performance. Heís completely even keeled throughout the whole affair even as the pressure is rising and his gut is telling him to draft Vontae Mack played by Hollywoodís recent breakout star Chadwick Boseman. You will probably have to be an NFL fan to enjoy this one or at least have some knowledge of the inner workings of the league.

The NFL brand is all over this one, including appearances from ESPN personalties Jon Gruden and Chris Berman and even commissioner Roger Goodell. Itís fascinating to watch what a general manager and team has to go through on draft day and all of the pressure and stress that goes along with it. The film also features an appearance from Houston Texans running back Arian Foster, as a running back that is looking to get drafted high in the first round. The interesting thing about it is the fact that Arian Foster himself was an undrafted free agent. All in all, the film is much like the NFL draft itself. Itís fast paced, exciting, and features some great twists and turns. The cast is also top notch.

Blu-Ray Info: Draft Day is released on a two disc Blu-Ray, DVD, and Digital HD Combo Pack from Summit Home Entertainment. The film runs at 110 minutes and is rated PG13 for brief strong language and sexual references. The Digital HD Ultraviolet copy can also be played on ITunes as well.

Video Info: Released on 1080p high definition 2.40:1, the film looks crystal clear and incredibly sharp on Blu-Ray. Widescreen is always my favorite format, without a shadow of a doubt, and it really enhances the viewing experience at home. The colors are bright and the film has a really nice glow to it.

Audio Info: The English DTS-HD Master Audio 5.1 track with subtitles in English and Spanish is also perfect. This is a very talky film with lots of dialogue being done over the phone as deals are being made and all of it is very easy to hear on this audio track.

Special Features:

Audio commentary with writers Rajiv Joseph and Scott Rothman: This is a very entertaining commentary track as they talk about the amount of research and time that went into making this film, including talking to the Jets GM to find out what an actual GM has to go through on draft day and all of the challenges that they face. They did their homework on this one. I understand certain things have to happen for the film to be entertaining on the big screen and for home viewing, so I can understand why they made some of the choices that they did.

On The Clock: The Making of Draft Day (59:38) : This can be broken down into two separate pieces: The Preseason and The Postseason. It features interviews with the main actors, director Ivan Reitman, and a whole host of people. Itís a very informative and in depth special feature to say the least.

Deleted Scenes (08:36): We get some deleted scenes here like Ellen Burstyn burning football memorabilia from her deceased husband and some hardcore football fans threatening Sonny Weaver Jr. (Kevin Costner) if he doesnít get the draft right.

Welcome to Prime Time (09:49): Arian Foster is included on this special feature along with NFL Insider Adam Schefter, as they talk about how big the draft has become and what a prime time event it is every April.
The 411: As a football fan, I absolutely adored Draft Day and was really impressed with its all-star cast which includes Kevin Costner, Jennifer Garner, Denis Leary, Frank Langella, Sam Elliot, Ellen Burstyn, and Chadwick Boseman. I also enjoyed all of the cameos of real NFL players and real announcers. The film, directed by veteran director Ivan Reitman, is very entertaining and there is never a dull moment. It is paced just perfectly and kept me engrossed from start to finish. I highly recommend adding Draft Day to your collection if you are a diehard NFL fan. You wonít be disappointed, even if the film does take some liberties. If you arenít a football fan, some of it might go over your head and be a little too insider to comprehend and enjoy.

Final Score: 8.0

[ Very Good ]

legend
comments powered by