SPOTLIGHTS
The Campaign Review
Posted by Tony Farinella on 08.14.2012

Will Ferrell squares off against Zach Galifianakis in The Campaign, but does the audience win?



The Campaign, on paper, looked like a hilarious, funny, and semi-intelligent look at politics with two funnymen at the helm. Will Ferrell films are either hysterical or completely unfunny depending on the material and how he handles it. Zach Galifianakis has never been one of my favorites, as I feel heís always playing the same type of eccentric weirdo. Still, at times, he can be entertaining and comical. Judging by the trailer, I thought I was in store for an easy, breezy raunchy comedy with some real memorable comedic moments.

Will Ferrell stars as Cam Brady, the cocky, horny and self-assured Democratic Congressman of North Carolina's 14th District. Heís running for his fifth term unopposed and seems content to use his power to sleep with women and manipulate everyone in his way. When he takes it too far one day, Glen (John Lithgow) and Wade Motch (Dan Aykroyd, two shady businessmen, decide to mold a candidate to take down Cam Brady. They hire the bizarre and peculiar Marty Huggins, played by Zack Galifianakis. Marty does it to try to impress his father played by Brian Cox. In order to make sure he defeats Cam Brady, they hire Tim Wattley (Dylan McDermott) to oversee his campaign.

Marty soon finds how ugly politics can get as Cam is not afraid to play dirty and humiliate him at every turn. His own family is even getting involved in the situation and is suffering because of it thanks to the makeover by Tim Wattley. While Iím not prude when it comes to comedy, I didnít find The Campaign particularly funny as it tries to just throw out as many crude situations as possible in order to get a rise out of the audience. Rude, crude, and vulgar does not translate into funny or guarantee laughs. There needs to be actual funny material written and not just situations with random cheap gags.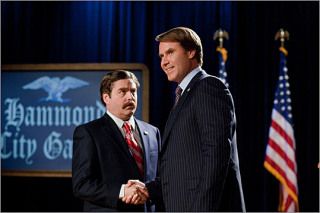 A few years back, the term torture porn was popular with horror films in which critics felt that the audiences were getting off on the torture in films. While I didnít necessarily agree with this term or what they were insinuating, I felt like this: Once you have seen so much gore, so many body parts mutilated, what is going to shock the audience, get a genuine reaction out of them? Thatís how I feel about most R-rated comedies these days. They are just trying to shock and gross out the audience while forgetting that you have to be funny in the process. If you arenít funny, itís just lazy and unimaginative.

When a film only makes you laugh once every fifteen minutes, you know you are in trouble and thatís how I felt about The Campaign. Thereís a lot of dead space in the film with jokes that arenít funny and gags that fall flat on their face. This film was a big disappointment. Will Ferrell is playing the same kind of character he has played in countless films, someone who takes himself very seriously and is in love with himself. It was funny in Anchorman and it might be funny in Anchorman 2, but here, itís just sluggish and tedious. Yelling and screaming like a madman is just headache inducing. Zach, on the other hand, is just weird for the sake of being weird.
The 411: The Campaign, in the hands of someone like Adam McKay, might have been a funny flick. In the hands of Jay Roach, itís completely average. Very few laughs in this one, and at times, itís cringe worthy as I stared at the screen, not laughing and waiting for something interesting to happen. This one is probably only enjoyable as a rental, as itís under 90 minutes and might pass the time on a rainy day. For me, it was completely underwhelming, forgettable, and unnecessary.

Final Score: 5.5

[ Not So Good ]

legend
comments powered by