SPOTLIGHTS
End of Watch Review
Posted by Tony Farinella on 09.24.2012

David Ayer (Street Kings, Training Day, Harsh Times) is back with End of Watch! How does it hold up compared to his previous projects?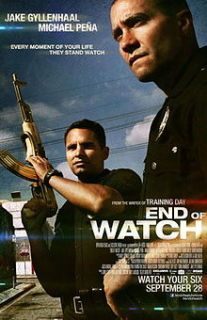 End of Watch is yet another police drama from the mind of David Ayer, a genre that some say he knows better than anyone, especially when itís set in Los Angeles. In todayís saturated market, we are force fed police show after police show and police movie after police movie. What separates David Ayer from the rest of the copycats is the authenticity and power behind his films. They knock you on your rear end and punch you right in the gut. They are powerful, intense, and pull no punches. His latest film is no exception, and itís one that will stick in your crawl.

The film stars Michael Peña and Jake Gyllenhaal as two Los Angeles police officers so close they consider themselves brothers. They are always there for the one other, watching each otherís backs, and even supporting their lives outside of the force. Mike (Peña) is married with a baby on the way while Brian (Gyllenhaal) is just starting to get serious with a girl. Sheís played by the lovely Anna Kendrick in another terrific and warm performance from the talented actress. These guys love their job and take it very, very seriously, as they often put themselves in harmís way when it would have been easy to turn the other cheek.

Their job is starting to become incredibly dangerous, more so than usual, when they get themselves tangled up with a cartel that does not play around. The supporting cast of this film is rounded out with great performances from the underrated Frank Grillo (Warrior, The Grey) and America Ferrera. The film, however, is a success because of the relationship between the two cops, Mike and Brian. They are the heart, soul, and the pulse of the movie and their interplay is incredibly entertaining while also being genuine and charming. The film shows off everything from the mundane to the entertaining to the random to the incredibly dangerous.



End of Watch is a slow burn and features realistic documentary style footage that puts you right in the driverís seat with the cops. Every opened door leads to mystery and danger and you never know what might be on the other side. Every day is different and every challenge takes its toll on you emotionally and there are certain images that are hard to get out of their heads. Thereís nothing glamorous about what they do, even when they are saving peopleís lives. You never know when your time might be up and whatís going to happen to your family if you take a wrong turn.

This is an uncompromising, brutal, and bleak look at police work, but itís hard to deny its impact. Itís not a flashy or showy film. This is a film that relies on performances and there are two great ones in this film. Gyllenhaal has always been sort of underappreciated, but heís perfectly cast here as Brian Taylor, a cop looking for more out of life than what he has. Michael Peña is a great comedic actor, but he knows how to tone down the comedy when the scene calls for it. This is their film and Ayer holds up his end of the bargain with some incredible camera work and shots of Los Angeles.
The 411: End of Watch is a film that left me with a lot to think about long after the credits rolled. This is a thoughtful piece of filmmaking that is gruesome without exploiting the situation at hand. David Ayer has a great feel for this genre and always brings something new to the table with every project. There are great action scenes, some real surprising comedic moments, and drama that had me moved in ways I did not expect. Highly recommended.

Final Score: 7.5

[ Good ]

legend
comments powered by