Won't Back Down Review
Posted by Tony Farinella on 10.02.2012

Would Tom Petty approve Won't Back Down? Read the full review for details!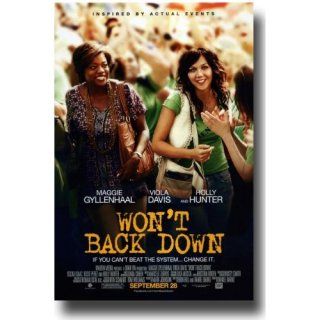 Wonít Back Down looks and feels an awful lot like last yearís The Help, which also stars Viola Davis. Itís a feel good movie about doing something and making a difference instead of simply standing on the sidelines in life as injustices are occurring. Personally speaking, I wasnít a huge fan of The Help, as it felt a little too much like a Hallmark movie for the week with its approach. I did, however, respond to Wonít Back Down. The direction is down and dirty, unsentimental, and doesn't pull any punches.

Maggie Gyllenhaal stars as Jamie Fitzpatrick, a tattooed, rough, and no nonsense woman that is looking to give her daughter the best education possible. Her daughter is having problems in school with reading, yet the teacher looks completely disinterested in helping her. Since this teacher is tenured, there is little she can do about it, especially because she doesnít make that much money. That doesnít stop Jamie from trying everything in her power to break through the walls that have been put in front of her. Sheís determined and the word no is not in her vocabulary.

There is one teacher that can help her, however, and sheís played by the powerful Viola Davis. Her son is having issues of his own with learning, yet she doesnít want to rock the boat by causing a stir. The teachers stick together, through thick and thin, so if she does anything drastic, she will be seen as a traitor. This is for the children, though, and when it comes to the children and their futures, you canít sit idly by and do nothing. Without question, Viola Davis and Maggie Gyllenhaal are the heart and soul of this film with their incredibly moving and heartfelt performances.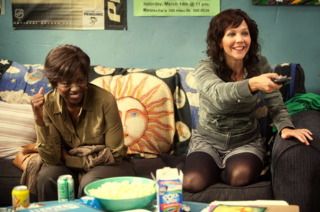 Wonít Back Down is not a perfect film, as sometimes it makes things a little too black and white when it comes to portraying the good guys and the bad guys. There is one teacher in particular that is such a bad teacher itís humorous at times. There is no way any school in the country would hire this teacher with her methods. The supporting cast, however, features stand out performances from Holly Hunter, Rosie Perez, and Ving Rhames. This is quite an eclectic cast, thatís for sure. Everyone makes their mark in this film even as supporting characters.

As I mentioned earlier in this review, the look of the film really adds to the experience, as Pittsburgh is a character in the film. Itís the perfect place for a story like this: a hard-working, no-nonsense, blue collar city. When you add the city of Pittsburgh to the performances, which are in that same sort of vein, itís hard not to be moved by this story, even if the way itís delivered at times is a little too simple with its characterizations. I recommend Wonít Back Down if youíre in the mood for a moving, well-acted drama with two great performances.
The 411: Wonít Back Down is not a great film, but itís a good film that stuck with me after it was over thanks to the performances by Davis and Gyllenhaal. They really give it their all and help rise the film above itís sometimes oversimplified screenplay. That being said, the film is not without its powerful moments that have a lot to say. I recommend it at a discounted price, solely on the performances and the power behind some of the big scenes in the film.

Final Score: 7.0

[ Good ]

legend
comments powered by