SPOTLIGHTS
Stoker Review
Posted by Chad Webb on 03.05.2013

It's not weird for girls to let spiders crawl up their skirt, right?

Mia Wasikowska: India Stoker
Nicole Kidman: Evelyn Stoker
Matthew Goode: Charles Stoker
Jacki Weaver: Gwendolyn Stoker
Phyllis Somerville: Mrs. McGarrick
Alden Ehrenreich: Whip
Lucas Till: Pitts
Harmony Korine: Mr. Feldman
Dermot Mulroney: Richard Stoker
Directed By: Park Chan-wook
Written By: Wentworth Miller (and contributing writer Erin Cressida Wilson)
Release Date: March 1, 2013
Running Time: 98 minutes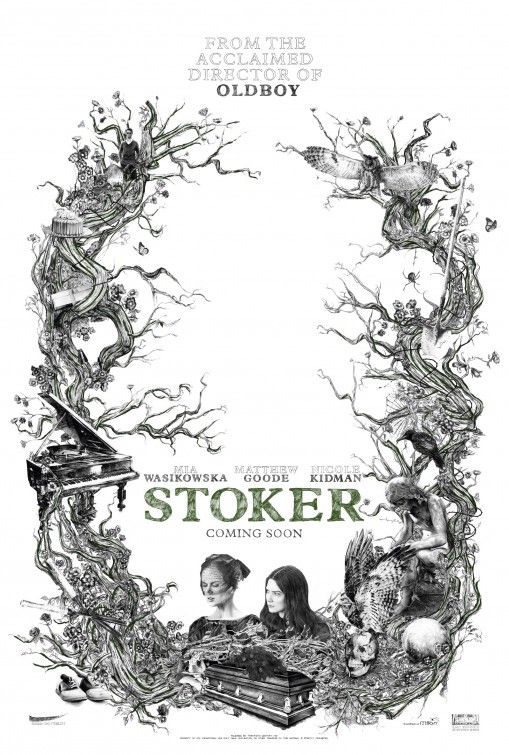 Rated R for disturbing violent and sexual content

The English language debut of an established foreign director is always one I approach with trepidation. After disappointing efforts like Wong Kar-wai's My Blueberry Nights and Florian Henckel Von Donnarsmark's The Tourist, it's safe to say that numerous unknown factors can affect the filmmaking process of those who do not speak English fluently. It could be as simple as having trouble communicating with the cast or battling for control over the project with the stars. Park Chan-wook appears to have avoided such obstacles by selecting a script in Stoker that accentuates his vivid visual techniques above all else. Although it is not a flawless picture, Stoker is mesmerizingly ambiguous, unsettling, and humorous.

If you were curious about Park Chan-wook, Stoker acts as a suitable introduction, and as soon as the superb opening credits unravel, you'll know he is anything but average. The story begins with the funeral of Richard Stoker (Dermot Mulroney), father to India (Mia Wasikowska) and husband to Evelyn (Nicole Kidman). His death deeply shatters the family and widens the already existent rift between India and her mother. While they are preparing to bury Mr. Stoker, India observes a younger man off in the distance watching over the proceedings. This turns out to be Uncle Charlie (Matthew Goode), the brother to Richard few were aware of. India is a smart, dark teenager who keeps to herself, and despite her initial resistance to his charms, she, along with her vulnerable, uppity, widow mother, are drawn to Charlie. However, suspicions arise almost immediately upon his arrival, and soon people start disappearing. Before long, Charlie has decided to live with them, and while both women of the household have developed a certain infatuation for him, India questions his true objective.

Park Chan-wook made a name for himself early in the new millennium when international success of Joint Security Area and Oldboy cemented him as one of the fathers of the Korean wave. He has delivered consistent and versatile work throughout his career and Stoker represents an intriguing new chapter. He had contemplated an English language project for years, even considering Tinker Tailor Soldier Spy for a time before ultimately declining. Park is known for heavily plot-driven films, but Stoker takes a step away from that trademark, using a familiar storyline and turning it into an interpretive piece with limited dialogue. The screenplay from Prison Break's Wentworth Miller was a proper fit, not exactly complex, but certainly intelligent to a degree with stretched plot progression that allowed the director to become acclimated to this new terrain.

One of the reasons Stoker is effective for a foreign director from South Korea is that the principal cast members are perfectly matched to the roles. Park seems to have a firm handle on the production and understood how to use each performer so that it complimented them and furthered his vision. It wasn't necessarily a speech or a line that grabs our attention, so much as an expression, a glance, or the manner in which someone is standing. This is true for Matthew Goode more than anyone else. He's an underrated actor, whose clean-cut, handsome appearance was ideal for Uncle Charlie, an alluring individual carrying a creepy undercurrent. Goode has the least amount of lines because his looks and demeanor are the keys to his character. The way he smiles at India, flirts with Evelyn, or drives behind India's school bus in a convertible sporting sunglasses all amplify the notion that the viewer is never completely sure of his plan.

In Mia Wasikowska, Park found a lead with substantial range, but who could appropriately embrace the disconcerting and secretive nature of India. The perspectives leap and slide from one person to the next, but much of the tale is seen through her eyes, a troubled kid dealt a vicious blow at the peak of her growth and maturity. Wasikowska is hypnotizing as a girl who is not only trying to find herself, but also coming to grips with this new branch on the family tree and his intentions. Her attachment to her father was deep-rooted. They went on frequent hunting trips, and India always returned home with a kill. Her mother explains that Richard stuffed everything she shot. Evelyn's relationship with Richard is not touched upon, but she and her daughter have nothing in common, save for an attraction toward Charlie. Nicole Kidman's resume is a mixed bag, but she is best when portraying a woman possessing snobbish, high-class qualities. Evelyn wants her life to get back on track and sees Charlie as the man to fill that void. She's a bit of an airhead, but means well when it comes to creating a bond with her daughter. The chemistry between all three is palpable, but it revolves around India.

The supporting cast assumes parts that are extremely minor, but notable all the same. Phyllis Somerville and Jacki Weaver are capable and convincing as Mrs. McGrarrick and Gwendolyn Stoker, both very uneasy about the sudden arrival of Charles. There is a funny moment where Gwendolyn is forced to change hotels from the Biltmore to a sleazebag motel to avoid Charlie knowing of her whereabouts. Dermot Mulroney pops up in flashbacks as India's father Richard. He doesn't do a whole lot aside from pointing a rifle, but he and Goode could pass for brothers and they share an electrifying scene towards the end.

From the costumes to the entire set, nearly every aspect of Stoker is distinctive and lingering. The script is undoubtedly set in present day, yet the Stokers almost live in a bubble. To look at their wardrobe, one would assume the events transpire decades, possibly centuries prior as they're akin to The Addams Family. The grounds of the estate are outlined masterfully, each inch of the property crucial to the story. The house itself seems much too large for the family, but it reflects their socially awkward attitude with decorations that have likely resided there through many generations, not to mention sparse rooms mirroring their peculiarities. Outside is a large yard with several large, round, ornamental spaced out stones, which serve an ominous purpose as they're moved around. Park's resident cinematographer, Chung Chung-hoon, lends stunning cinematography to enhance the beauty of the setting.

The enigmatic qualities of Stoker can exhibit different trajectories depending on what one is looking for. With the name of the title, especially knowing that Park Chan-wook made Thirst in 2009, the first expectation is that of a vampire thriller. But was that the goal? If one were to narrow the focus to India, Stoker emerges as a coming-of-age story. But her heightened awareness and sensitivity is conveyed as an attribute in the vein of a superpower. On the other hand, it could also strike the audience as a darkly comical version of Alfred Hitchcock's Shadow of a Doubt (1943). Is it just one of these, or a combination of all three? In fact, the screenwriter and director have commented on this subject, but the decision is yours. Because Stoker has more than one skin and is simple without being stubbornly straightforward, the action escalates into a suspenseful, fascinating journey. Park is a clever helmsman. He crafts Stoker to be deceptive as subtle clues are dropped here and there which simultaneously allude to its identity and misdirect us, but it is not cheaply manipulative.

Stoker is saturated with sensational, arresting scene transitions and wipes that might be artistic posturing inserted for the audience to admire, or maybe sporadic symbolism, but are graceful nonetheless. A bird's egg morphs into India's eye and India combing Evelyn's red hair dissolves into a field of grass are two that spring to mind. Park is cognizant of the connection between people and their environment, providing an added bewitching facet to the package. The entire film is crammed with sharp applications of color, editing, and sound (Clint Mansell's brilliant score included), the majority illustrating how the sights and noises relate to India. Not every Park effort is a masterpiece, not even this. The onset is a tad sluggish, but the director doesn't know the meaning of wasted motion and that also translates to his cast. His aim is to invigorate, stir the moviegoer, not merely phone it in and supply a by-the-numbers murder mystery.

Perhaps the best sequence in Stoker is one which blurs the line between fantasy and reality. India is sitting at her piano, as she does often, and begins pounding at the keys furiously. The piano could be construed as her moral compass, an instrument she uses to think & contemplate the day's happenings, or dream of her desires. Soon Uncle Charlie joins her, revealing himself to be quite a talented pianist, and the two perform a duet that is oozes sexual tension. That moment unwinds in glorious fashion and speaks volumes for the film's intricate design, a testament to the abilities of Park Chan-wook and Wentworth Miller (who I hope continues penning screenplays). Stoker is a motion picture with sumptuous shapeliness, a foreboding atmosphere, and cryptic construction. Its themes and images are not groundbreaking or novel, but they do leave an impression; one other offerings should strive to emulate.

The 411: I knew that the trailer for Stoker was creepy and engrossing, but I was still skeptical. Park Chan-wook is one of my favorite filmmakers; and from the track record of other acclaimed foreign language directors, I wasn't sure how his English debut would materialize. Thankfully it was a success, not a spotless one mind you, but a fabulous film all the same. For those unwilling to try his previous work, Stoker will show you what you've been missing. This is an intelligent director who selected a terrific script with which to switch gears. He elicits profound, entrancing performances from his cast, especially leads Mia Wasikowska, Matthew Goode, and Nicole Kidman. Unfortunately this is a limited release, but hopefully it expands as the weeks move along and comes to your neck of the woods. And if you take nothing else away from Stoker, remember to watch your kids when they're playing in the sand.

Final Score: 8.5

[ Very Good ]

legend
comments powered by