SPOTLIGHTS
To The Wonder Review
Posted by Chad Webb on 04.19.2013

Days of Twirling….

Ben Affleck: Neil
Olga Kurylenko: Marina
Javier Bardem: Father Quintana
Rachel McAdams: Jane
Tatiana Chiline: Tatiana
Written and Directed By: Terrence Malick
Release Date: April 12, 2013
Running Time: 112 minutes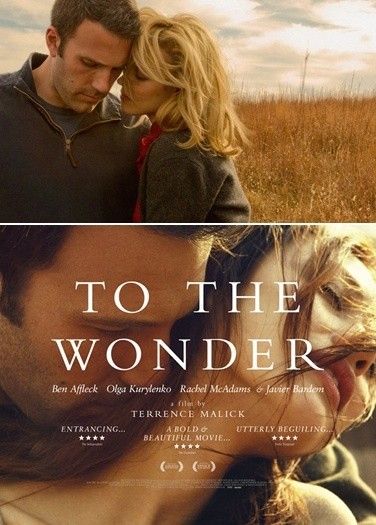 Rated R for some sexuality/nudity

The very name of Terrence Malick provokes strong reactions to anyone familiar with his work. Although I would be greatly pleased if everyone adored him, I treasure the divisiveness. Whether you love Malick or hate him, we should be thankful that such a director exists at all. The mediocre filmmakers, the ones whose names we can't recall, or those we have forgotten, will suffer a worse fate than Malick. His oeuvre invites fierce emotional responses from the moviegoing public. As he approaches 70, Malick has evidently decided to speed up his time table. Previously the world would be forced to wait more than five years for his follow-up undertakings, whereas now the wait is around two.

His projects are often described as "polarizing," and his latest one, To The Wonder, will only encourage that trend. It will likely eclipse The Tree of Life in terms of separate opinions. Admittedly, I am a fan of Malick, but that was not always the case. He is an acquired taste to be sure, but I was skeptical of To The Wonder for numerous reasons. The casting was bizarre, the plot struck me as somewhat thin, and early buzz from festivals was mixed. I knew I was planning to see it no matter what, but I have tried to be careful not to come off as blindly devout. Of course attempting to be completely neutral for every film is impossible. Nevertheless, this is an obtuse picture, one which possesses a profundity not easily accessed, but it is present. At times it is aggravatingly indecipherable and in other instances it is beautifully meditative and entrancing.

The plot is probably the simplest Malick has ever devised, yet this is the last title I would recommend to virgins of his resume, not strictly due to its quality or merit, but because it is a very intense version of his style. The story follows Neil (Ben Affleck), an American who is traveling (cavorting?) through Europe. While in Paris he meets Marina (Olga Kurylenko) and the two become infatuated with one another as most new couples do. Soon Neil decides he must return home to Oklahoma and he brings Marina and her daughter Tatiana (Tatiana Chiline) with him. The spark lasts for a while, but soon begins to diminish as their lives settle into a routine. Marina finds comfort in Father Quintana (Javier Bardem), a Catholic priest who is questioning his faith. Eventually Marina's visa runs out. She chooses to go back to France instead of remaining in the US with Neil. Shortly thereafter, Neil starts a relationship with a local woman, an old flame named Jane (Rachel McAdams). The pair seems to be blissfully happy until Neil learns that Marina is unhappy and wishes to return.

As with The Tree of Life, the characters in To The Wonder are best viewed as symbols more than fleshed out personas. In the case of Ben Affleck's Neil, he is an environmental inspector who is pretty successful and appears to have his head properly on his shoulders in every aspect but love. He is passionate, strong, and dependable, but has palpable commitment issues. Affleck is given hardly any dialogue, but Malick's chief asset with regards to his cast is in unearthing areas of their talents they never expected to locate. Despite the minimal lines, this is one of Affleck's most evocative performances. The same could be said for Olga Kurylenko as Marina. She is swept away by this monetarily secure American who shows her how lovely she is. Her enthusiastic, effervescent attitude towards romance is exciting and opens up new avenues for her. Since bursting onto the mainstream as a Bond girl (Quantum of Solace), Kurylenko has gradually improved, but her turn as Marina goes much deeper than the roles she is usually handed. Her journey is important to the audience, and through Malick's guidance her experiences become crucial to our changing moods and emphathizing throughout the film. Kurylenko compliments the poetic methodology wonderfully. Together Marina and Neil represent portions or at least traces of the man and woman inside all of us.

Rachel McAdams has a small part, but it's an impactful one regardless. Marina is a naïve, giddy young woman from another country, overwhelmed by her new adventure. She and Jane have little in common, which is apparent quickly upon meeting her. She is more independent, set in her own ways, and carries the aura of a woman who has emerged from rough relationship roads in the past. In Neil she finds a solution to mend what is broken. She is not as eager to devote herself, which makes their break-up even harder for her to deal with. Javier Bardem's Father Quintana marks the primary blemish in To The Wonder. The fact that Malick does not spell every detail out is always expected to a degree, but Quintana's relevance to the story and how his speeches about faith are connected to the main characters and their ongoing plight is incredibly vague and exceedingly puzzling. Certain voice-overs, such as a gripping one on choosing and the risk of failure allude to Neil and his love affairs, but the story thread exclusive to him is difficult to penetrate. Bardem is a fabulous on-screen presence, and his melancholy, contemplative, and subdued acting here is spot-on, but if Father Quintana's crisis is a fragment of Malick himself, how did these questions translate into such a perplexing figure?

It has been widely known that Malick tends to excise entire characters from his efforts. In To The Wonder alone, Rachel Weisz, Jessica Chastain, Michael Sheen, Amanda Peet, and Barry Pepper all had supporting roles that ended up on the cutting room floor. Understandably, this does not make every actor happy. Furthermore, a few actors who were used sometimes are dissatisfied with how their portrayal ends up in the final cut. For an actor, I sympathize with the disappointment of working hard for a role that never sees the light of day. I don't think Malick does this maliciously. What his cast does not always grasp is that he does not cater to actors. Ben Affleck makes films for actors. They're terrific, but geared toward the performances, which makes it interesting that Affleck completes a task that is outside his wheelhouse here. For Malick, the cast is one aspect of his vision. They are a part of a larger canvass, not necessarily vital pieces of the pie. When he sits down to edit, if the film coming together means leaving a few characters out, I'll bet he does not think twice. It's about assembling the best film, if only in his eyes, not suiting the cast. They are working for the director after all, not the other way around. It's up to him.

The steadicam shots, expressive images, and lyrical narration are all Terrence Malick trademarks. Some call his style boring and pretentious. I see it as captivating and distinctive. It reminded me of writer/director Peter Bogdanovich speaking about his interviews with Orson Welles years ago, asking him how he obtained the iconic shots he did. Welles replied that it was simply how he viewed things. He did not search for the shot, or overly plan it. The way he filmed scenes was just what came naturally to him. I believe the same statement could be made for Malick. He does not strive to be self-indulgent or knowingly artsy. He directs from the heart. The images he captures are how he sees the filmmaking process. And in To The Wonder, he never ceases to astound and amaze, such as the beginning segment at Mont St. Michel, the island abbey off the coast of Normandy. And as this is Malick's first feature set in modern day, seeing contemporary France and Oklahoma through his eyes is fascinating. He does get too comfortable with his own tendencies, but it's not excessively off-putting. Accepting the mistakes for the overall splendor is worthwhile. With Emmanuel Lubezki as the cinematographer, Malick constructs a painting that sticks with you, faults notwithstanding.

I read a comment on Indiewire that talked about how the six films Malick has directed can almost be divided into three phases. The first two, Badlands and Days of Heaven, are generally considered his best, mainly because they have the most straightforward narrative of them all. The Thin Red Line and The New World suggest an impressionistic take on history or period events. This is where he loses many people; not everyone is won over by his tactics. The Tree of Life and To The Wonder are heavily experimental, ambitious, and auto-biographical, closing in on companion pieces. Combining those qualities is tough and brave, which is why debates on these recent offerings are so fervent. The characters might not be explored in the normal fashion, but To The Wonder feels quite personal, to the point that it radiates from each sequence. His greatest accomplishment in this case is creating a movie so authentic and audacious on such a jarringly small scale compared to his previous outing. Reading that Malick once married a woman from France and then later reconnected with a high school sweetheart tells me that he had to get Neil and those experiences out of his system. But if To The Wonder is analyzed correctly, he might not have received the answers he was looking for.

The religious reflections and existential ponderings in To The Wonder are more compact and fleeting than in The Tree of Life. This is about love and commitment, how it can be misguided, enjoyable, and even scary. The stumbling occurs when the themes of love and faith do not blend properly. Allow yourself to be immersed in this universe, however, and you will notice that the characters are relatable. The director is communicating to us regarding issues that trouble him, examining our human instincts. Was this a cathartic procedure? His films are not just pretty to look at; they are poignant and affecting, thought-provoking and lingering blows to the soul. For all those blockbuster titles that seek to entertain at the basic level, I also appreciate art that makes me think, and Malick will give you that. Is the world better off with or without To The Wonder? We might not be able to decide its fate now, but I'm glad to have seen it, for all the gloriousness and imperfections it provides. On occasion, the most enthralling achievements are those that leave room for improvement.

The 411: It goes without saying that not everyone will be enraptured with To The Wonder. I would definitely not call it a masterpiece, but I liked it more than I didn't and I've spent a lot of time thinking about it even after seeing other theatrical releases. That has to account for something, if you ask me. Although not every joint of this picture is fastened adequately (it does contain one too many twirls and frolics in fields), it is an intimate, organic, and profound film that I feel is worth seeing. The camera work is gorgeous, the performances are unique yet effective, the music adds a memorable dimension, and the situations are absorbing. If The Tree of Life and To The Wonder recall events from Terrence Malick's own life, I'm anxious to see if he continues down that road, or goes off in another direction. You never know what to expect. If you are thinking about watching this, I would recommend a theater since Malick's efforts are intended for that, but this is available on-demand as well.

Final Score: 7.5

[ Good ]

legend
comments powered by