SPOTLIGHTS
42 Review
Posted by Tony Farinella on 04.27.2013

Jackie Robinson's story is brought to the big screen in 42! Is the film a successful sports film or is it a cliched mess?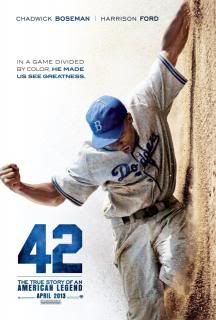 Iíve always been partial to biopics, even if they are overdone in Hollywood. They allow the audience to learn about a time and a place that might be unfamiliar to them. Itís an eye opening yet historical look at the world around us. 42 is the latest Hollywood biopic and it shows the audience what Jackie Robinson had to endure in order to play baseball and break the color barrier. It was an ugly yet historical time in the world and only one man had the strength, dignity, and courage to face it and make baseball a better place for everyone who wanted to play.

It all started under the watchful eye of Branch Rickey (Harrison Ford), the general manager of the Brooklyn Dodgers who wanted to make a difference and change the game of baseball. He knew that Jackie Robinson (Chadwick Boseman) would be able to handle all of the negativity, racism, and bigotry that would come his way. He couldnít respond or fight back as it would be used against him in the papers and would hurt the chances of other African American players being able to also play the game in the future. He had to listen as people called him in the N word repeatedly and treated him as though he didnít belong.

Even his own teammates were hesitant to accept him as a part of the ball club and just about every stadium they played in was filled with racist fans. Even the manager of the Philadelphia Phillies Ben Chapman was hurling insults at Robinson during his at-bats. Robinson always knew he belonged and with the love and support of his beautiful wife played by Nicole Beharie, Branch Rickey, and young reporter Wendell Smith (Andre Holland), he took it all and became a legend. He refused to allow it to defeat him or stop him from reaching his goal. Itís startling to see what the world used to be like back then and how extreme and over the top the racism really was.



Chadwick Boseman gives a star making performance in 42 as Jackie Robinson. Itís a quietly powerful performance that really shines on screen. Harrison Ford is also a blast playing Branch Rickey. Itís an entertaining and funny yet dramatic performance from Ford, so much so that sometimes you forget you are watching Harrison Ford play this character, which is always high praise for a star actor playing a character. The supporting cast which includes Lucas Black, Christopher Meloni, and John C. McGinley add a lot to their scenes and to the film as a whole. The acting all around is terrific in this film

Writer/Director Brian Helgeland doesnít shy away from some of the unsavory material in the film and it is necessary in order to tell this story right away. He would be doing a disservice to Jackie Robinson and his legacy if he played it safe with the film. He doesnít and itís a better film because of it, even if the racism at times is cringe worthy and uncomfortable to watch. Thatís what racism is and how it feels. At times, things are a little heavy handed and the music pounds you over the head during the more dramatic moments in the film. Still, this is an old-fashioned, sweet, and inspirational sports movie that is aided by an incredible cast and its true story.
The 411: 42 is the kind of film I love in Hollywood and has all of my favorite elements: drama, humor, and heart. Itís not a perfect movie as it drags at times and feels a little too perfect and put together, but itís effective and a great movie to see with the family. Thereís nothing wrong with feeling good when you go to the movies and this is a feel good movie that has a solid batting average when itís all said and done. I give a solid recommendation to 42. Itís one of the better mainstream movies at the box office.

Final Score: 7.5

[ Good ]

legend
comments powered by