SPOTLIGHTS
Pain & Gain Review
Posted by John Dotson on 04.27.2013

Michael Bay is back with a steroid inducing dark comedy about muscleheads! But is it the promising departure from the explosive Bay we were all hoping for? John Dotson checks in with his full review!

Directed by: Michael Bay
Written by: Christopher Markus (screenplay) &
Stephen McFeely (screenplay)

MPAA Rating: Rated R for bloody violence, crude sexual content, nudity, language throughout and drug use
Runtime: 130 Mins.

Starring:
Mark Wahlberg- Daniel Lugo
Anthony Mackie-Adrian Doorbal
Dwayne Johnson- Paul Doyle
Tony Shalhoub- Victor Kershaw
Ed Harris- Ed Dubois
Rebel Wilson- Robin Peck
Rob Cordry- John Mese
Ken Jeong- Johnny Wu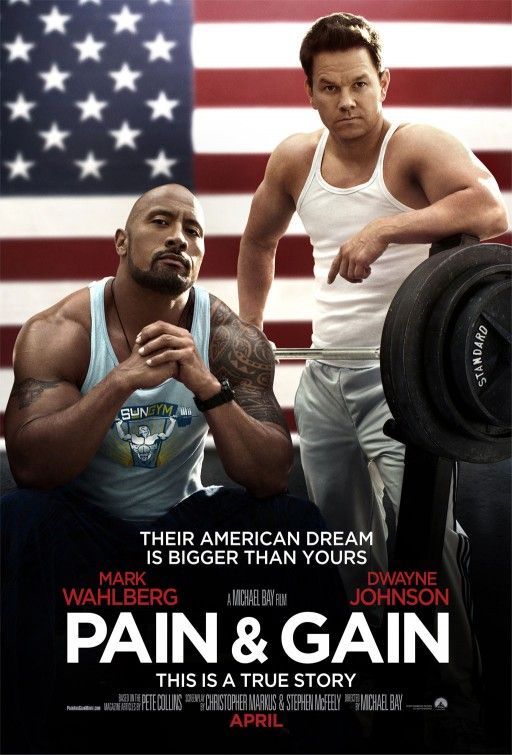 One usually cannot expect much substance from a Michael Bay film. Typically, his arsenal consist of flashy camera angles with commercialized models flashing hot bods, followed by the always expected Michael Bay pyrotechnics. This is who he is and for better or worse, America cannot stop running to his big dumb movies. Why? Well, whether we like to accept it or not, we enjoy big dumb stuff. We also love to complain that we love big dumb things of this nature, just like we love to hate Michael Bay. Not that I'm defending his creative choices at all. I'm just pointing out the insane love/hate relationship moviegoers have with this guy.

Pain & Gain has been something Bay himself has been hyping up for quite a while. It's almost like he wanted to make this film to prove there is a redeemable director within him; one that doesn't have to rely on half-naked women and stuff blowing up for quality entertainment. Pain & Gain does not exactly make a strong argument to the case, but it's definitely a step in the right direction for a director who gave us Revenge of the Fallen.

The film revolves around Daniel Lugo (Wahlberg), who is a fitness trainer in love with his craft. As much as Lugo loves fitness, he has a desire to strive for more. Lugo believes in a principle that you should always be aiming to better yourself. Problem is, even though he's achieved everything he wanted in a fitness career, he feels like he's reached the limit with how far his life can go.

To find motivation within himself, Lugo attends a self-improvement seminar hosted by a famous motivational speaker named Johnny Wu (Jeong). Wu in the session gives this ridiculous speech about how there are "Doers" and "Donters." In the middle of the speech, Wu singles out Daniel Lugo, and asks which one is he, A "Doer" or a "Donter." Wu gets Daniel Lugo so pumped up that he begins screaming "I'm a doer!" in the middle of the audience. This is the beginning of the end for the character. What I find amusing is if the film has an overall message, it is don't listen to motivational speakers. Especially if they are played by Ken Jeong.

With his newfound inspiration, Lugo sets out to assemble a trustworthy crew to pull off a big mission. The plan entails kidnapping the millionaire Tony Kershaw (Shalhoub) and forcing him to sign over all his assets. The first person he recruits is Adrian Doorbal, who is a colleague at the gym. The second is an ex-con who he meets at the fitness center by the name of Paul Doyle (Johnson). This is where the film begins spiraling into uncharted Michael Bay territories. The film takes a turn towards a dark comedy angle, which I have to admit this is one of the few stories I see working for Bay.

The silliness of the film is heightened by the overly commercial look of the first portion of the film. Seriously, you would think he was filming an infomercial for Total Gym with the way some of the shots were made. Sweat is glistening off of females and males as they work out; different cuts of Wahlberg drinking a protein shake; shots of hot-bodied women laying next to the pool. Basically everyone is a magazine model in this movie.

The film is set in the mid 90's but doesn't take the time to point out anything significant to the era. However, for some reason, this is not at all important and it still feels like the 90's while watching. The only piece of nostalgia that I can remember was the utilizing of Gangstas Paradise in a couple of scenes. Other than that, Bay sticks to his guns and focuses on telling the story.

What works in Pain & Gain is the three central lead performances from Wahlberg, Mackie, and Johnson. These guys carry the craziness of the film quite well, especially Johnson as Paul Doyle, which may be his best role yet. He and Ed Harris were my favorite characters of the entire film. Johnson plays such a conflicting character who is insanely violent and strung out one minute then completely humorous and sympathetic the next. My hat goes off to the guy because he is beginning to show a lot more range in his acting. Anthony Mackie is given a lot of comedic bits to work within the screenplay. He and Rebel Wilson share some of the funniest moments in the movie. Wahlberg does quite well also but it's more of the same with him. Not exactly a goundbreaking performance, but I wasn't expecting one either.

Now, time to address some complaints I have with this movie. First off, the movie is entirely way too long in runtime clocking in at 130 minutes. There are several unneeded comedy beats that felt completely out of place and could have been cut from the film. Having done so could have tightened the story and runtime a little. Also, the voice-over work began to overstay its welcome by the second half of the movie. It was a great way to setup the film but loses all effectiveness as the story moves along. Other than that, I wish the movie had more Ed Harris. His presence really adds something towards the end.

I know it's a thrill ride to jump on the Michael Bay hate train. Believe me, I've been there and I somewhat still have a lot of grudges from his past work. However, I can't let my opinion of Michael Bay influence my better judgment. I can blindly hate this film for its director or I can acknowledge a respectable effort when I see it. What is important is that Bay actually challenged himself for once. This is something most people in Hollywood should strive for. It may not be a completely successful change on his part, but I can respect Pain & Gain for what it is trying to accomplish. The roid-raging dark comedy may be something from Michael Bay that probably wonít happen for a long while, so enjoy it while it lasts.
The 411: Pain & Gain is humorous, dark, and packed with crazy performances from its central leads. Michael Bayís flashy commercial camera work suits the muscle-head comedy almost to a fault. The film is a bit overly long in runtime and could have lost a few pounds around the middle. Even some of the juvenile comedic elements could have been sacrificed for length. That being said, Pain & Gain is a respectable effort from a director who is not known for delivering intelligent films. Itís not a masterpiece by any means, but hey, at least the guy tried, right? That's more than we can say about his last two movies.

Final Score: 7.0

[ Good ]

legend
comments powered by