SPOTLIGHTS
Man of Steel Review [2]
Posted by John Dotson on 06.14.2013

Zack Snyder and Christopher Nolan are back with a modern day vision of the world's oldest superhero! But is it enough to make audiences connect with the man from Krypton? 411's John Dotson checks in with his full review!

Directed by: Zack Snyder
Written by: David S. Goyer (screenplay)

David S. Goyer (story) &
Christopher Nolan (story)

Jerry Siegel (Superman created by) &
Joe Shuster (Superman created by)

MPAA Rating: Rated PG-13 for intense sequences of sci-fi violence, action and destruction, and for some language
Runtime: 143 min

Starring:
Henry Cavill- Clark Kent/Kal-El
Amy Adams- Lois Lane
Michael Shannon- General Zod
Diane Lane- Martha Kent
Russell Crowe- Jor-El
Kevin Costner- Jonathan Kent
Antje Traue- Faora-Ul
Christopher Meloni- Colonel Nathan Hardy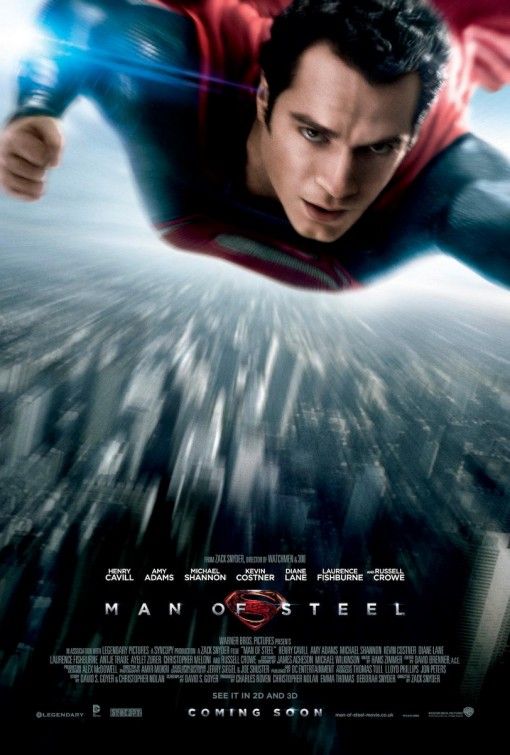 Before I begin discussing this film, let me start off by making it clear that I have never been a fan of Superman. The character just has just never appealed to me because of his all-around perfection. For me, in order to get myself invested behind a hero, I need a sense of humanity and struggle behind his inner being. This is a huge element that I've felt was lacking in the films for many years. Fortunately, with Man of Steel, screenwriter David S. Goyer has cracked a story that brings an emotional weight to the cinematic superhero that wasn't there before. We now have a Superman with imperfections and personal conflicts to overcome.

The film involves Kal-El/Clark Kent who is sent away from his home planet Krypton by his birth parents. The film has a tragic, yet epic opening with Krypton's magma core destroying the planet and the parents of Kal-El saying goodbye to their son. We also get our first aggressive introduction of Michael Shannon's take on General Zod during this sequence. Soon after, the story wastes no time and jumps ahead to the grown up life of Clark Kent the drifter. This is by far some of my favorite moments in the film because we get to see a side of this hero that we haven't before. Here Kent is portrayed as an outsider moving place to place, creating urban legends of his heroic nature. However, no one knows who he actually is.

Throughout his journey we get several flashbacks to his troubled youth. Whether it be with his struggle coexisting with other kids at school or the conflicting relationship he has with his Earth parents. I'll be honest and admit I've never been a huge Kevin Costner fan, but he truly sells the whole father and son dynamic.

What makes Man of Steel effective is the simple dramatic story that was sitting in front of our faces the whole time. At the very core of this film is a story about a family adopting a child. Only this adopted kid just happens to have superpowers and be from another planet. The superpower angle is also handled in such a way I haven't seen on a Superman film before. Here, Snyder and Goyer approach his abilities as a disability in his youth rather than a strength. It's hard for any kid at that age to understand why he is different from everyone else. This brought tremendous weight to the narrative once he begins embracing his uniqueness as a gift rather than a curse. This is pretty much the Antwone Fisher of superhero movies. Kid has a troubled youth; kid grows up and seeks to find who he is; kid finds out who his real family is; kid becomes a supreme badass.

Now, to address some of the issues I have with this movie. I realize this is probably the most serious project Zack Snyder has made so far, therefore I am willing to give the guy a little credit, BUT some of the acting in this film wasn't believable at times. Dramatic moments needed work, where the emotional weight needed to be felt. Even the Oscar-winning Russell Crowe seemed as if he was just going through the motions in this film. However, this complaint does not include Henry Cavill as Superman. He rises to the occasion on almost every level and sells the humanity of the character.

My second major complaint with Man of Steel was the decision to execute shaky camera work in places that didn't fit the scene. The film is trying to get you invested in a sweet father and son moment, and for some odd reason it feels like Paul Greengrass stepped off the next Bourne sequel to wreak havoc on Superman. Not exactly the greatest creative decision in the camera department.

One last complaint I have is the over-abundance of product placement in this movie. The film delivers spectacular action sequences that utilize such locations as IHOP or Sears, and they make it a point to make sure you see the logos loud and clear. Decisions such as this took me out of the experience a few times and were quite distracting.

Man of Steel is not a masterpiece by any means, but it's not supposed to be either. This is the Batman Begins for Superman, not The Dark Knight. The whole goal was to make the property have mainstream credibility again, just like Begins did after the disaster of Batman & Robin, and they definitely accomplished their objective. Thanks to Goyer, Nolan, and Snyder, Superman is a character with real problems and believable struggles. Warner Brothers finally found a way to make present day audiences connect with the Man of Steel once again.
The 411: David Goyer has cracked a screenplay that gives Superman a sense of humanity, that wasn't present on the big-screen before. Thanks to the adopted child angle, audiences will no longer feel alienated from the character. Zack Snyder has created a Superman with actual weaknesses other than kryptonite and obstacles he must overcome. However, the film has a few setbacks that prevent it from becoming a classic. Some of the acting fell short in various moments in the film and the shaky camera work may cause some viewers a headache in places. Even the product placement may take some moviegoers out of the experience. That being said, Man of Steel is the fresh restart the property needed after a long dry spell for the character. It accomplishes exactly what it sets out to do, which is to make you give a damn about Superman again.

Final Score: 8.0

[ Very Good ]

legend
comments powered by