SPOTLIGHTS
You're Next Review
Posted by Joseph Lee on 09.09.2013

And now, Adam Wingard presents a brand new way to use a blender...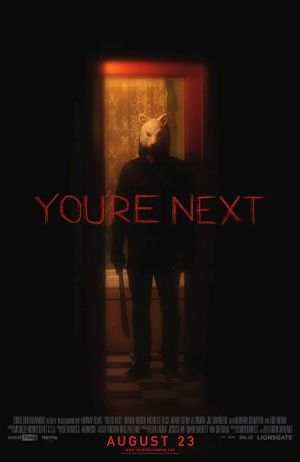 Starring:
*Shami Vinson as Erin Harson
*Nicholas Tucci as Felix Davison
*Wendy Glenn as Zee
*AJ Bowen as Crispian Davison
*Barbara Crampton as Aubrey Davison

Story: When the Davison family comes under attack during their wedding anniversary getaway, the gang of mysterious killers soon learns that one of victims harbors a secret talent for fighting back.

Trivia: The movie was filmed in 2011 and shown at several film festivals, but didn't get a release until August of this year.

Sometimes, all a horror fan needs is a fun time to enjoy a movie in the genre. While the best horror films are actually scary, some can be just formulaic slashers that are a lot of fun. Yes, in today's world where Hollywood churns out by-the-numbers horror films, occasionally one of those can still have that flaw and be enjoyable. There's a reason people continue to go see Friday the 13th movies, after all. You're Next is definitely a movie that follows a strict formula. There is absolutely nothing new in this home invasion slasher film and it's highly predictable. Those are definitely flaws. However, it has an occasional dark sense of humor and a lot of violence, which is enough for any horror fan to just sit back and have a good time. Sometimes that's all you need.

There is a difference between a movie that uses formula like You're Next and the kind of unoriginal horror films like Texas Chainsaw 3D or nearly every slasher remake in the past decade (especially tripe like the Prom Night remake or The Stepfather remake). Those films do not feel like they have any life to them. There's no sense of fun or enthusiasm in the film. It's just trying to get from point A to point B, with tired performances from its cast, little originality (if any) and limp directing.

What sets You're Next apart is the fact that while it does have very familiar beats in these types of movies, there are some differences. It ups the violence level and the pacing feels very energetic, moving from graphic kill to kill with little dead time and the feeling that the filmmakers know exactly who their audience is. Not every horror film has to reinvent the wheel as long as it's entertaining, and You're Next definitely succeeds on that level.

The film involves a family getting together for the 35th wedding anniversary for their parents. It's a very well-off family with a large home in the middle of nowhere. They are not the Waltons. This family bickers constantly and you don't really get the idea that they love each other, just that they tolerate each other. Before anyone can start fighting, one of the guests is killed with a crossbow and the invasion begins.

I mention the family's bickering and that's important. It's the biggest flaw of the movie. Nearly the entire cast is full of unlikable people only there to up the body count. Normally is this the kind of thing you expect in a late entry to a long-running franchise, when the killer is the anti-hero at that point. It's not something you should look for in a film that's trying to establish some form of tension. There's nothing particularly wrong about the acting, as they are playing who they were written to play.

However, two characters stand out. AJ Bowen once again delivers after appearing in indie horror movies like The Signal and The House of the Devil. He plays a smarmy hipster-type that while completely irritating, he's so good at doing it that he's actually kind of fun to watch. It's also important that he doesn't wear out his welcome. Finally, the script and the acting of Shami Vinson make her character of Erin the highlight of the entire movie. She's the person the audience is intended to root for and it helps that she's the most developed and the most well-written of the lot.

As mentioned before, the violence is definitely on display here for those horror fans more inclined to enjoy gore. It's on the level of something like Hatchet, but there is quite a bit of blood and a kill towards the end of the movie that is ridiculously fun to watch. Those want to see people die in horrifically bloody ways will not be disappointed. Throw in a decent score and you have a solid slasher film that stands out among the doldrums of Hollywood horror this year.
The 411: While it's not nearly as smart as others tend to think it is and it's mostly a formulaic slasher, You're Next is still a lot of fun. Sometimes it's okay for a slasher to stick to formula if it throws in enough violence, gore and occasional humor for its audience. You're Next is a solid enough horror film that you should get some entertainment out of it. Check it out.

Final Score: 7.0

[ Good ]

legend
comments powered by