SPOTLIGHTS
Bad Milo! Review
Posted by Joseph Lee on 10.27.2013

You certainly can't say this isn't an original movie.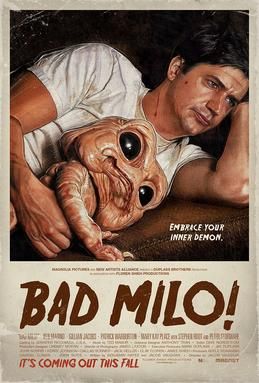 Starring:

*Ken Marino as Duncan
*Gillian Jacobs as Sarah
*Peter Stormare as Dr. Yeager
*Patrick Warburton as Phil
*Stephen Root as Roger
*Mary Kay Place as Beatrice
*Steve Zissis as Dr. Yip/the voice of Milo

Story: Duncan's life is a real pain in the ass. Tormented by a manipulative, crooked boss, a nagging mother, a deadbeat new age dad and a sweet, yet pressuring, wife, his mounting stress starts to trigger an insufferable gastrointestinal reaction. Out of ideas and at the end of his rope, Duncan seeks the help of a hypnotherapist, who helps him discover the root of his unusual stomach pain: a pintsized demon living in his intestine that, triggered by excessive anxiety, forces its way out and slaughters the people who have angered him. Out of fear that his intestinal gremlin may target its wrath on the wrong person, Duncan attempts to befriend it, naming it Milo and indulging it to keep its seemingly insatiable appetite at bay.

Trivia: This movie was produced by The Duplass Brothers, best known for directing Jeff, Who Lives At Home. Mark Duplass is one of the stars of FX's The League and the film Safety Not Guaranteed.

There are a lot of people that complain that there are no original movies anymore. The truth is, those people just don't know where to look. Sure, Hollywood is full of remakes, sequels and adaptations, but if you go outside of the major studios you can find really original work. Not all of it is good, but sometimes you can find a little movie that really surprises you. This was the case with Bad Milo, a horror-comedy that has no right to be as good as it is, but managed to be both hilarious and oddly enough, heartfelt at the same time.

The film stars Ken Marino as Duncan. Duncan's having a tough life what with his crappy job, his nagging mother (and her boyfriend, who likes to brag about the nasty ways he's having sex with her) and his wife's pleas to start a family. It's causing him a great deal of stress, which is causing him a great deal of stomach pain. After visiting a therapist, he discovers that the polyp in his colon is actually a demon that kills and eats the people who cause him to feel stress. In order to stop the death, he'll have to bond with it.

There's your premise for the film. If that sounds stupid or unappealing to you, then back out now because the movie gets progressively weirder from there. It's a movie that would have went over big on the home video circuit in the 1980s as a cult classic. It's very reminiscent of Frank Henenlotter's body of work, including Basket Case and Brain Damage. If you're a fan of that kind of lunacy, then you'll definitely enjoy this. If you're not, then you probably tuned out after the trailer.

Straight to the point: Bad Milo! is very, very funny. It's not just the type of humor that you would think, such as butt and poop jokes. They're present, but they're to be expected with a movie with this kind of story. The film sort of just revels in its own bizarre nature with its tongue planted firmly in its cheek. Ken Marino in particularly is great as a straight man to the entire absurd story, a man who is not afraid to make himself the butt (pardon the pun) of the film's jokes. He's also likable enough that you can identify and root for him throughout the film, which is definitely required if you're going to accept Milo.

The rest of the cast does well. Gillian Jacobs doesn't get too much to do in the comedy department, but she holds her own as the girlfriend. The supporting cast, including character actor heavyweights Stephen Root, Peter Stormare and Patrick Warburton are as good as you expect them to be. You wouldn't think so many name actors would be on board for a movie this silly, but they dive in feet first. Stormare in particular is very fun to watch as the therapist.

This movie's also a lot deeper than you may give it credit for. Sure, on the surface it's about a monster that lives up a guy's butt. However there's also some messages in there about facing your fears, dealing with the stress of day-to-day living and overcoming the fear of becoming a parent. In the hands of a lesser writer, this would have been nothing but outrageous kills and fecal humor. But instead it's just a really silly comedy that has a lot of heart in between all of the insanity.

Of course, the star of the show is Milo. Milo is a fully-animatronic puppet that you may have a hard time not falling in love with. Sure, he's a vicious little monster that eats people, but when he's calm he's actually kind of cute. I realize that this is a smaller film but if they can get a deal with NECA or a similar company, fans of this film will definitely want to buy toys of the little guy. The movie plays him off as just a misunderstood creature but at no point does he stop being a threat to others.

Outside of some minor issues like the occasional misfire of a joke, I would really recommend Bad Milo! to fans of movies with this style. If you're a big fan of 80's movies like Killer Klowns From Outer Space, Gremlins or the work of Frank Henenlotter, you may find something to love about Bad Milo!. It's available right now on demand for a reasonable price, so check it out!
The 411: Bad Milo! is a hilarious and surprisingly heartfelt horror-comedy that would have been right at home in the 80s alongside titles such as Basket Case or Killer Klowns From Outer Space. Ken Marino knocks it out of the park and if they aren't making plush Milo toys after this, they're going to lose a lot of potential money from horror fans.

Final Score: 8.0

[ Very Good ]

legend
comments powered by