SPOTLIGHTS
Bad Words Review
Posted by Joseph Lee on 03.31.2014

I could watch Jason Bateman swear at children all day long.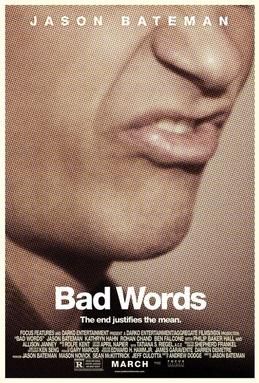 *Jason Bateman as Guy Trilby
*Kathryn Hahn as Jenny Widgeon
*Rohan Chand as Chaitanya Chopra
*Rachael Harris as Eric Tai's Mother
*Philip Baker Hall as Dr. Bowman
*Allison Janney as Dr. Bernice Deagan
*Steve Witting as Proctor at Spelling Bee

Story: Guy Trilby (Bateman), a 40-year-old middle school dropout gets his revenge by finding a loophole and attempting to win a spelling bee as an adult. Along the way, he befriends a female reporter and a young contestant whom he exposes to the wilder side of life, while learning a little about himself.

Trivia: This is Jason Bateman's debut as a feature film director.

Jason Bateman is commonly known as the straight man in comedy. The terms refers to the normal guy who is the foil or sidekick to someone else's wacky hijinks. In Arrested Development, for example, Michael Bluth is probably the most normal of the entire Bluth family. He's able to play that part quite well. While he's played oddball characters before (like Pepper in Dodgeball), he's probably never played one as agressively foul-mouthed and almost completely unlikable as Guy Trilby.

Trilby starts out the movie interrupting a regional spelling bee to announce his participation. When pointed out that he's 40, he points out several loopholes in the rules that allow him to compete. After winning the regionals, it's on to the national spelling bee where his goal seems to make a farce of the whole event. It's probably not a spoiler to point out that he does do this quite well, as just his very prescence is enough to turn the festivities into a circus.

To say that Bateman shines as the foul-mouthed Trilby is an understatement. It's definitely strong praise to say it's one of his best comedic performances but I would definitely rank it up there. Taking his cues from Billy Bob Thornton in Bad Santa, Bateman plays a seemingly mean-spirited curmudgeon who may have a sliver of goodwill underneath the exterior. The evidence for this is revealed not only when he meets fellow contestant Chaitanya (Chand) but as his motivations and background are presented to the audience.

The best part about Trilby's relationship with Chaitanya is that it begins to play like the similar "mean guy meets kid" story that's been present in movies like this before. However, it adds a few twists towards the climax that take it to hilariously new places. Guy Trilby is not a typical man so he doesn't form typical relationships. This is evidenced by his relationship with reporter Jenny Widgeon (Hahn), who is trying to find out what his goals are in taking the spelling bee away from children.

This movie contains so many swear words and colorful insults it's hard not to laugh as they roll out of Trilby's mouth into the ears of his victims. That's not to say curisng itself is funny, because it's not. However, creative use of the words into well-written jokes are definitely funny. Bateman's delivery of the lines also plays a part in it. He truly seems like he means what he says. The best example is when he completely runs down a contestant's mother inside of a diner. The less said, the better, but it's a highlight.

The rest of the cast hold up just as well. Chand is a surprisingly adept child actor, particularly in the realm of comedy. He's not simply a "good child actor", but he seems to understand the humor of the situation just as much as a seasoned veteran. His character also has a perpetual source of optimism that automatically makes him likable. Hahn, meanwhile, is an old hand at these types of movies and adds her own style of comedy to the film. Her scenes with Bateman can either be funny or emotional, depending on what is required.

Finally, this is Bateman's debut as a feature film director. He's had some experience in TV but you wouldn't know that he's never directed a film before. As a comedy built around a spelling bee, there's not a lot of shots that require great direction, but Bateman does show a creative flair in certain moments that show he's not going to have any problems if he choose to continue with more behind-the-scenes work.

Bad Words is a comedy that is largely dialogue-driven, so it's probably best to watch it more than once as you'll likely miss some jokes while you laugh. Bateman's performance is one of his best yet and will likely go down as some of his funniest work in his entire career.
The 411: Bad Words is a hilarious comedy with one of Jason Bateman's funniest performances. He owns the screen every minute he is on it and easily makes this a frontrunner for best comedy of the year.

Final Score: 8.0

[ Very Good ]

legend
comments powered by