SPOTLIGHTS
The Fault In Our Stars Review
Posted by Tony Farinella on 06.19.2014

Based on the bestselling novel, The Fault in Our Stars is now in theaters! Is it worth the hype?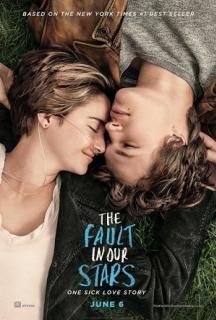 Itís rare when movies like The Fault in Our Stars are released and seen by a mass audience. This is an intelligent, thoughtful, heartfelt, and at times painful look at love, life, and cancer. Itís based on the bestselling novel by author John Green, which Iím told has an incredible following of passionate and dedicated fans. While I havenít read the novel (I plan on it after seeing this movie), I have a hard time believing that fans of the source material will be upset with the finished product. This is a great film for young adults and everyone else for that matter. It is respectful, rare, and filled with wisdom.

While the headliner of this film is popular star Shailene Woodley (Divergent, Spectacular Now, Descendants), I think the one that is really going to surprise people is newcomer Ansel Elgort, who plays Augustus Waters, an upbeat cancer patient who lives life to the fullest. He wants to be remembered and make a positive impact on the lives of those around him, especially Woodleyís Hazel Grace Lancaster. They meet at a cancer support group and as hard as she tries to ignore Augustus, she canít help but fall in love with him and his charming, carefree ways. Even after all he has been through, he still has a thirst for life.

The film takes a cold and hard look at cancer and what it is like to life with it, especially for the parents who are played brilliantly by Laura Dern and Sam Trammell. They try to stay positive and look on the bright side of things, but their worries and concerns never go away. I have to give real credit to the filmmakers for their portrayal of these parents. They arenít clueless buffoons. They are involved in their childrenís lives and truly want what is best for them. They treat them like adults, because they know they have been through a lot and are wise beyond their years.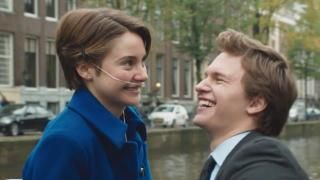 What separates The Fault in Our Stars from other teen tear jerkers such as The Notebook is its realism and brutally frank look at the situation at hand. It doesnít sugar coat anything or try to cover it up in a neat little package. It isnít always pretty, but then again, life isnít always full of sunshine and rainbows as Rocky Balboa once said to his son in the Philadelphia streets. The film also has a tremendous sense of humor about itself which is needed when you are dealing with heavy subject matter like this.

In the end, this film relies on the chemistry and the romance between Woodley and Ansel Elgort. Iím happy to report that they have chemistry in spades and they are truly a couple to root for and stand behind throughout the entire movie. Woodley is turning into one of the finest young actresses in Hollywood today. Lots of people talk about Jennifer Lawrence, who is a tremendous actress in her own right, but do not overlook Woodley, who can hold her own. This is not an easy performance to pull off, but she handles the emotional depth of it.

Again, I have to give a special shout out to Ansel Elgort. Heís performance is really top notch and I really think this is going to be a star making performance for this young man. Heís so effortless in his role and it comes so easy to him. It doesnít even look like he is acting, which is always the best compliment you can give to an actor. Heís a guy that guys want to be friends with and women want to be with and are attracted to in the movie. On all levels, The Fault in Our Stars is a terrific film and itís one of the best films of 2014 so far.
The 411: I canít say enough good or positive things about The Fault in Our Stars. Movies aimed for young adults are rarely this smart, this wise, and this fun to watch. While other films fail and try too hard, this film doesnít need to try at all. It is all an organic experience and the tears that come out of your eyes are well earned and well deserved. It takes its time and it trusts its source material and it trusts its actors. It lets the characters grow on screen, fall in love, and interact with each other. Itís an enriching experience and a film that I think will surprise many people. The Fault in Our Stars comes highly recommended.

Final Score: 9.0

[ Amazing ]

legend
comments powered by