SPOTLIGHTS
High on Fire - De Vermis Mysteriis Review
Posted by Andy Rackauskas on 04.24.2012

Doom metal legends, High on Fire, are back with a ferocious new album. Fans of the band will surely like it, but will it bring others into the fold? Andy Rackauskas travels down High on Fire's war path to try to find out.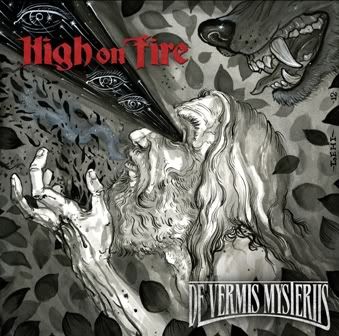 E1 Music

Release Date - 4/3/12

Bass – Jeff Matz
Drums – Des Kensel
Guitar, Vocals – Matt Pike
Recorded & Mixed by Kurt Ballou
Music & Lyrics by High on Fire

1 - Serums of Liao - 6:01
2 - Bloody Knuckles - 4:16
3 - Fertile Green - 4:45
4 - Madness of an Architect - 6:57
5 - Samsara - 3:42 (addtl. guitars by Kurt Ballou)
6 - Spiritual Rites - 5:08 (addtl. Vocals by Ashley Redshaw)
7 - King of Days - 7:09
8 - De Vermis Mysteriis - 3:50
9 - Romulus and Remus - 5:04
10 - Warhorn - 5:27 (addtl. guitars by Kurt Ballou)
11 - Speak in Tongues - 5:46 (Bonus Track)

Back in 1998, High on Fire was formed out of the ashes of the band, Sleep. Front man and guitarist, Matt Pike created High on Fire as a result of putting Sleep to sleep after creative struggles with their label. From that point on, Pike's metal went into high gear. Sleep moved at the pace of a turtle/snail hybrid, whereas High on Fire hit the freeway on all cylinders. Granted, High on Fire still wields some heavy slow sludge. But, not nearly the abundance of such sludge that Sleep was known for.

Fast forward to 2012. "De Vermis Mysteriis" is High on Fire's 6th studio release, (They have one live album as well.) and it doesn't stray from the path of previous efforts. Pike's vocals are mostly a beastly growl with the occasional melodic tone thrown in every now and then. His guitar is even more ruthless. It's riff after riff of pure doom, gloom and boom. The rhythm section of Matz and Kensel do a great job as always keeping things in check. Their solid work reigns in some of Pike's more chaotic moments on guitar. High on Fire does tend to drift into some serious jam moments, that Frank Zappa would probably give the ok calling it "jazz from hell". But, for the most part, the metal is simply thick and mostly quick. Have a listen to parts of the song, "Spiritual Rites". It goes back and forth from just plain heavy to pure chaos numerous times.

The subject matter is also pure High on Fire. It's all death, destruction, war, evil, pain, and unholy. You know, Disney stuff. The topics are quite similar to Slayer's in the sense that they are still singing about the stuff they first sung about decades later. Some may call it formulaic. While it might be, I call it consistent. If it ain't broke, don't fix it. No one really wants a dance party album from these guys. (Although it probably would be hilariously great!) People want heavy doom metal from High on Fire. "De Vermis Mysteriis" delivers just that.

The strongest track on the album is by far, "Fertile Green". It simply rocks from the get go and doesn't stop. It houses some of Pike's strongest riffs on the album. It's virtually a battle cry. You can almost see images of an army going to war while the song is playing.

Another stand out track on "De Vermis Mysteriis" is "Madness of an Architect". It has a creepy intro that slowly builds to an explosion. You can't help but sense a Black Sabbath-like feel on it. Additionally, "Samsara", is also a nod to Sabbath. This instrumental jam, that also starts off slowly, is very reminiscent of "Planet Caravan". These songs are not at all rip-offs of Sabbath, but the vibe is certainly there.

On "Romulus and Remus", High on Fire manage to truly capture some great slow doom metal. It could almost be a Sleep song. It's just a slow solid riff than prods along without any extraneous elements. Just (im)pure and simple.

Fortunately, there are only a few disappointing tracks on the album. The methodical prodding that worked on "Romulus and Reemus" is just too much on "Warhorn". "King of Days" is a slow jam with some more melodic singing that just falls flat. The monster growl that gets thrown in sporadically doesn't always work here.

Overall, High on Fire's "De Vermis Mysteriis" works. In the world of doom metal, High on Fire are Slayer compared to Mastadon being Metallica. You know what you're going to get with High on Fire and you know that it will be furious and heavy. While a full listen to the album may be a bit much, taken in small doses, it's hard not to get drawn into the ruthless heaviness. I can think of nothing better for a soundtrack to one's horrible commute!

High on Fire – "Fertile Green"


The 411: The 411: "De Vermis Mysteriis" is pretty much what one would expect from High on Fire, and that is a compliment. They are pretty much the pioneers of doom metal, and no one does it better. Sadly, there's not much on the album that will draw in new fans. But, old fans or some folks that haven't really given them a solid listen, will surely enjoy.

Final Score: 7.0

[ Good ]

legend
comments powered by