SPOTLIGHTS
Iggy Pop - Apres Review
Posted by Andy Rackauskas on 05.18.2012

Iggy Pop is an American punk rock legend. However, Ig's latest release is about as far away from punk as one could get. Does Iggy's venture into the lounge still rock (so to speak) or does it need to be cast aside? Andy Rackauskas searches to see if "Apres" needs to be destroyed.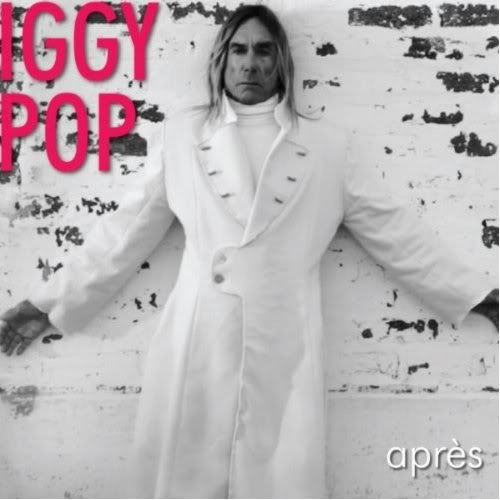 Believe Recordings

Release Date - 5/8/12

Vocals: Iggy Pop

1. "Et Si Tu N'Existais Pas" (Joe Dassin) 3:35
2. "La Javanaise" (Serge Gainsbourg) 2:32
3. "Everybody's Talkin'" (Harry Nilsson) 2:50
4. "I'm Going Away Smiling" (Yoko Ono) 2:40
5. "La Vie En Rose" (Edith Piaf) 2:08
6. "Les Passantes" (Georges Brassens) 4:12
7. "Syracuse" (Henri Salvador) 2:05
8. "What Is This Thing Called Love?" (Cole Porter) 2:50
9. "Michelle" (The Beatles) 2:45
10. "Only the Lonely" (Frank Sinatra) 2:50


Has the grandfather of punk mellowed with age?

While it may appear that way, it really isn't. How so? While it is true that Iggy achieved such legendary status as a Wildman from his early Stooges days in the late 1960's. He'd threaten the audience. Cut himself with broken bottles hurled at him by the audience. Basically, he'd appear out of control. He was. But as the 70's wore on, he started to change musically. He experimented with more somber music; Especially on his classic album, "The Idiot". Teaming up with Bowie on that particular album, Iggy showcased his darker, more melancholy side. Songs like "Night clubbing" and even "Sister Midnight" came off like neo-modern cabaret songs.

Fast forward to 2009. Iggy released "Preliminaires". It's an album of French jazz. It's a difficult album. First off, it's not the rock many people associate Iggy Pop with. Second, it's quite dismal. In fact, it's so slow and atmospheric that's it's almost boring. Thankfully, "Apres" (an obvious follow-up to "Preliminaires") trades out the bold unhappiness for a bit more fun. Iggy also ditches the "singing all in French" format for singing mostly in English and some in French. As much as the French language works in song, if the listener's language is English, it's a well appreciated change-up! "Apres" still has its share of darker songs like Cole Porter's "What Is This Thing Called Love?", "I'm Going Away Smiling" (Yoko Ono), and Sinatra's "Only the Lonely" (not to be confused with the Roy Orbison classic).

There is a real lightness in most of the songs on "Apres". Iggy covers "Michelle" (made famous by the Beatles) and it sounds quite lovely. Iggy's deep voice adds a nice touch to the up-beat stripped-down song. However, the real highlight of the album is Iggy's up-beat, yet mellow take on Edith Piaf's "La Vie En Rose". Sung all in French, it's a slow but uplifting song. It almost has a New Orleans death march vibe to it. However, it is not somber by any means. It's truly a gem and something one would think Iggy could never pull off. Another standout track on "Apres" is "Everybody's Talking" (made famous in the film "Midnight Cowboy"). Iggy's take doesn't break too much new ground compared to the original. But, his hardened and baritone voice adds a depth to the tack that makes the song memorable.

If you're looking for punk rock Iggy on "Apres", you are going to be sadly disappointed. This simply isn't that record. All in all, Iggy Pop plays the role of the crooner well on "Apres". If you'd like some chill music to mellow out to, "Apres" certainly delivers that.


Iggy Pop – "About the new record and the song "Le Vie En Rose"


Iggy Pop – "I'm Going Away Smiling"


Iggy Pop – Live in 1970…just in case you want to have a peek at the maniac performer at his peak

The 411: "Apres" is not your usual Iggy Pop record. In fact, it's the opposite of everything he's pretty much ever done. Iggy's transformation into a lounge torch singer isn't all that unusual. His last effort, "Preliminaires" was a similar venture. However, "Apres" is a little more fun. Iggy takes the songs seriously, but you can tell he's having fun. If you're up for an odd trek into the lounge with Iggy's deep voice, "Apres" is a nice escape. Let this street walkin' cheetah with a heart full of napalm lead the way as you sip on your martini.

Final Score: 7.0

[ Good ]

legend
comments powered by