Kylesa - From the Vaults Vol.1 Review
Posted by Robert Cooper on 11.20.2012

Georgia Sludge Metal band Kylesa are here with their first compilation album. Will it make you throw the horns and bang your head, or will it just disappoint us all? 411's Robert Cooper checks in with his full review!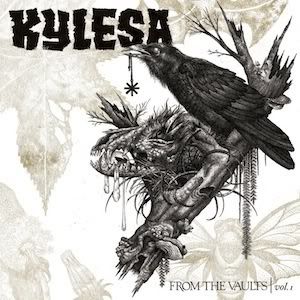 Kylesa is a pretty awesome stoner metal band from Georgia, and I have heard them in bits and pieces, but never a full album worth of work, so when the opportunity was given to review some of their work, I jumped on it.

The album starts, fittingly enough, with '"Intro". I dig the drum beat that it has and how the song builds up, like a pot of tea on the stove. It leads directly into the song "Inverse." I really love the sludge that seeps from this song. The sound really reminds me of Crowbar, who I love, so that's a good thing. The vocals are a bit hard to understand, because they are kind of yelling, but they fit the song. I also like the section in the middle where the guitars finally switch it up some right when the old riff gets a bit stale. The song is a great if you just like headbanging to some noise.

The next song up to bat is "111 Degree Heat Index." It has more of the awesome sludge, and a nice, simple guitar solo about a minute in that is followed by an awesomely heavy riff. The rest of the song is a bit of rinse and repeat from what the beginning showed us, but I still liked what it had to bring to the table.

"Between Silence and Sound II" is a sequel (I guess, never heard the original song) to their track off of the album 'Time Will Fuse Its Worth'. I like that it opens with something totally different from the other tracks. Really makes this song stand out. The vocals do have a bit of a more haunted quality to them, because the music with this track has that slow and eerie feel to it, but it's not overt; it's just right.

"Paranoid Tempo" has a pretty nice driving tempo (how fitting), and the vocals from Laura Pleasants at the beginning and the vocals that trade back and forth from Phillip Cope work pretty well as a trade off. The song has a bit of a punk feel with the vocals and driving force to the music. Overall a short, fun song.

"End Truth" it starts with a really spacey and atmospheric feeling to it. I really like the other songs, but this one had something that the others didn't, and I think that the album benefits from it. Because that space is later coupled with the crunch that some of the other songs have, and it works.



"Bottom Line II" is another song that I assume is a sequel, because it has a 2 at the end. It was a song that was in and out very fast. I get some bit of a punk vibe from it, I'm not sure exactly where, but perhaps it is the backbeat of it, I don't know, but I like it!

"Wavering" was fun. It has a guitar groove that makes you want to bang your head in every which direction. There are also more bits of psychedelia in the vocals at the middle, but I think what makes this short song great is the way the last half of the song goes with the instruments just playing along, it's lots of fun.

"Bass Salts" is another short one; it was just kind of like a bit of atmosphere, some good bass groove to keep the show going along.

The last song left a really good lead in for this song, "Drained." It starts off with a just heavy, crushing bass riff, absolutely love the intro. Hell, I love the whole song, it is a bit odd, because it's just heavy with some harsh vocals on top, but I find the song to really work. It is heavy, like "ten ton sledgehammer to the face of a gargoyle" heavy.

We also get one cover before the finale of the album, "Set the Controls for the Heart of the Sun," which is a Pink Floyd cover. I had not realized how popular a song this was to cover in the metal community. Israeli doom metal band Salem has covered it, as have the black metal band 1349. But I really dig this cover, it has a real fun energy to it, and it is made all their own, no doubt. The song is just great, and I think that it perhaps would have worked even better at the end of the album.

I love the "Drum Jam" at the end. It also is a lot of fun, just groovy drums that keep playing and playing. It kind of made me want to dance a little; not going to lie. But it is a fun and cool way to close the album.'
The 411: I really dug this album; it can be summed up by one, single syllable word: "fun." This album was just a ton of stoner metal fun, and is a great album for headbanging. †I think that this album does hold up quite well as a compilation, and if it were to try to be used to get someone in to the band, it could do just that. †This is a fun release and you should all at least give it a listening to.

Final Score: 8.5

[ Very Good ]

legend
comments powered by