SPOTLIGHTS
Killswitch Engage - Disarm the Descent Review
Posted by Mark Radulich on 04.15.2013

Vocalist Jesse Leach returns to Killswitch Engage since his departure in 2002. How does the new album sound? Check out the review to find out.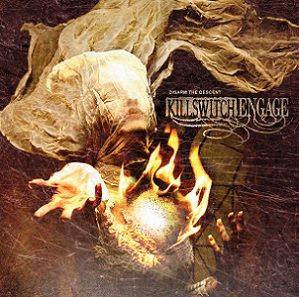 1. "The Hell In Me" 2:57
2. "Beyond The Flames" 2:53
3. "The New Awakening" 3:33
4. "In Due Time" 3:18
5. "A Tribute To The Fallen" 4:02
6. "Turning Point" 3:12
7. "All We Have" 3:20
8. "You Don't Bleed For Me" 3:20
9. "The Call" 2:50
10. "No End In Sight" 3:29
11. "Always" 4:33
12. "Time Will Not Remain" 3:13

Disarm the Descent is the sixth studio album by one of the most successful metalcore bands around, Killswitch Engage. The album was released on April 2, 2013, under Roadrunner Records. This album marks the triumphant return of vocalist Jesse Leach since he left the band after 2002's Alive or Just Breathing. Leach replaces the man that replaced him, Howard Jones.

I don't know about you but the first time I ever heard of KE was when I happened to have heard the song, "Rose of Sharyn." It was heavy, guttural and beautiful all at the same time. I didn't pay that much attention to the band after The End of Heartache until I heard their cover of "Holy Diver." However, when I heard that KE were releasing a new album this year I became very exciting to hear what they would come up with. My biggest fear with metal is that a band that has found mainstream success will soften or completely change their sound to something that not only turns me away but most of their following. This sort of thing happened to Life of Agony in the 90's. Needless to say I had nothing to worry.

Disarm the Descent starts off with a sonic blast that can only be described as death-metal-inspired.



"The Hell in Me" is all over in the place in the kind of way music should be. It's heavy, melodic, angry and lovely all at once. I was so drawn in by this song and surprised at the use of blast beats that I didn't even realize until I started doing research for this review that Leach had returned to the band. My first thought when I heard this was that if this song was an indication as to how the rest of the album was going to go, it was safe to assume that they weren't compromising their integrity for continued mainstream success. In short, I was impressed to hear them continuing to kick oh so much ass after all this time.

The album's first single, "In Due Time", was digitally released on February 5, 2013.



Leach balances the angry screaming with melodic singing well in this song. All of the groovy hooks are their backing him up, keeping the album moving in a good direction. Some critics of this album have stated that while Leach has improved as a singer and the band has become musically tighter, the raw energy and catharsis are missing. Furthermore, it has been said that while the album sounds well produced and heavy, it could be interpreted as bland and empty. I happen to disagree. I don't think one necessarily needs to be experience emotional trauma to put out powerful music. One certainly can but it's not a necessity. I for one enjoyed this album and felt it was a proper representation of where the band is at while not sacrificing any of the emotional content.

The second single, "The New Awakening" was released on March 13th, 2013.



"The New Awakening," follows in the same style as the previous 2 and most of the rest of the album doesn't deviate. However, if you are looking for songs with a bit more of an edge to them, there are a few surprises such as, "All We Have."



As a fan of the old New York Hardcore scene from back in the 90's, I can certainly appreciate what they were going for with the above track and how they improved upon the style.

Overall, I dug this album and think that it can be enjoyed by both those who have never heard of the band and old fans alike.
The 411: Fans have been arguing on-line about how the band sounds without Howard Jones and while I'm sure that is important to many, I don't think his absence affects the overall sound all that much. There are some minor changes but the lions share of songs are still just as good if not better than previous efforts. I have no major complaint about this album and look forward to hearing many of these songs played live, which I'm sure is where they'll sound the best.

Final Score: 7.0

[ Good ]

legend
comments powered by