Pete Seeger: The Storm King - Stories, Narratives, Poems (Audiobook Review)
Posted by Gina Bortolussi on 04.17.2013

Legendary musician, activist, and environmentalist, Pete Seeger, has released a new audiobook, Pete Seeger: The Storm King - Stories, Narratives, Poems How does it stack up? 411's Gina Bortolussi checks in with her review!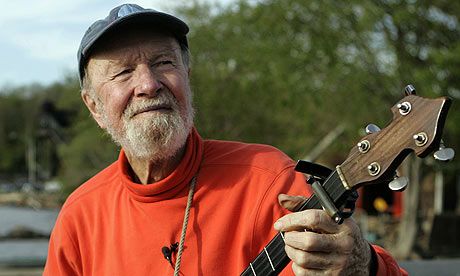 I walk into Jeff Haynes's studio in Beacon, New York on a cold Saturday afternoon. There are mixing boards, a few computers, microphones, and instruments on the floor—the paraphernalia of a record producer. Executive producer, Beth Terrill, is also there to greet me with her warm smile and bubbly personality. Beautiful African masks adorn the walls along with photographs of Haynes's family and of Haynes himself, sitting next to his dear friend—and the reason why I am here—Pete Seeger.

Seeger has written countless songs, among his most popular are "Where Have All the Flowers Gone," "Turn, Turn, Turn!" and "If I Had a Hammer" ("The Hammer Song"), that have all been recorded and performed by other artists. Seeger founded The Weavers and The Almanac Singers and never shying away from stating his true opinion, became blacklisted in the United States during the Joseph McCarthy era and garnered flack for singing songs in protest against the Vietnam War. He spearheaded the Hudson River Sloop Clearwater organization and was, and still is, heavily involved in their efforts to clean up the Hudson.





Seeger has lived the life of a musician, poet, husband, father, son, activist, humanitarian, and environmentalist. He is a man with stories to tell and now the world will get to hear personal tales from Seeger's life—starting from childhood and a covered wagon—in his own words and through his own voice.

Seeger is almost 94 years old and has lived in Beacon for years with his wife, Toshi, in the house he built for the two of them. Today, April 16th, is the release date of Seeger and Haynes's new CD—Pete Seeger: The Storm King - Stories, Narratives, Poems—with Haynes as producer.

The CD offers spoken word—stories and poems—set to music created by over 50 musicians. The music ranges from African Music, Blues, Bluegrass, Classical Guitar, Folk, Jazz, Native American Music, and Tuvan Throat Singing, performed by such legendary and contemporary artists such as Ralph Stanley, Will Ackerman, Dar Williams, Samite, and Richie Stearns.

This audiobook is unlike any of Seeger's previous work, and perhaps his most important, as it documents his life, and is essentially his memoir. This project is a labor or love for Haynes and Terrill, and I'm sure for Seeger too who literally pours his life into the audiobook. Haynes thought of the concept four years ago while working on a Grammy Award winning CD with Seeger. This time around Haynes is not only producing this audiobook, but he is a percussionist and writer on the project as well.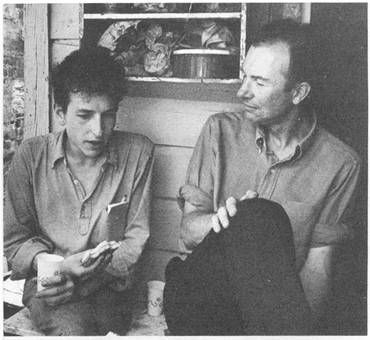 Seeger has been visiting Haynes' home for the past four years, ready to talk, and talk he would, for hours. Haynes says it was "very hard" to narrow down four years worth of work and stories into a twenty three track audiobook, to boil down someone's almost ninety four year old life into two CDs, but he's done it, and he's picked the right stories. And he has more—over 80 stories that will appear in future generations of the project.

The audiobook is a well-rounded collection. Haynes takes the listener through Seeger's life, not just around it. Haynes knows each track by heart and recites the words with gusto and passion as I sit back and listen to Seeger's life unfold before me, his voice painting me vivid pictures of an amazing life.

There is a black and white photograph of Seeger in front of me as I listen to the audiobook and as I hear Seeger narrate each story, the accompanying music heightening the power of the words , I swear I see color coming into the photograph. I think I even see it move. The combination of Seeger's words and Haynes' music is bringing life to everything around me and the balance of the two is perfect.

Seeger has lived a life that one can only hope to live and has accomplished more than most ever will. Haynes finds Seeger's recall of history and the past amazing, and so do I. There is no detail left out, there is no feeling unspoken.

The subject matter of this audiobook is heavy at times. Seeger speaks about religious and racial persecution and the devastating effects pollution has caused the Hudson River over time, but there are also light hearted and tender moments as well, like when Seeger talks about his beloved wife and his friendship with blues musician Led Belly, and even gives listeners a quick but impressive banjo lesson. No matter which story is being told, it is being told with honesty and sincerity and by the end of the audiobook I feel like I know Seeger. I feel like I've just been sitting around the fire listening to the stories of an old and wise friend. Perhaps the best part about this audiobook is that Seeger's stories transcend any age gap there may be between him and the listener. His stories touch upon things that listeners can relate to, and if they can't then they can experience them with Seeger, and even learn from them. And whether you're into heavy metal or boy bands, I urge you to come out of your comfort zone and give Pete Seeger: The Storm King - Stories, Narratives, Poems a listen. Pete Seeger: The Storm King - Stories, Narratives, Poems, is a journey, and I am fully on board for the ride.

Check it out at www.peteseegerthestormking.com




The 411: Pete Seeger takes listeners on a journey through his extraordinary life with his new audiobook, Pete Seeger: The Storm King - Stories, Narratives, Poems.

Final Score: 8.0

[ Very Good ]

legend
comments powered by