SPOTLIGHTS
Daft Punk - Random Access Memories Review [2]
Posted by Sean Comer on 05.22.2013

French EDM duo Daft Punk have officially unveiled arguably the least Daft Punk-y album to date. With a cadre of compelling collaborators and a lead single that torched conceptions of the pair, does it hold up to their standards for exploratory dance music? 411's Sean Comer delivers his thoughts...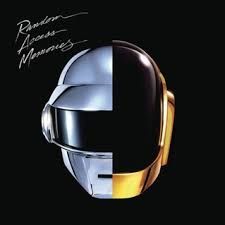 In all their lofty regard amid the electronic dance music genre, Daft Punk have just never gotten around to making an album that wants for a tangible passion.

That's praises rooted not at all so much in something so tenuous as lofty precedents for unit sales or so subjective as critical hosannas. It's proven much more evidently in a rarified raison d'etre in which Thomas Bangalter and Guy-Manuel de Homem-Christo have been plying their craft together since the late '90s: creating music that is uncompromisingly their artistic dreaming and so driven by their manifesting motivation alone, with a genuine spirit and aplomb that captures an appreciative audience despite the music never being directed by one audience's appeasement alone.

That's why Random Access Memories is quintessential, brilliant Daft Punk that sounds absolutely nothing like anything the pair have laid forth before.

The Pharrell Williams-Nile Rogers collaboration single "Get Lucky" and the album-opening "Give Life Back to Music" are jubilant kindred twin embodiments of Random Access Memories' spirit. Bangalter himself told the Observer recently of the U.S. dance music landscape's cold dearth of soul, "On one hand we're flattered [to influence new artists]. On the other hand we wish people could be influenced by our approach as much as our output. It's about breaking the rules and doing something different rather than taking some arrangements we did 10 years ago that have now become a formula." Legendary disco/funk producer and session player Nile Rogers imbues both with an authentic, unabashed enthusiasm that daringly eschews the more technical, digitized aesthetic typically associated with the duo.

As he often does when he's at best, there's a butter-smooth sultriness that Williams adds to "Get Lucky", reminiscent of Bootsy Collins. The smooth-driving tempo of both is driven by the kind of snappy disco-guitar groove that has always been Rogers' undeniable signature. Both embody a passion in Daft Punk's production throughout this organic, convention-eschewing album to restore music to an organic celebration of soul.

One track in the wake of "Give Life Back to Music", Daft Punk down-shift into a bona fide slow jam with "The Game of Love". A spiritual successor to the greatest generation of laid-bare R&B, this one strips away the slickly spread guitars and big beautiful drums for a down-tempo number that wouldn't sound at all out of place with Teddy Pendergrass' more tender and patient stylings than the DP-signature programmed vocals.
If enjoyment of the album diminishes throughout any one area, look to the most conspicuously extended tracks.

A few selections tend to ramble repetitively without as much inviting movement toward a definitive climax or even simply a sustained passion to keep the listener dancing. "Giorgio by Moroder" landed the album's third sequential track, and following the dynamic shifts between "Give Life Back to Music" and "The Game of Love", it unfortunately stalls the album briefly. It's an honorarium to Italian electronic dance pioneer Giorgio Moroder, fronted by several minutes of Moroder himself recounting his earliest approaches to the style that would most memorably frame his soundtrack to Brian De Palma's Scarface re-imagining. That transitions into a building Daft Punk jam that conspicuously winks to Moroder's fluttering synth melodies, but seems to ramble without cohesion.

Singer-songwriter legend Paul Williams lends his pensive voice later to "Touch" as the eight minute track flows through a revolving door of horn, piano and string variants on the melody before ascending to a climactic movement that harkens a little bit to Eric Clapton's "Layla" coda, but like "Giorgio", it just lingers a little bit too long upon the path. They're both thoroughly enjoyable, but might combined be the set's easiest offerings to skip.

Ultimately, Random Access Memories is an ode to musicianship more than the electronic aesthetic. As they did some three years ago with the TRON: Legacy OST, Daft Punk display so much more than simply an affinity and a knack for layered, evocative dance music with a soulfulness that permeates even technology. There's clear, present thought to arrangement and slick production on an album that's often a jaunty, vivid throwback. Tracks like "Lose Yourself to Dance" once more featuring Williams' distinctive delivery encircled by one big, bright beat that stirs one irresistible dance-floor groove. On "Instant Crush", Strokes frontman Julian Casablancas sounds perhaps the most enjoyable he ever has when sauced with just the right layering of vocoder.

In the album's latter moments, "Motherboard" provides easily the track most akin to the duo's acclaimed TRON endeavor, chock full of frenetic synth. "Doin It Right" pairs Panda Bear with Daft Punk for a contrasting romp that's likewise of the more expected digital bent before "Contact" brings the whole affair to a cacophonous, massively impactful climax of crashing drums and frantically climbing synth melody.

The 411: There simply isn't a lackluster track to be found here. The highlights of the whole affair are easily "Give Life Back to Music" and "Get Lucky" but the Radiohead-inspired "Within" is a particular testament to the duo's versatility. The throwback dance vibe of more natural instrumentation with limited digital flavoring may jar longtime fans, but expectations are forever to be forsaken when it comes to Daft Punk. This album restores soul to the dance floor and faith in the perpetually glittering sunshine of timeless funk. Where the pair do flavor the set with their signature aesthetics, the synth and programmed vocals only make everything else that's so distinctive that much more flavorful.

Final Score: 9.0

[ Amazing ]

legend
comments powered by