Eminem - The Marshall Mathers LP 2 Review
Posted by Bill Wannop on 11.05.2013

Eminem is back with his latest album, the highly-anticipated Marshall Mathers LP 2! Can Eminem re-capture the magic of the original, or is this just another Relapse? 411's Bill Wannop checks in with his full review!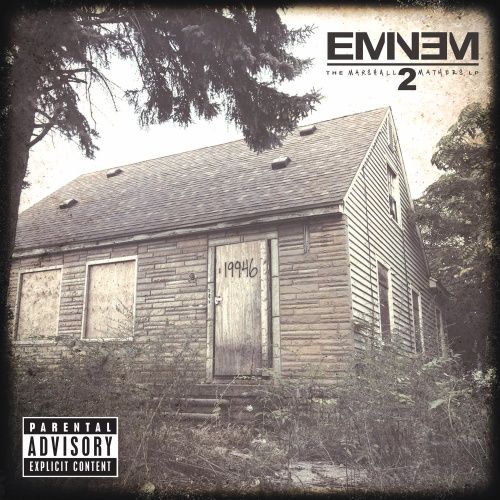 Eminem is back with his 8th studio album, The Marshall Mathers LP 2, the sequel to his 2000 album which sold over 10 million copies. With both Dr. Dre and Rick Rubin as executive producers, can Eminem match re-capture the magic of the original, or is this just another Relapse?

Track listing
1. "Bad Guy" Produced by: Part 1: S1, M-Phazes Part 2: StreetRunner
2. "Parking Lot" (skit) Produced by: Eminem
3. "Rhyme or Reason" Produced by: Rick Rubin
4. "So Much Better" Produced by: Eminem
5. "Survival" Produced by: DJ Khalil
6. "Legacy" Produced by: Emile Haynie
7. "Asshole" (featuring Skylar Grey) Produced by: Alex da Kid
8. "Berzerk" Produced by: Rick Rubin
9. "Rap God" Produced by: DVLP
10. "Brainless" Produced by: Eminem
11. "Stronger Than I Was" Produced by: Eminem
12. "The Monster" (featuring Rihanna) Produced by: Frequency
13. "So Far..." Produced by: Rick Rubin
14. "Love Game" (featuring Kendrick Lamar) Produced by: Rick Rubin
15. "Headlights" (featuring Nate Ruess) Produced by: Emile Haynie
16. "Evil Twin" Produced by: Sid Roams

With any release from one of the top selling artist of the past decade, there is bound to be a huge amount of hype, with which the album must attempt to live up to. Eminem additionally added to pressure by this new album as the sequel to the Marshall Mathers LP, the album which solidified Eminem's status as one of the top rappers of all time. However, it seems as though Eminem performs best while under pressure, and the Marshall Mathers LP 2 is no different. Eminem shows no evidence of being out of touch or losing his lyrical edge. In fact, he seems to be at the top of his game lyrically, crafting one of the best albums of 2013.

Right from the start, Eminem addresses the issue regarding the album title head on, while providing connections and a throwback to the original album with "Bad Guy". With this track, Eminem goes through the life of Matthew, the younger brother of Stan, who is angered and blames Eminem for the death of his brother. The song is follows Mathew through his downward spiral, before eventually plotting and enacting his revenge on Eminem. This track not only makes a statement about the title of this album, but also in one song, shows that Eminem is the top rapper right now. Eminem raps, "Here's your Bronco hat, you can have that shit back as they suck/It's just me, you and the music now, Slim/I hope you hear it we are in a car right now/Wait, here comes my favorite lyric/I'm the bad guy who makes fun of people that die/And hey, here's a sequel to my Mathers LP/Just to try to get people to buy. How's this for publicity stunt? This should be fun/Last album now cause after this you'll be officially done/Eminem killed by M&M/Matthew Mitchell, bitch, I even have your initials/I initially was gonna bury you next to my brother, but fuck it/Since you love your city so much/I figured, what the fuck the best place you could be buried alive is right here"

The track is broken into two parts, with the first being the story of Matthew getting revenge on Eminem while the second part has Eminem giving a verbal intro to the album, rapping "represent everything you take for granted/'Cause Marshall Mather's the rapper's persona's have a facade and Matthew and Stan's just symbolic of you not knowing what you had until it's gone/
'Cause after all the glitz and the glam no more fans that are calling your name/Cameras are off, sad but it happens to all of them…/So one last time, I'm back/Before it fades into black and it's all over/Behold the final chapter in the saga/Trying to recapture that lightning trapped in a bottle/Twice the magic that started it all/Tragic portrait of an artist tortured/Trapped in his own drawings/Tap into thoughts/Blacker and darker than anything imaginable/Here goes a wild stab in the dark/As we pick up the last Mathers' left off

Those last lines really tell the tale of this album. While it is the sequel to the Marshall Mathers album, it does not follow the original in terms of content, but it is more a re-working of the themes of the original. Gone are the large amounts venomous disses toward celebrities and other pop-culture mainstays. Gone are the Ken Keniff skits. Gone is the hatred he has for his mother and ex-wife, with this release focusing more on the issues he has with his father. Eminem attempts to rebuild relationships by offering and wishing for forgiveness for his previous actions. This album is very emotional for Eminem and some fans may find that as a turnoff, if they are wanting more of what they got from the original Marshall Mathers LP.

In all honesty, after my first listen, I didn't really like the album that much. There were some tracks that were good, but I felt that this was not the album or the Eminem that I wanted to hear. However, the more times I listened to this album, the more it grew on me. I needed to take the album for what it was, and that is a more focused, evolved and mature version of Eminem. This album is more serious, and while there is some of that humorous Eminem that we are all accustomed to, some fans again may feel that they are miss the old Eminem.

This album is almost a complete 180 in many ways from the original album. Gone are the mainstream targets of Eminem's venomous tongue. Eminem even seems to give props to the Insane Clown Posse multiple times on the album, where he feverously dissed them on the original. Instead of beef, Eminem seems to be focused on repairing relationships. Eminem is no longer targeting his mother, and even is asking for forgiveness for the past negative references he has made to her. On the track "Headlights" Eminem, goes into detail on their relationship, complete with asking for forgiveness and asking for a future relationship, for both himself and for his daughter. This has Eminem at his most emotional and vulnerable and the end result is one of the best tracks on the album.

While Eminem is more positive on this release, he still sets his sights on some targets, specifically his father. This evident on multiple tracks, but is the feature of the chorus on "Rhyme or Reason" where he answer some questions from the sample to the track, "Time of the Seasons".

Moving through the album, Eminem really shines on tracks, such as "Brainless", dropping some great lines and flow over an infectious piano beat produced by Eminem himself. The track "So Far", is a more rock track which has the sample "Life's Been Good", and features the humorous Eminem, that many old fans will find familiar. In fact, these two tracks could have easily fit right into the original album, and really show glimpses of the Eminem from 2000.

While the guest spots on the album are slim (no pun…), the modern hip hop prince, Kendrick Lamar shows up on "Love Game" and if there was any debate about how Kendrick compares in terms of hip hop greats, it was answered on this track. Eminem completely out shines Kendrick. Maybe that was Eminem's intention or maybe Kendrick took it easy on the track, but what should be Lamar's most high profile track since causing all the controversy with his "Control" verse, Lamar lays down a pretty pedestrian verse. Eminem completely lets the lyrics and metaphors fly, specifically with the last verse where he gives a story of his crazy lover trying to kill him.

Eminem finishes off the album with "Evil Twin" which again has Eminem flowing over a great beat, even asking himself who is left for him to go after (Lady Gaga, Justin Bieber…), before giving his list of top 4 emcees ("Fuck top 5, bitch, I'm top 4/And that includes Biggie and Pac, whore/And I got an evil twin, so who do you think that 3rd and 4th spot's for?")



There are the typical mainstream tracks, which are the singles for the album. "Survival" is a good single, although it does sound quite familiar to "Won't Back Down", from Recovery while "Berzerk" is ok, but do not compare previous singles from the rapper. The standout mainstream track, would be "The Monster" which has Rihanna providing a great chorus over which Eminem dives in with a great flow and lyrics.



As with every Eminem album, there are going to be some misses. Tracks like "Stronger Then I Was" has Eminem singing for most of the track and will likely be a track that most fans instantly skip over, while "Asshole" just is hurt by the production. Additionally, while the album is one of the top releases of the year, there were some things that were noticeably missing. Specifically, Eminem rapping over a Dr. Dre beat, as well as the fact that there was no posse, or group track. Previous albums all had a strong group track so a track with members of D12 or potentially Slaughterhouse would have really rounded out the album. While these flaws are minor, they do take the album down a notch.

As a whole, the Marshall Mathers LP 2 will be largely heralded as one of the best albums of the year, and one of the best releases from Eminem. Eminem proved on this album, that his Recovery is permanent, and that while he has evolved as an artist, he is still the king of hip hop and quite literally the closest thing we have to a current rap god.

Be sure to check out some of our exclusive interviews as well as follow me on Twitter.

Exclusive 411mania.com Interviews
M.O.P.
Jedi Mind tricks
Evidence
Slaine
Apathy
Tech N9ne
Atmosphere
Saigon
Swollen Members

The 411: As a whole, the Marshall Mathers LP 2 will be largely heralded as one of the best albums of the year, and one of the best releases from Eminem. While a couple missteps prevent it from becoming a perfect album, Eminem proved on this album, that his Recovery is permanent, and that while he has evolved as an artist, he is still the king of hip hop and quite literally the closest thing we have to a current rap god.

Final Score: 8.5

[ Very Good ]

legend
comments powered by