M.I.A. - Matangi Review
Posted by David Hayter on 11.05.2013

M.I.A. returns with her fourth album, Matangi! But after warring with everyone from the New York Times to the NFL, can she bypass the hate and return to form? 411's David Hayter checks in with his full review!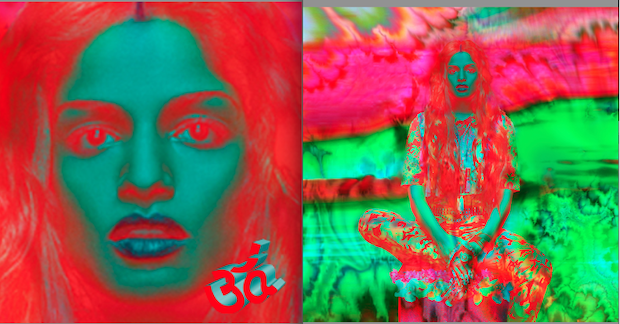 M.I.A. - Matangi

1. Karmageddon
2. MATANGI
3. Only 1 U
4. Warriors
5. Come Walk With Me
6. aTENTion
7. Exodus
8. Bad Girls
9. Boom Skit
10. Double Bubble Trouble
11. Y.a.l.a
12. Bring The Noize
13. Lights
14. Know It Ain't Right
15. Sexodus

M.I.A. must be tired. Since the release of her stunning sophomore LP Kala in 2007, the English-Sri Lankan superstar has stumbled from one vitriolic spat to the next. The US Government, immigration, her producer Diplo, her ex-husband, The New York Times, The NFL, the director of a now scrapped documentary, and her own record label have all either harshly felt or intentionally drawn her ire. Agit-punk aggression has always been an essential part of M.I.A.'s sound, but Maya has spent so many years embroiled in petty arguments and expended so much energy fuelling bitter feuds that it has become easy to forget just how joyous her very best music always was.

The Piracy Funds Terrorism mixtape, Arular and Kala were all charged with the outrage of poverty and oppression, but they were also buoyed by the irrepressible colour of M.I.A.'s "world sound". The darker /\/\ /\ y /\ turned this sonic rainforest into a snarling, paranoid, electronic wasteland and seemed to typify the bitter/brazen second stage of Maya's career. Now, having fought through critical backlash, public pariah status and a bout of writer's block, M.I.A. and her team of superstar producers seem ready to reconcile the (almost) childlike optimism of her early globalized sound and the electronic brutalism of her later years.

The album title, Matangi, reflects both M.I.A.'s maiden name (Mathangi "Maya" Arulpragasam) and her Hindu goddess namesake. The album's supposed spiritual aspects might only provide window dressing, but after spending half-a-decade under a dour raincloud of her own making, M.I.A. finally sounds free. The album is loose, rambunctious, and full to the brim with bounce and distinctly human energy. The half-giggling, cocksure, upstart from the streets of London who wrote "Galang" and "Dash The Curry Skit" might be long gone, but this burdened, battle-weary, self-parody of a superstar can still let her hair down.





The verve is back and, whisper it, M.I.A. isn't taking herself remotely seriously. The wonderful scathing "Boom Skit" skewers the preposterous backlash to M.I.A.'s middle finger flash at the Superbowl (as well as the racist derision of her music and a generation of transparent cultural appropriation) in 76 wonderfully juvenile seconds. M.I.A. has always been at her best when she juxtaposes childish glee with scattershot satire. There's no need for an angry rant, she's having too much fun for that. After all, why be bitter when you can concoct a frankly ridiculous ragga, dance floor ready, reworking of Shampoo's "Burst My Bubble" called (are you ready for this) "Double Bubble Trouble"?

M.I.A. repeatedly blurts "I got a reputation" towards the end of the track and, for once, she refuses to live down to it. Instead of firing off a snarky comeback she simply allows The Partystarters to drop a sick and slanted quasi-sub continental beat. "Double Bubble Trouble" is the kind of preposterous culture clash that only M.I.A. can pull off. It might be a caricature of her former glories, but only a prig would deny the carefree exhilaration of this wondrous nonsense.

"YALA" is even better still, supposedly a response to Drake's "The Motto", the track captures M.I.A. at her most inane: shouting immaculately cool and slyly satirical one liners ("Alarms go off when I enter the building") alongside brilliant scattershot gibberish – "I keep it in my poncho…play like Ronaldo…I'M JULIANNE MOORE…my mommy I adore".

The secret to M.I.A.'s aesthetic was always the sound, the mood, the style and the tone - it was never what she said, it was how she said it. The goofy nursery rhyme flow, the globalized slang, the in your face snarl and the bruising beats have always carried the day. At some point the world lost sight of this fact and starting paying too much attention. It's unhealthy, and Matangi thrives, like Murmur before it, when the listener is swept up by the torrent of strange sounds and simply goes with the flow.





The flow in question is particularly erratic. The capitalized title track starts as an unwelcome and half-hearted re-tread, but soon explodes into a wild stream-of-consciousness that is the closest M.I.A has ever come to a true tour de force. The sound of this track, and this album at large, is simply bananas. Shrill horns and squirrelly electronics that derive from Indian folk music and the clubs of East-London sit alongside booming trap and 90s-R'n'B flourishes. The migration from one sonic destination to the next is never remotely logical, but it is strangely fluid.

The opening quarter of Matangi is hard and rapacious, but never bruising or repressive. Even on the sinus assaulting "Only 1 U" M.I.A. softens her voice and draws the listener in as gunshots, groans and distorted vocal samples contort spasmodically. The brutality of /\/\ /\ y /\ reoccurs, but only fleetingly. "Warriors" intentionally grates but, thankfully, Hit Boy is on hand to slickly pull the strings, never letting any one element overwhelm the listener - just as the earlobe abuse reaches tipping point, he shrewdly changes tact.

Matangi isn't overflowing with pop songs, the choice cuts have already been released as singles, but this record is seemingly designed to keep its audience bouncing. The sublimely saccharine "Come Walk With Me" is chocked full of both charm and attitude, while the M.I.A. produced "Lights" is a hypnotic revelation – a smart rejoinder to Grimes - it speakers the young star's language, but Maya makes it her own.





The album is dragged down, not by outright failures, but by inefficiency. Favoring sonic invention and stream of consciousness delights, Matangi needed to be judiciously edited. The bangers come too few and too far between to carry a near hour long LP. "Sexodus", "Bring The Noize" and "Bad Girls" are well placed in terms of pacing, but they cannot stop the album from spluttering. Even with a scatterbrained maniac at the wheel, it's hard to avoid a feeling of inertia as one weirdly warped sidestep is stacked on top of the next. Surprise parties aren't as shocking or as much fun if you have one everyday, and M.I.A.'s doo-lally drops are far more effective when the supply is shorter.

"Exodus" should have been left on the cutting room floor and a more demanding editor might have laid down a series of "either or" ultimatums in an effort produce a more pointed and potent end product. These, however, are trifling concerns. M.I.A. is back, not with "power power", but with childlike glee. The superstar who best represents the modern-multicultural-globalized-world and the insanity of the internet-addicted, mass-immigration, age has got her groove back. The paranoia of old no longer clouds her vision.

Innovation and idiocy are powerful tools in the right hands, and M.I.A. harnesses them masterfully on Matangi.
The 411: M.I.A. casts the dark days of bitter spats to one side and moves on from her own paranoia to recapture the joy and freedom of her best releases. Matangi isn't perfect. It's too long, too inefficient, and a little light on bangers, but it nevertheless delivers wildly inventive, high-octane, pop music. This is an M.I.A. album that doesn't take itself too seriously, it might have been murder to get her label to finally release it, but this is the sound of one of the most creative voices on the planet having a good time. That's right, M.I.A. is back screaming "I'm Julianne Moore" without ever stopping to ask herself, or anybody else, what on earth that even means.

Final Score: 7.5

[ Good ]

legend
comments powered by