SPOTLIGHTS
R. Kelly - Black Panties Review
Posted by David Hayter on 12.10.2013

R. Kelly has made an album called Black Panties. What else need be said? It's a five star title but is it an A-grade album?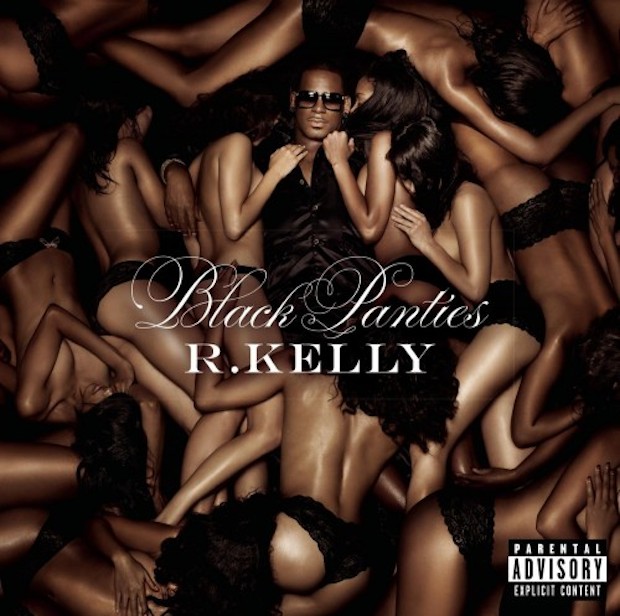 R. Kelly - Black Panties

1. Legs Shakin' [ft. Ludacris]
2. Cookie
3. Throw This Money on You
4. Prelude
5. Marry the Pussy
6. You Deserve Better
7. Genius
8. All the Way [ft. Kelly Rowland]
9. My Story [ft. 2 Chainz]
10. Right Back
11. Spend That [ft. Jeezy]
12. Crazy Sex
13. Shut Up
14. Tear It Up [ft. Future] [deluxe edition]
15. Show Ya Pussy [ft. Migos and Juicy J] [deluxe edition]
16. Physical [deluxe edition]
17. Every Position [deluxe edition]

R. Kelly has named his latest album Black Panties. Let that sink in for a moment. The obvious question is what the hell took him so long? Could there be a more perfect marriage of artist and album title? Kanye West's Yeezus might surpass it in the sheer unaware and obnoxious stakes, but Black Panties is the album R.Kelly was always destined to make. The inspiration is suitable perfect: on his Love Letter tour, while being bombard with an array of thongs and lingerie (naturally), a pair of black panties (mediums incase you were curious) landed on R. Kelly's wrist and the idea struck him in an instant.

Short of releasing a follow up album called simply Pussy (don't rule it out), this is the moment when R. Kelly's self-aware artifice reached critical mass. Black Panties and R. Kelly are inseparable, there could not be one without the other. Make no mistake Black Panties is no throwaway project or one note joke, R. Kelly is adamant that this album represents a concerted effort to capture the essence of what he does best (sex jams). Do not expect the meme baiting thrills of Double Up's "Real Talk" or the nostalgic experiments of Love Letter and Write Me Back; in R. Kelly's words this is a progression of 12 Play and TP-2.com.

The majestic insanity of Trapped In The Closet will be R. Kelly's ultimate legacy, but the R'n'B superstar seems intent on reminding the world that he had an audience and critical acclaim before his music became the property of the internet jokesters and bespectacled hipsters. R. Kelly might be the king of self-parody (see his fantastic performance with Lady Gaga on SNL) but he's also one of pop's great lover men. Blank Panties tacitly promises to be the definitive edition that transcends his back catalogue – it took R. Kelly 21 years to release an album named Black Panties and it has to deliver, right?

In truth, R. Kelly does just about enough to ensure that Black Panties doesn't disappoint. He remains deadpan delivering some of the most ridiculous sex boasts of his career (no small feat) and making laugh-out-loud worthy sex noises on "Physical". However, while this album is inherently hilarious, it is no laughing matter. This is R. Kelly's karma sutra. He starts by getting your "Legs Shakin'" and he finishes by fucking you in "Ever Position". The latter is the kind of track that only R. Kelly could make. It's almost juvenile effort built on the kind of boasts a sexless teen would blurt out to impress his equally chaste friends, but it includes some silky slick lyricism:



"Have dinner on the jet, you ain't seen nothing yet;
Think I'm good with this flirting shit wait till we get to sex.
Woah-oh-ah-oh. Gonna turn ya 'to a singer.
Gonna get you in my bed, have you hitting notes like Aretha"



It's a testament to R. Kelly's continued ability to subvert expectation that he can be both so mind numbingly crass and so craftily clever. In that sense Black Panties is natural evolution of 12 Play. The production is thoroughly modern swapping the golden era samples and bounce of "I Like The Crotch On You" for the trap lurch and silky modernist diaspora of "Leg Shakin'". The shimmering minimalism of "Cookie" might not be wholly originally but R. Kelly slides and slinks around the beat with dexterous control. He makes every beat his own, seductively caressing his lady love while letting every man in a ten mile radius know that they cannot operate on his level.

At times the in jokes don't work. The title "Marry The Pussy" is sure to get a laugh, but given its lengthy and unnecessary three-minute "Prelude", it's a disappointment offering nothing more than preposterous one-liners and next to no real eroticism. Thankfully, R. Kelly keeps these truly ridiculous moments to a minimum, and saves his silliest punchlines for the most unexpected moments, creating genuine laughs without ruining the slow jam seduction.




Ultimately, Black Panties falls down not because R. Kelly is too farcical a character to believe, but because he simply doesn't have to try any more. He can effortlessly update his instrumentals and he'll never run out of new ways to lick your pussy, but R. Kelly treats sex like checking his email. He doesn't have to work for it and he sounds detached, undeniably engaged and excited, but removed from the anxiety and heartache that makes good tracks great. In this sense Black Panties is meaningless and utterly arbitrary.

On "All The Way" R. Kelly simply shrugs and says "well we might as well". It's slick and restrained, but it doesn't grab the listener by the scruff of the neck. "Bump 'N Grind's" has endured for two decades because his desperation was palpable. Kelly was yearning to throw his lover down and tear off her clothes with his teeth, and he would do anything to make that happen; beg, plead or smooth talk. Black Panties can't arouse that kind of emotion, instead it is satisfied to lie back, relax and let things happen.

R. Kelly doesn't only have to compete with his own past, the R'n'B game has evolved drastically in the last decade. R. Kelly's "Crazy Sex" sounds tame and almost fictitious compared to The Weeknd's anxious and morally dubious tales of drugged out experimentation. Black Panties emotional and conceptual complexity isn't remotely comparable to Frank Ocean's peerless Channel Orange, but it also falls considerable short of Drake's best. "You Deserve Better" is so indebted to the drowsy Canadian superstar that he should expect royalties. Strangely, despite the fact that R. Kelly is clearly pinching a rival's ideas, it benefits him greatly. His Drake homage is not only beautifully sung but is one of the few track's that suggest that R. Kelly is capable of a lament.

Still, if R. Kelly can't match the sincerity of Miguel and Frank Ocean, he still makes the kind of strip club ready hedonistic R'n'B that his peers either can't or won't make. "Right Back" and "Spend That" are shrewdly minimal and thrive on pure machismo. "Show Ya Pussy" is a relic of the mid-2000s and Juicy J and Migos' energy (if not their mic skills) give the album a welcome injection of impetus (albeit at the expense of inserting a selection of horribly misogynistic lyrics).

Black Panties was perhaps flawed from the outset. R. Kelly the multimillionaire, who is showered with lingerie and deafened by shrill screams whenever he walks into the room, was never going to write the next great sex jam album. The-Dream's Love King remains the vile modern masterpiece: Blank Panties, by comparison, is simply a survey of all the tricks that R. Kelly has learnt in his 21 year career. It's telling that the best and most effecting track on the album isn't actually about sex.

"Shut Up", R. Kelly's fuck-the-haters-I'm-not-finished single, announces his successful recovery from throat surgery and is full of genuine emotion, true triumph and strident bravado. Black Panties should be an end point. R. Kelly's last baby making marathon session because, when sex has no meaning, the music becomes powerless. Fuck fucking, R. Kelly tell us how you really feel.
The 411: R. Kelly promised a modernised take on 12 Play and TP3.com but something's missing: desperation. He can seduce with his vocals and sublimely manipulate a beat, but these days its all too easy. The desire and naive emotion of old is long gone, instead Black Panties is an ode to meaningless sex. No matter how well R. Kelly can detail his cunninglingal prowess and no matter how silky the minimal beats, an album this superficial will always struggle to make a mark on its audience. The honest and inspiring "Shut Up" is an absolute revelation, it's time R. Kelly left the groupies behind and let us into his soul.

Final Score: 6.5

[ Average ]

legend
comments powered by